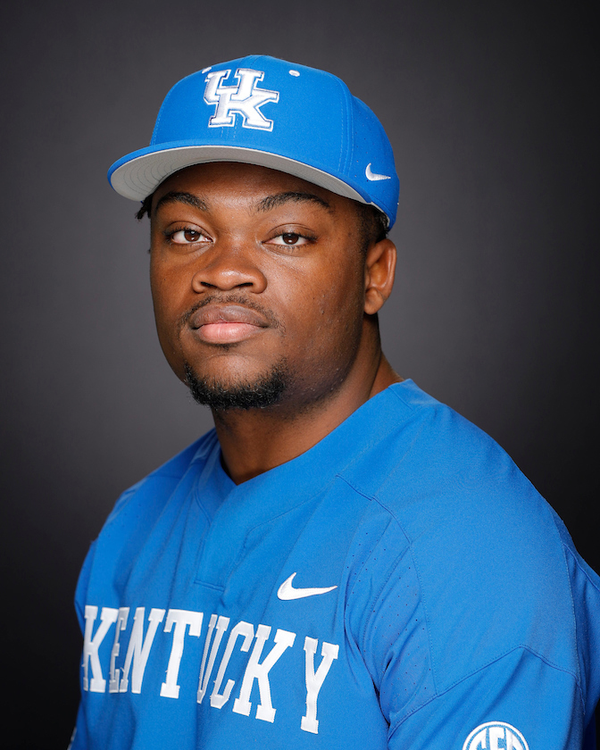 28
Oraj

Anu
position

OF

height

6-1

Weight

240

class

Graduate Student

Hometown

Orlando, Fla.

Previous School

Wallace-Dothan CC
16th Round Draft Pick in 2019 (Boston Red Sox)
28th Round Draft Pick in 2017 (Boston Red Sox)
No. 97 College Prospect, 2021 (D1Baseball)
SEC First-Year Academic Honor Roll (2020)
Third-Team NJCAA All-America (2019)
Cape Cod League Home Run Derby (2019)
 No. 14 outfield prospect, Cape Cod League (D1Baseball, 2019)
Second-Team NJCAA All-America (2018)
(Pronunciation: O-raj Uh-New)
2021
Played in 50 games, starting 49 at designated hitter and in left field…Batted .265 in 189 at-bats with 31 runs, 50 hits, six doubles, one triple, eight home runs and 35 RBI…Drew 12 walks and five hit by pitch…Stole four bases in as many attempts…Posted an OPS of .757…Recorded 14 multi-hit and eight multi-RBI games…Drove in three runs on three different occasions…Set a career-high with three hits vs. Georgia State on Mar. 13…Had nine extra-base hits and 19 RBI in SEC play…Crushed right-handed pitching to the tune of .307 average, including .396 in non-conference play.
2020 SUMMER
Played for the Waterloo Bucks of the Northwoods League…Teamed with current Wildcat Alonzo Rubalcaba…In 97 at-bats, hit .330 with 32 hits, 20 runs scored, five doubles, three home runs and 17 RBI…Posted a .402 on-base percentage and slugged .474 for an .876 OPS…Stole three bases…Had nine multi-hit games, including four three-hits outings…Twice had back-to-back games with three hits…Scored multiple runs six times and had five games with at least two RBI…Ranked second on the team in average.
2020
Appeared in 17 games, starting 12 as the designated hitter…Batted .294 in 51 at-bats with 12 runs, two doubles, a triple, three home runs and 10 RBI…Drew five walks and stole a base…Posted a .917 OPS… With two home runs vs. Cincinnati on 3/3 became first UK player since Ryan Wilkes in 2008 to do so from both sides of the plate in the same game…Had career-high three hits vs. UNC Wilmington on 3/1 and matched it on 3/10 vs. WKU…Drove in career-best three runs vs. Oakland on 3/8…Recorded first UK hit on 2/18 vs. Southeast Missouri…Drew game-winning walk-off walk in 15th inning vs. Appalachian State on 2/23.
2019 SUMMER
Played for the Cotuit Kettleers of the Cape Cod League… Team won league championship…Appeared in 38 games, batting .261 with 19 runs, four doubles, a triple, seven home runs and 29 RBI…The seven home runs tied for sixth in the league…Slugged .463 and delivered an OPS of .771…Participated in the 2019 Cape Cod League Home Run Derby…In seven playoff games, batted .310 with an OPS of .895…Scored five runs, had two doubles, a home run and eight RBI…His three-run home run in the first inning of the opening game of the championship series helped Cotuit sweep the best-of-three series…Posted 10 multi-hit games, including a 4-for-4 effort on July 27…Had eight multi-RBI games, including a summer-high five in a playoff game on August 3.
JUNIOR COLLEGE
Played the past two seasons at Wallace-Dothan (Ala.) Community College…In those two seasons  hit a combined .390 with 155 hits, 115 runs scored, 37 doubles, one triple, 30 home runs and 125 RBI…In 2019, hit .394 in 197 at-bats with 61 runs, 15 doubles, a triple, 19 home runs, 65 RBI and four steals…Slugged .766 as part of a 1.200 OPS…Earned Third-Team NJCAA All-America honors (2019)…Ranked fifth nationally in home runs in JUCO ranks, 13th in total bases (151) and 14th in slugging…Had 22 multi-hit games, included nine with three or more hits…Drove in at least two runs on 18 occasions…In the first round of the NJCAA Tournament he delivered a 4-for-5 games with four runs, two RBI, a triple and a home run…In 2018, hit .390 in 200 at-bats with 54 runs, 22 doubles, 11 home runs, 60 RBI, five steals and a 1.093 OPS…Earned Second-Team NJCAA All-America honors (2018)…Ranked the No. 45 JUCO player in the country by Perfect Game prior to the 2019 season.
PERSONAL
Full name is Oraj Anu…Hometown is Orlando, Fla. … Son of Linzey and Oralee Anu (formerly Oralee Fowler)…Youngest of three siblings…Father played football at Florida under Steve Spurrier…Mother ran track at UCLA (she roomed with Florence Griffith Joyner) and Florida and was as a member of the 1980 and 1984 Bahamas Olympic track team…Sister, Oriel, rank track at Florida International…Played baseball and ran track at TNXL Academy in high school…Wears No. 28 because it was his father's football number.
Read more