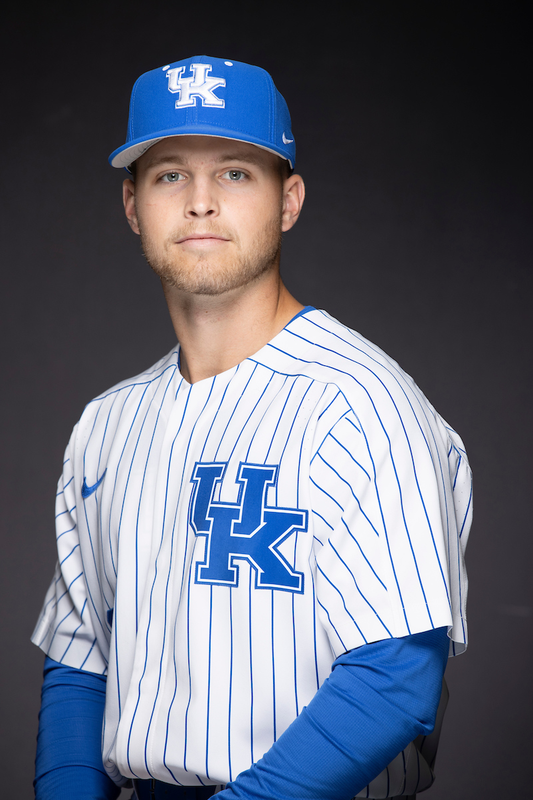 2
Mitchell

Daly
position

INF

height

6-1

Weight

185

class

Senior

Hometown

Madison, Ala.

Previous School

Texas
(Pronunciation: DAY-lee)
PRIOR TO KENTUCKY
The freshman All-American and all-conference performer with College World Series experience batted .262 with 98 runs, 52 extra-base hits and 90 RBI in 189 games at Texas…Also stole 16 bases.
2023
Batted .231 in 186 at bats over 61 games, including 53 starts…Scored 29 runs and drove in 22…Had a .759 OPS and 17 extra-base hits with 27 walks…Helped guide Texas to an NCAA Super Regional…Hit a career-high seven home runs.
2022
Played in 67 games and started 59 games at second base…batted .237 with 13 doubles and four home runs…finished with 37 RBI and 34 runs scored…played stellar defense, fielding .986 at second base…went 3-for-5 with five RBI and a homer against Kansas (5/19)…in a doubleheader at West Virginia (5/7), had three hits and two runs scored…had a two run home run against UTRGV (4/5)…went 2-for-4 with a homer, and earned four runs and three RBI against Texas Tech (3/27)…went 2-for-4 with a double, two runs and three RBI against Incarnate Word (3/18)…went 2-for-3 with three RBI against Texas A&M Corpus-Christi (2/22).
2021
Named to the Collegiate Baseball Freshman All-America second team…named to the All-Big 12 first team and the All-Freshman team…started 59 games at second base as a true freshman…finished second on the team with a .316 batting average and tied for second with 66 hits…hit 15 doubles and two homers…drove in 31 RBI and scored 35 runs…finished third on the team with 8-of-13 on stolen bases…fielded .964, was second on the team with 178 assists and contributed to 38 double plays…had 17 multiple-hit games, including four three-hit games and four-hit game…had a nine-game hitting streak and a 23-game reached base streak during the year…reached base safely in 54 of 59 games started.
HIGH SCHOOL
A four-year starter at shortstop for Bob Jones High School and head coach Jared Smith…a two-time All-State and All-Region selection in 2018 and 2019…as a junior batted .321 with 18 doubles, eight home runs, 33 RBI and 52 runs scored…ranked the No. 1 shortstop in Alabama by Perfect Game…Also played on the football team.
PERSONAL
Son of Edward and Cathy Daly…Born in Fort Hood, Texas…Edward is a four-star General in the United States Army…Cathy played volleyball at Army West Point…has one sister, Nicole, a graduate of Yale University and a brother, Connor, who attends Auburn University…Moved eight-time growing up as an Army kid.
*Texas Athletics Communications contributed to this bio
Read more