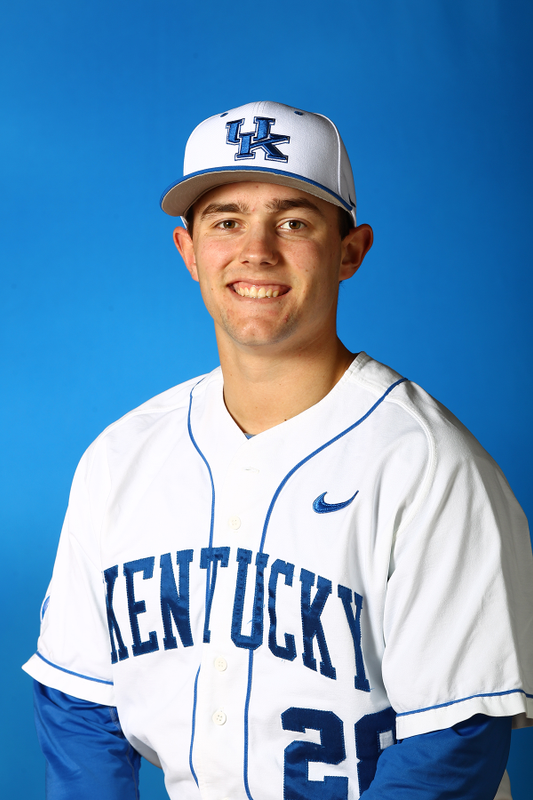 28
Logan

Salow
height

6-1

Weight

185

class

Senior
• SEC Academic Honor Roll (2016, 2015)
Outlook 
Had a tremendous summer that saw his velocity increase a few ticks…Coaches view him as a fierce competitor who has experience and won't back down on the mound…Has good feel for three pitches, including a breaking ball that often serves as his out pitch…Understands the game…Respected player in the Wildcats' locker room.
Summer
Appeared in 11 games with the St. Cloud Rox of the Northwoods League as a teammate of fellow Wildcat Marcus Carson…Started 10 games…Posted a 4-3 record with a 3.99 earned run average in 56.1 innings pitched…Peripheral statistics were terrific, as opponents hit just .208 and he struck out 70…Pitched 6.0 innings, gave up five hits, one walk and struck out nine in a victory in the NWL playoffs…Appeared in both the NWL All-Star Game and MLB Dreams Game.
2016
Appeared in 18 games as a key bullpen weapon…Posted a 1-1 record with a 3.22 earned run average in 22.1 innings of work…Held opponents to a .204 batting average and struck out 26…Was absolutely dominant against Buffalo on 3/6, striking out a career-high nine batters and yielding just one hit in 4.2 innings…Pitched three scoreless innings to earn the victory against Xavier on 3/30…Finished the season with five consecutive scoreless outings, including 3.0 total innings against No. 1 South Carolina.
2015
Kentucky's primary left-handed reliever, appearing in 23 games with two starts, with one weekend start at No. 16 UC Santa Barbara and one midweek start at No. 2 Louisville … Had a 1-1 record and a 5.32 ERA, with three saves in 23.2 innings, allowing 26 hits – 21 singles – and 11 walks, striking out 27 … Ranked second on the team in appearances and saves, leading the club with relief strikeouts … Inherited a staff-leading 24 runners, allowing only nine to score … Didn't all a run over his last 11 outings, a span of eight innings … Over the season's final two months, allowed only two runs in 12 innings, fanning 14 … In nine night games, had a 2.79 ERA with two saves and 11 strikeouts in 9.2 innings … Had a 7.50 ERA in Feb. (6 IP), an 11.12 ERA in March (5.2 IP), a 2.08 ERA in April (8.2 IP), and a 0.00 ERA in May (3.1 IP) … Made his season debut in the opener, walking two and striking out one to finish off the game vs. Ball State … Started the following week in a win at No. 16 UC Santa Barbara, working 3.1 innings and allowing three runs with four strikeouts … Worked in relief for his next 15 outings, including strong appearances at No. 7 South Carolina and Florida … Picked up his first save with two shutout innings in midweek action vs. Murray State … Got the final out for the save at No. 5 Florida to even the series … Then earned third save of the year to clinch the series win over the Gators, working around a pair of hits to get an out … Earned his first win of the year with 1.1 shutout innings vs. Northeastern … Was called on to start rivalry game at No. 3 Louisville, firing four shutout, one-hit innings.  … Pitched in seven games with six starts in the Perfect Game Collegiate League … Owned a 3-2 record and a 4.13 ERA in 28.1 innings … Allowed only 17 hits and 15 walks, striking out 24 … Teamed with Balake Oyler on the Elmira Pioneers. 
2014
Emerged as a go-to reliever for the Wildcats during his collegiate debut … Appeared in 23 games with two starts, with a 2-4 record and a 4.65 ERA, saving one game … Both of his starts came in the postseason, vs. No. 7 Florida in the SEC Tournament Quarterfinals and vs. No. 8 Louisville in the NCAA Louisville Regional Championship … Worked 31 innings on the year, allowing 35 hits and 13 walks, striking out 27 … Turned in a heroic start at Louisville in the regional final, making his second career start and putting on a bulldog effort to keep UK in the game, allowing one run in six innings as a hard-luck loser … Inherited 23 runners, allowing just three to score … Worked in 10 SEC games, with a 0-2 record and a 9.00 ERA in seven innings, allowing 10 hits, walking three and striking out three … Appeared in 13 non-SEC games, with a 3.38 ERA and a 2-2 record in 24 innings … Pitched in 13 games that UK won, with a 2-0 record and a 2.40 ERA in 15 innings … Worked six innings without an earned run in February, had a 2.45 ERA in 3.2 innings in March, owned a 6.00 ERA in 12 innings in April, and a 16.20 ERA in 3.1 innings in May … Worked 2.1 innings without allowing an earned run in his collegiate debut, stranding the bases loaded in his first chance … Struck out five of his seven outs recorded in his NCAA debut vs. UNC Wilmington … Worked shutout frames vs. St. John's and Wright State in the home opener … Worked 1.2 shutout innings vs. EMU, striking out four … Got an out vs. Ball State, before suffering his first career loss at Alabama in the 10th inning … Got one of the biggest outs of the year vs. No. 1 South Carolina, coming on to face Max Schrock to get a one-out save and clinch the series win … Worked three strong innings vs. Morehead State, allowing one run and striking out three … Picked up his second career win with 3.2 shutout innings at No. 8 Louisville, allowing five singles and striking out three … Made first career start vs. No. 7 Florida in the SEC Tournament Quarterfinals as UK had a heavily taxed pitching staff  … Was called on a week later in an elimination game vs. No. 8 Louisville in the NCAA Tournament, working six strong innings and allowing just one run in a bulldog effort. 
High School 
Led his team to the region championship and 2013 district champion at Paul Blazer High School … Named 16th Region Player of the Year as junior and senior … Was named all-area, and second-team all-state senior year … Earned four varsity letters … Was also a part of the four-time district championship basketball team, earning all-area in 2013 … Was part of the 2011 district championship football team, also earning all-area honors in 2013.
Personal
Full name Logan Ryan Salow … Born in Ashland Ky. … Son of Mike and Val … Has two brothers Corey (24) and Eric (33) … Major is Kinesiology…Father, Mike attended UK…Favorite MLB team is the Cincinnati Reds…Favorite MLB player is Hall of Fame outfielder Ken Griffey Jr. … Favorite SEC road trip is Texas A&M. 
Read more