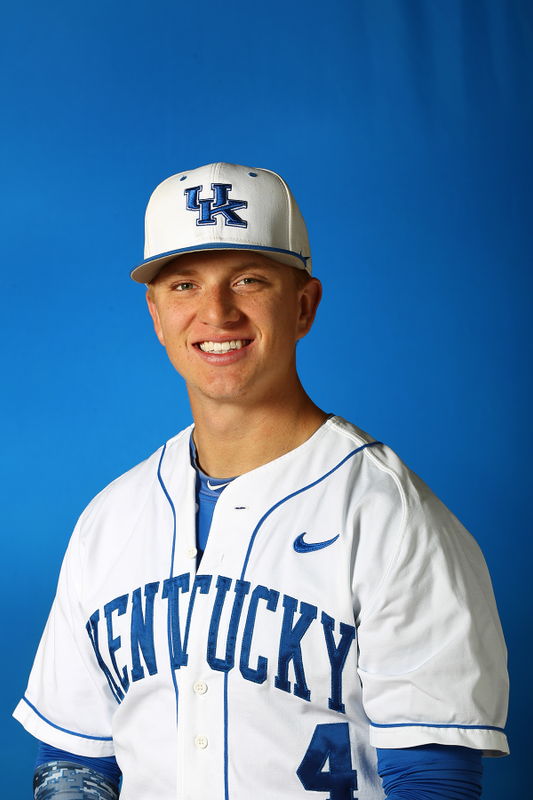 4
Kyle

Barrett
height

5-11

Weight

185

class

Junior
• 2014 Cape Cod League All-Star Starter (CF)
• 2013 No. 5 prospect in the Perfect Game Collegiate League (Perfect Game)
• 2013 No. 3 prospect in the Perfect Game Collegiate League (Baseball America)
• 2013 Perfect Game Collegiate League All-Star
• SEC Freshman Academic Honor Roll (2013)
• 2013 All-SEC Freshman Team (OF)
Outlook
Dynamic outfielder talent is coming off an all-star summer in the Cape Cod League … An All-SEC Freshman selection in 2013 after leading UK with a .349 average, he served as UK's primary starter in rightfield to open the year before strong performances from Ka'ai Tom and Storm Wilson added to the depth in the outfield rotation in 2014 … Has a top-of-the-order skill set with blazing speed and a quick, line-drive approach at the plate and an ability to use all fields … A raw baserunner with game-changing speed as a freshman, is improving his abilities to steal bases over three years.
Summer
Earned the starting centerfield spot in the Cape Cod League All-Star Game … Played in 37 games in the Cape, hitting .313 (40-for-128) with 22 runs, three doubles, one triple, six RBI and 10 steals … Had a 7-24 walk-strikeout ratio … Was one of eight players in the Cape Cod League to hit over .300 and steal at least 10 bases … Ranked 17th in the CCBL in average.
2014
Played in 46 games with 38 starts as a sophomore, hitting .253 (39-for-154) with six doubles, one homer and 19 RBI … Scored 35 runs and stole 10-of-12 bases … Had a 21-41 walk-strikeout ratio, getting plunked by three pitches … Played in 19 games with 16 starts in SEC play, hitting .210 (13-for-62) with a double and four RBI … Hit .298 in games UK won, with four doubles, one homer and 16 RBI … Totaled eight multi-hit games and three multi-RBI games … Had a 16-game hitting streak to open the year … Saw 37 starts in rightfield and one as the designated hitter … Hit first 26 times, also hitting fifth, sixth, seventh and eighth … Hit .310 (22-for-71) with runners on base … Had 10 two-out hits and six two-out RBI … Opened the year by hitting safely in the first 16 games of 2014 … Belted his first career homer vs. Wright State on Feb. 25 … Had a hit and a walk in UK's season-opening win vs. No. 1 Virginia … Had two hits and three RBI in a win over St. Joe's … Had three-hit games vs. EMU and No. 5 Florida … Had an RBI in each of his first three games and had 11 RBI in his first nine games … Went for three RBI in a two-hit game vs. St. Joe's … Hit his first career homer in a win over Wright State, snapping a streak of 177 consecutive homerless at-bats to open his career … Had two-steal games vs. Eastern Michigan and Ball State … After a 3-for-5 game vs. No. 12 Florida, went through a 3-for-31 stretch to finish the year … After the Florida series, served primarily as the fourth outfielder … Made the start in place of injured Thomas Bernal in the SEC Tournament Semifinals vs. No. 7 Florida, going 1-for-3 with two runs and an opposite-field double … Came on as UK's primary pinch hitter in the NCAA Tournament, seeing action in three of four games … Was called on as the pinch hitter with UK trailing 3-1 in the bottom of the seventh inning at No. 8 Louisville in the NCAA Louisville Regional Championship game … Hit a laser to shallow centerfield, with UK first baseman Thomas Bernal running from third base, that forced a sliding catch from Louisville centerfielder Cole Sturgeon, who came up firing and threw a strike to retire Bernal on a collision at the plate, resulting in an ejection of Bernal … Had an all-star summer with the Amsterdam Mohawks in the Perfect Game Collegiate League … Joined UK pitcher Dylan Dwyer and UK staff member and former star Mike Brown on the Mohawks, which won the league title for the second consecutive year … Played in 38 games with 35 starts, batting .343 (47-for-137) with 29 runs, four doubles, one homer and 11 RBI … Stole 18-of-22 bases, with a 16-13 walk-strikeout ratio and a .418 on-base percentage … Had one outfield assist, fielding a perfect 1.000.
2013
Had a historic freshman season, leading UK in average and earning a spot on the All-SEC Freshman Team … Played in 46 games with 38 starts, batting a team-high .349 (51-for-146) with four doubles, one triple and 14 RBI … Reached base safely in 34 of his 38 starts, including 19 straight to end the year … Had a 14-25 walk-strikeout ratio, with a .407 on-base percentage … Hung four sacrifice flies, stole 4-of-10 bases and totaled three outfield assists … In SEC games alone, hit .333 (34-for-102) with two doubles and eight RBI … In 30 games vs. SEC opponents (including SEC Tournament), hit .330 (35-for-106) with two doubles and eight RBI … In games against non-conference teams, batted .386 (17-for-44) with two doubles, one triple and six RBI … In games at home, led UK with a .379 (36-for-95) average … Led UK in average on the road, batting .294 (15-for-51) with three RBI … Led UK in hitting in games UK won, .394 (26-for-66), batting a team-high .313 in games UK lost … Led UK with a .341 average in day games and a .359 average in night games … Started getting hot in March and securing a starting job, batting .375 in March (15-for-40), .333 (19-for-57) in April and .356 (16-for-45) in May … Led UK with 1.11 hits per game … Totaled 15 multiple-hit games and two multiple-RBI games … Ran up a season-long 16-game hitting streak … Finished the year reaching base safely in 19 consecutive games … Made two starts in leftfield, 34 starts in rightfield and two starts as the DH … Hit all over the order, including No. 1 (21 times), No. 6 (nine times), No. 7 (six times), No. 8 (once) and No. 9 (once) … Hit .408 on balls in play … Move to the leadoff spot in the order was highly successful, batting .360 (32-for-89) with a .414 on-base percentage … Twice turned 9-3 double plays on fully extended grabs in rightfield … Laid down two bunts in five bunt-single chances … Hit .353 with runners on base, .406 with runner on and two outs and .293 with runners in scoring position and two outs … Began the year as the fifth outfielder, serving as a pinch runner early in the season … Made collegiate debut vs. Niagara in a blowout UK win, dropping a fly ball for an error in his first college chance, adding a sacrifice fly in his first at bat … Scored first career run as the go-ahead tally in the ninth inning at USC Upstate, pinch running for A.J. Reed … Registered first career start in the second home game of the year vs. EKU, going 1-for-4 with his first steal … Served as a pinch hitter and pinch runner until returning to the starting lineup vs. Michigan State in the rubber match, driving a clutch double down the rightfield line and adding a walk … Followed up his breakout start vs. MSU with a 2-for-4 game vs. Ohio in the final midweek game before the SEC opener at Florida … Came on to make SEC debut at Florida as a pinch hitter in the league lidlifter … Started the next two games at Florida, scoring a run with a walk, RBI and hit by pitch in the second game of the series and going 1-for-2 with two walks and two runs in the rubber-match win … Started 19 consecutive games starting with the UF series, running up a nine-game hitting streak during the stretch … Had hits in each game of UK's series win over No. 14 Mississippi State … Had a strong series vs. his home state of Georgia, collecting two hits in each of the first two games, adding a single in the rubber-match win … Drove in the game-winning run in the 10th inning at No. 9 Louisville, hanging a sacrifice fly to force in the go-ahead run … After going through a 0-for-9 stretch during the UL game and first two games at No. 2 LSU, rebounded with a 2-for-4 game in the finale vs. the Tigers … Added multiple-hit games in six of his next eight games, with a career-high 3-for-4 game with two RBI and a double vs. Tennessee … Went 3-for-4 with two runs vs. No. 9 Louisville at Cliff Hagan drawing a walk … Had a pair of 2-for-4 games at No. 16 South Carolina, before injuring his shoulder and having to sit out the series finale … Started his season-long 16-game hitting streak during Tennessee series, with eight multi-hit games, including a 3-for-4 outing vs. Wright State … Came off the bench with a pinch-hit single in the series finale at Missouri … Went 1-for-4 in his SEC Tournament debut vs. No. 21 Ole Miss.
High School
Starred for Chapel Hill in Douglasville, Ga., for coach Mick Harper … A 2012 second-team All-Region Rawlings All-America honoree … Also named honorable mention Perfect Game All-America in 2011 … As a junior, hit .485 with four homers and batted .564 with 19 runs and two homers as a senior … Played basketball in his freshman and sophomore years.
Personal
Full name is Andrew Kyle Barrett … Born Aug. 4, 1993 in Douglasville, Ga. … Son of Bill and Tricia Barrett … Family lived in London, Ky., during youth … Has one brother and one sister, Will (23) and Cass (21).
Read more