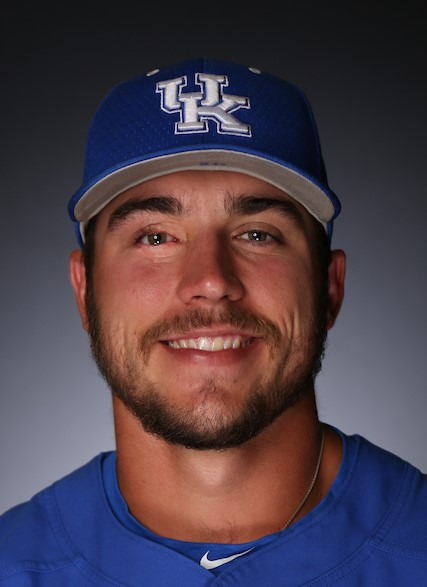 13
Kole

Cottam
height

6-3

Weight

225

class

Junior

Hometown

Knoxville, Tenn.
• 2018 College Catcher Prospect, No. 7 (D1Baseball)
• No. 128 Cape Cod League Prospect (D1Baseball)
• SEC Academic Honor Roll (2017)
• SEC First-Year Academic Honor Roll (2016)
Outlook
Extremely strong player with batter's box presence…Can hit the ball out of yard at any time to any field… Behind the plate he's the most improved catcher on roster with his receiving and blocking…Very accurate thrower with strong presence as a field general…Leader in the clubhouse…Owns plus character and intangibles…Comes from an athletic family…Will hit in middle of the order…Should build on breakout 2017 season…Draft stock expected to continually climb…Will play first base as well.
2017 SUMMER
Appeared in 20 games with the Yarmouth-Dennis Red Sox of the premier Cape Cod League…Hit .277 with a double, home run, six runs scored and five RBI…Took two HBPs…Was off to a hot start before a minor wrist injury ended his summer early.
2017
Appeared in 55 games, starting 50…Started 32 games as the DH and 18 at catcher…Hit .319 with 12 doubles, one triple and seven home runs…Drove in 44 runs and scored 34…Was hit by six pitches…Posted a .505 slugging percentage as part of his .885 OPS…Hit .324 in SEC play with eight extra-base hits and 19 RBI…Had 20 multi-hit games, including five three-hit efforts…Had 11 multi-RBI games…Had a career-long 11-game hitting streak from 5/18-6/9…Knocked in a career-high four runs at Mississippi State on 4/8…Homered, doubled, scored three runs and knocked in three in a series-clinching win over LSU on 4/23…Went 3-for-5 with two runs and two RBI in a 12-4 win at Florida on 5/18…In three elimination games in the NCAA Lexington Regional, went 5-for-11 with a double, triple, home run, four runs and six RBI…Had go-ahead two-run double against NC State to push Cats to first-ever Super Regional…Threw out 50 percent of baserunners attempting to steal on him.
2016 SUMMER
Appeared in 47 games for the Willmar Stingers on the Northwoods League…Batted .277 as the team's primary catcher, clubbing six doubles, a triple and two home runs…Walked 10 times, stole three bases and drove in 21 runs…Team made the Northwoods League playoffs.
2016
Appeared in 40 games as a freshman, starting 23…Shared the catching duties throughout the season…Batted .287 with 11 runs scored, six doubles, one home run, 15 RBI and a .391 slugging percentage…Got better as the season went along, hitting .314 with a .431 slugging percentage and .386 on-base percentage in SEC play…Produced a career-high two hits on five occasions…Knocked in a career-high three runs with a 2-of-2 day against Dayton on 2/21 that included his only career home run…Started the Wildcats' SEC Tournament game against Alabama…Went 4-of-9 with three runs scored, two doubles and two RBI in UK's series win at Georgia…Threw out 4-of-13 base stealers on defense.
High School
First-team All-State, all-district and AA Mr. Baseball in Tennessee … Hit .489 with 47 hits, 14 runs, 18 doubles, six homers and 54 RBI as a senior … Had a .373 average as a junior with a homer, nine doubles and 25 RBI … Hit .316 as a sophomore with seven doubles, two homers and 26 RBI … Set single-season records for hits, average, RBI and doubles as a senior … Was named district 4AA MVP as a senior, 4-AA defensive player of the year as a junior and 4-AAA rookie of the year as a sophomore … Was a member of the French and Math National Honor Society and was the president of the National Honors Society at his school … Earned three letters for coach Adam Sullivan and Knoxville Catholic High School … Led team to the state runner-up finish as a senior and junior.
Personal
Full name is Kole Warren Cottam … Son of Jeff and Kori Cottam … Born in Memphis, Tenn. … Major is Kinesiology…Has a younger brother, Kyle, who is a golfer at Clemson … Father played baseball and handball for Memphis and mother played basketball for Memphis…Uncle, Danny Cottam, played baseball at Memphis…Wears the No. 13 because he has had 13 surgeries on his right eye due to a congenital melanocytic nevus, a type of melanocytic nevus (or mole) considered a type of birthmark that occurs in an estimated 1 percent of infants worldwide. 
Read more