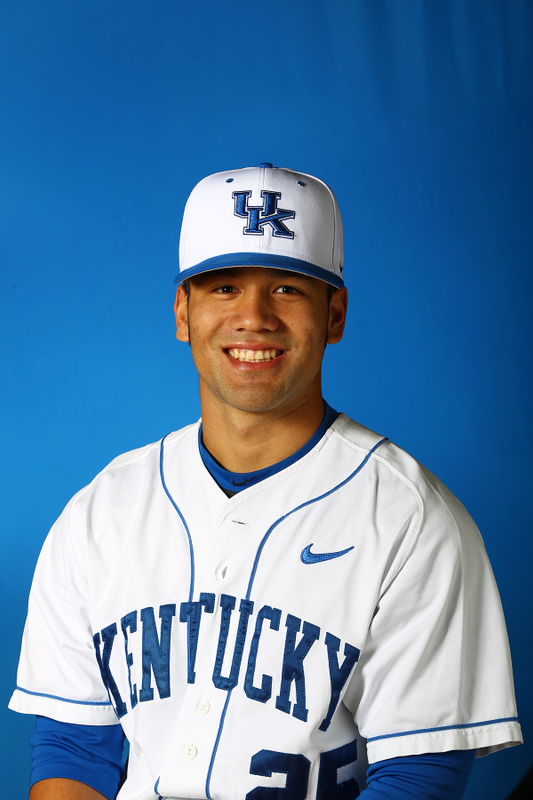 25
Ka'ai

Tom
height

5-9

Weight

185

class

Junior

Previous School

Fort Scott
• 2014 first-team All-SEC (OF)
• 2013 NYCBL Summer All-Star
• 2013 NJCAA third-team All-America (OF)
Outlook
One of the top performers in college baseball, earned first-team All-SEC honors in his debut season, narrowly missing the batting crown for SEC league games with a .373 mark … A hitting machine that sprays line drives to all fields and has surprising pop for a 5-foot-8 left-handed hitter … Has great speed and an ability to be an above-average defensive outfielder … Owns an accurate arm and has yet to make an error in his collegiate career … Before joining UK, put up monster numbers at Fort Scott Junior College, batting .387 with 11 homers and 57 RBI in 2013 … The first Hawaiian born player in UK baseball history … Attended the same high school as Oregon's 2014 Heisman winning quarterback Marcus Mariota.
Summer
Played in four games with the Wisconsin Woodchucks in the Northwoods League … Hit .417 (5-for-12) with five runs, one double, one RBI and one steal.
2014
Had a dynamic first-team All-SEC season for the Wildcats in 2014 … Hit .328 (67-for-204) with 40 runs, 13 doubles, three homers and 41 RBI in 54 games and 53 starts … Finished with a .414 on-base percentage and a .436 slugging mark … Had a 22-18 walk-strikeout ratio … Opened his career reaching base safely in 24 consecutive games and reached base safely in 48 of his 53 games … Was hit by ninth pitches, laying down two sacrifice bunts and hanging two sacrifice flies … Stole 14-of-18 bases, playing errorless defense and charting five outfield assists … Ranked second in the SEC in average in league play, batting .373 (38-for-102) with seven doubles, two homers and 21 RBI, stealing 5-of-6 bases … Had a .500 slugging and a .439 on-base percentage in SEC games … Had 19 multi-hit games and 10 multi-RBI games … Ran up a 12-game hitting streak in April and May … Made all 53 starts in leftfield … Hit No. 4 (13 times), No. 5 (32 times), No. 6 (seven times) and No. 8 (once) in the batting order … Totaled 17 two-out RBI and 27 two-out hits … Hit left-handed pitching better than righties … Batted .313 with runners on base, .362 with runners on and two outs, and .324 with runners in scoring position and two outs … Was 4-for-11 with the bases loaded with 10 RBI … Was a .379 (30-for-79) hitter from the sixth inning through extras, with 21 RBI … Hit .284 (29-for-102) in non-conference games, with six doubles, one homer and 20 RBI … Led UK in 30 games vs. SEC foes, batting .358 (43-for-120) with nine doubles, two homers and 25 RBI … Was a .343 (35-for-102) hitter at Cliff Hagan Stadium … Led the Wildcats in road games, hitting .344 (22-for-64) with two doubles, two homers and 14 RBI in 16 games … Led UK in games that UK lost, hitting .341 (28-for-82) with three doubles, one homer and 12 RBI … Hit .331 (42-for-127) in day games and .325 (25-for-77) in night games … Batted .308 (8-for-26) in February, .333 (15-for-45) in March, .328 (19-for-58) in April and .324 (22-for-68) in May … Hit .278 (5-for-18) with two doubles and four RBI in the SEC Tournament … Was 4-for-15 with a homer and four RBI in the NCAA Tournament … Made first career start in UK's second game of the year, going 3-for-3 at UNC Wilmington, with a RBI … Reached base safely in the next 23 games … Had a three-RBI game in a win over Eastern Michigan with a pair of doubles … Stole a pair of bases in a 2-for-2 game vs. Ball State … Drew a career-best three walks in a midweek tilt with Western Kentucky and vs. No. 12 Florida … Went 3-for-5 with an RBI and two steals vs. Missouri in the series opener … Had back-to-back three-hit games vs. No. 12 Ole Miss … Belted his first career homer in three-RBI game at Tennessee in the series-opening rout … Had a three-hit game vs. Auburn in the series opener … Started a 12-game hitting streak in the final two games vs. Ole Miss, including four three-hit games during the stretch, belting two homers and owning five doubles … Hit a three-run homer vs. Kansas to tie the game after allowing a three-run inning in the first in the NCAA Tournament regional opener … Played in 34 games in the New York Collegiate Baseball League for the Sherrill Silversmiths … Batted .278 (27-for-97) with 27 runs, four doubles, two triples, six homers and 25 RBI … Owned a 20-20 walk-strikeout ratio and stole 14-of-18 bases … Reached base safely in 29 of 34 games … Had a two-homer game on June 5, going 2-for-2 with four runs scored, also drawing a pair of walks … Hit over .300 for the first 30 games of the summer, before going 1-for-13 to finish at .278 … Transfer from Fort Scott Community College … Coached by John Hill … Batted .387 with 11 home runs and 57 RBI in 53 games … Was named third-team NJCAA All-America and first-team all-conference and all-region … Also earned a KJCCC Conference and NJCAA Player of the Week award.
High School
Played high school ball for coach George Gusman at Saint Louis High School … Three-time all-state selection … Won back to back conference championships as a sophomore and junior … Honored as a scholar athlete his freshman and senior years … Won a state championship in football as a junior.
Personal
Full name is Blaze Ka'ai Tom…Born on May 24, 1994 in Honolulu, Hi. … Youngest son of Bobbie Tom … Has two older brothers, Jordan (29) and Kainoa (23), and a sister, Mari (26) … Father played baseball at Washington State … Grandfather played baseball at Oregon … Brother, Jordan, played baseball at Oregon State … Brother, Kainoa, played baseball at Hartnel Junior College.
Read more