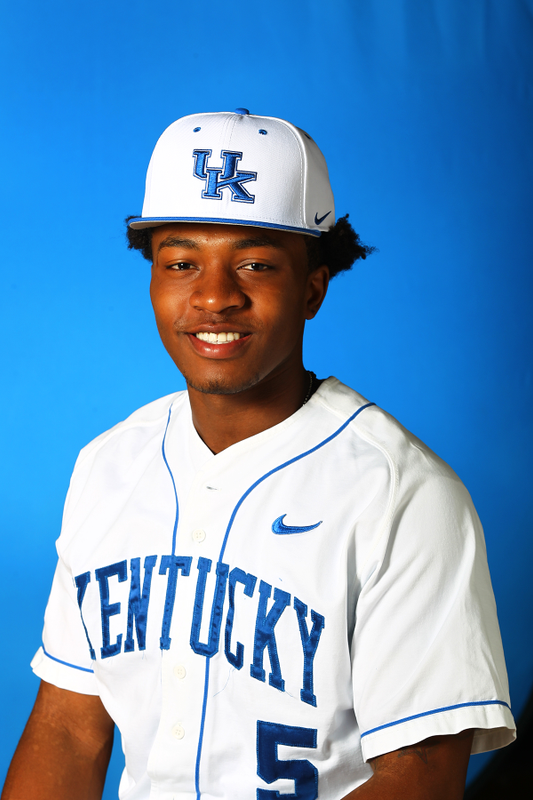 5
JaVon

Shelby
height

6-2

Weight

195

class

Junior
• 2016 Third-Team Louisville Slugger Preseason All-America (3B)
• 2015 First-Team All-SEC (2B)
• 2014 PGCBL All-Star Starter (SS)
• SEC Freshman Academic Honor Roll (2014)
• 2014 All-SEC Freshman Team (2B)
• 37th round draft pick in 2013 (Brewers)
2016
Started and played in 54 of Kentucky's 57 games…Led the team and ranked third in the SEC with 12 home runs…Third on the team with 35 RBIs…Had three games during the season when he hit more than one homer in a game (Feb. 21 vs. Dayton, March 20 at Georgia and May 1 at Auburn)…Stole six-of-six bases…Had three hits in a game four times during the season (Feb. 20 vs. George Mason, Feb. 21 vs. Dayton, March 20 at Georgia, April 30 at Auburn)…On March 20 at Georgia, Shelby was 3-for-5 with two homers, a triple, two runs scored and seven RBIs…Ranks 29th on UK's career list for base hits with 150.
Outlook
One of the top players in collegiate baseball, is coming off first-team All-SEC selection at second base in 2015, belting nine homers … Is a preseason All-America selection in 2016 after shifting across the diamond in the fall to third base … Owns great bat speed, tremendous power potential and above-average arm strength … Is an infectious personality that can assume a key leadership role in 2016 … Can play anywhere on the diamond defensively … Has good feel for the strike zone and an ability to fight his way on base … Owns the best returning OPS in SEC play (1.073) in the league, after ranking third in 2015 … Led all SEC second baseman in assists in each of his two seasons as UK's every day starter at the keystone … Led all SEC second baseman in RBI (44), slugging (.525) and on-base percentage (.442) in 2015 … Has sported a higher average in SEC play than in non-league action in each of his first two seasons … Drips baseball instincts and acumen, as his father, John T. is the Milwaukee Brewers first-base coach and an 11-year MLB veteran with two World Series titles … His oldest brother, John was an All-SEC second baseman and led UK to the SEC Championship in 2006 … His youngest brother, Jaren, signed his National Letter of Intent in November to play at UK and is regarded as one of the top high school players in the nation … Entering 2016, the Shelby family have combined to hit 33 home runs for Kentucky from 2004-06 and 2014-15 … Summer in the Cape Cod League was cut short after getting hit in the jaw, while in the dugout, by a foul ball. 
Summer
Played in 23 games for the Hyannis Harbor Hawks in the Cape Cod League … Ripped six doubles, one homer and drove in seven runs, scoring 11 times … Had seven walks, struck out 21 times and stole one base … Summer was cut short on July 7 after getting hit by a foul ball in the dugout … Went 3-forf-5 with two doubles in his first game of the summer … Had six multi-hit games, including a pair of three-hit outings … Hit a homer on June 25.
2015
UK's primary run-producer as a sophomore everyday second baseman … Started all 55 games at second, hitting .312 (63-for-202) with 29 runs, 12 doubles, two triples, nine homers and 44 RBI … Drew 38 walks, was hit by 10 pitches and struck out 51 times … Had a .525 slugging and a .442 on-base percentage … Stole 4-of-4 bases … Led SEC second baseman in defensive assists … Ranked as the SEC leader among second baseman in RBI, on-base percentage and slugging … Had a .321 (34-for-106) in SEC play with nine doubles, one triple, seven homers and 25 RBI … Had a .623 slugging and a .450 on-base percentage (19 walks, 32 strikeouts) in SEC play, good for a 1.073 OPS … Ranked third in the SEC with a 1.073 OPS in league play, behind only Kyle Martin (1.298) and Andrew Benintendi (1.263) … Reached base safely in 49 of 55 games … Had 19 multi-hit games and 10 multi-RBI games … Ran up a stretch of reaching base safely in 16 consecutive games … Hit homers in SEC play vs. power arms in Robert Tyler (Georgia), Kyle Serrano (Tennessee) and Vanderbilt's Walker Buehler and Carson Fulmer … Batted clean-up in a team-high 41 games, also hitting No. 2, No. 3, No. 5 and No. 6 … Had 19 two-out RBI and 20 two-out hits … Hit .329 (27-for-82) with runners in scoring position … Batted .323 (30-for-93) with four homers and 23 RBI at Cliff Hagan Stadium … Led the team with a .333 (27-for-81) average on the road, belting eight doubles, two triples and four homers … Hit .331 in day games with seven doubles and seven homers … Batted .297 (11-for-37) in Feb., .306 (22-for-72) in March, .417 (20-for-48) in April, and .222 (10-for-45) in May … Hit .296 (24-for-81) vs. top-25 opponents and .360 (7-for-20) in five games vs. No. 1 ranked teams … On SEC Friday nights, hit .324 (12-for-37) with a homer, hitting .306 (11-for-36) in game twos and .333 (11-for-33) with five homers in game threes … Reached base as the leadoff hitter in a club-high 45 percent of his chances … Went 3-for-5 with a homer and three RBI in the season opener, with his father in attendance before traveling to spring training … It marked the first time JaVon had ever hit a home run in front of his father, at any point in his baseball career … Cranked a homer and had four RBI in a series-finale win at No. 16 UC Santa Barbara … After an 0-for-2 game vs. Northern Kentucky on March 7, had a .255 average … Would hit .327 the remainder of the year to finish with a .312 average … Had two three walk games and two walks in six outings … Went 3-for-4 vs. No. 1 Texas A*M in the series opener … Had doubles in three straight games, including the final two vs. No. 1 LSU and a midweek tilt vs. Indiana … While riding a season-long eight game hitting streak, belted homers in consecutive games at Arkansas, going 2-for-3 with two RBI and three walks in the middle game … In a must-win situation in the regular-season finale at Missouri, ranked a homer, double and had three RBI … Starred for the Amsterdam Mohwaks in the Perfect Game Collegiate League, joining UK teammates Zack Brown, Connor Heady and Marcus Carson … The starting shortstop for the Eastern Division in the PGCBL All-Star Game … Hit .239 (32-for-134) with 23 runs, 12 doubles, three homers and 21 RBI … Had a 21-23 walk-strikeout ratio and stole nine bases. 
2014
Had an All-SEC Freshman season as UK's primary second baseman … Hit .250 (45-for-180) with 38 runs, six doubles, two triples, four homers and 21 RBI … Had a .372 slugging and a .351 on-base percentage … Tied for the SEC freshmen lead with four homers … In 29 SEC games, hit .240 (24-for-100) with two doubles, one triple, one homer and seven RBI … Had 11 multi-hit games and five multi-RBI games … Had a season-long six-game hitting streak, reaching base safely in 10 consecutive games … Made 41 consecutive starts at second base to end the year … Hit .588 (10-for-17) during a five-game hitting streak … UK's opening-day starter in leftfield, made his next 51 starts at second base … Hit .357 (15-for-42) as the leadoff hitter … Batted .263 (21-for-80) in non-conference games … In 33 games vs. SEC opponents, hit .243 (27-for-111) with 22 runs, two doubles, one triple, one homer and seven RBI … Hit .303 (27-for-89) with five doubles, one triple, four homers and 16 RBI at Cliff Hagan Stadium … Hit .282 (31-for-110) in games that UK won and .200 (14-for-70) in games that UK lost … Batted .279 (19-for-68) in night games, with three homers … Hit .154 (2-for-13) in February, .273 (15-for-55) in March, .315 (17-for-54) in April and .192 (10-for-52) in May … Was 3-for-11 in the SEC Tournament with three walks and a strikeout … Went 1-for-11 in the NCAA Tournament … Batted .265 in SEC series openers and .300 in SEC series finales … Made lone start in the outfield in the season lidlifter vs. No. 1 Virginia, going 1-for-3 with two runs a walk and RBI … Next 51 starts came at second base … Belted first career homer vs. Cincinnati, going 2-for-4 with a double and two RBI … Started five-game hitting streak with a 3-for-3 game vs. No. 5 Vanderbilt in the series finale, adding two hit vs. No. 8 Louisville and twice vs. No. 12 Florida in the streak … Belted a homer vs. Louisville, Tennessee Tech and No. 1 South Carolina … Homer vs. South Carolina came vs. lefty Jordan Montgomery … Had career high three RBI games vs. Tennessee Tech and No. 8 Louisville … Had a 1-for-4 game at Texas A&M with a triple that narrowly missed being scored as an inside-the-park homer, ripping a line drive off the top of the wall in leftfield and sliding in headfirst to beat the tag … Had a six-game hitting streak with single hits in each game over the Auburn-Georgia series.
High School 
A 37th round draft pick by the Milwaukee Brewers … Earned four letters at Tates Creek for coach Dom Fucci … Named all-city player of the year senior year … Two-time regional and district champion … Broke Tates Creek record for doubles in a season with 12 … Batted .340 as a senior … Named 2013 first-team all-region by Rawlings … Had a batting average of .300 junior year … Tabbed as 2012 underclassmen honorable mention by Perfect Game … Played football his freshman year … Was on the academic honor roll.
Personal
Full name is JaVon Taylor Shelby…Born May 6, 1995 in Lexington, Ky. …Son of Trina Shelby and John T. Shelby Jr. …Has four brothers, John T. (29), Jeremy (27), Justin (25), and Jaren (16)…Has an older sister, Tiara (22)…Brother, John, played baseball at Kentucky and was drafted by the Chicago White Sox … John is one of the more decorated performers in Kentucky history, leading UK from a last-place finish in 2005 to the 2006 SEC Championship, with John earning All-SEC honors at second base … Finished his three-year UK career with a .307 (177-for-577) average, with 36 doubles, six triples, 33 homers and 131 RBI, stealing 42-of-54 bases and owning career marks of .562 (slugging) and .377 (on-base percentage) … In 2005, John hit .344 with 10 homers, 52 RBI and 23 steals, before powering UK's championship team in 2006 with a .291 mark with 18 doubles, 18 homers, 56 RBI and 12 steals … John went on to play six years in the Chicago White Sox and Tampa Bay Rays organization, reaching as high as triple-A with the Rays in 2011 … John played in 646 minor league games, with 154 doubles, 34 triples, 76 homers and 339 RBI, stealing 112 bases … Father played in the MLB and won two World Series with the Orioles and Dodgers, currently serving as a big league base coach for the Milwaukee Brewers … Father John played 11-years in the big leagues, belting 70 homers and stealing 98 bases, with a .283 career MLB average … Brother, Jeremy, played baseball at Grambling State and was drafted by the Padres …Jeremy played in 109 games at Grambling State, with a .321 average, 12 homers, 61 RBI and 25 steals … Cousin, Josh Harrison, played baseball at Cincinnati and was drafted by the Chicago Cubs, and was a 2014 National League all-star selection by the Pittsburgh Pirates … Cousin, Vince Harrison, attended Kentucky and was drafted by the Marlins.
Read more