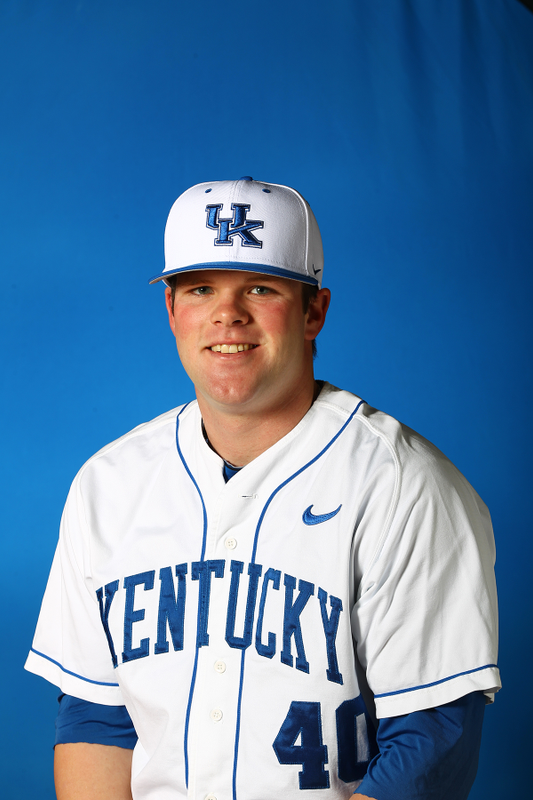 40
Greg

Fettes
height

6-2

Weight

230

class

Redshirt Junior
• 2013 All-SEC Freshman Team (C)
• 43rd round draft pick in 2011 (Tigers)
Outlook
Talented right-handed hitting catcher is in his fourth year in the program … Served as a reserve backstop to fifth-year senior Micheal Thomas in 2014 … Has great arm strength and raw power at the plate … Has added strength to his physical frame … Served as UK's back-up catcher in 2013, becoming the first UK catcher to earn Freshman All-SEC accolades … Hit three key homers as a freshman in league action, vs. South Carolina lefty Jordan Montgomery, Ole Miss righty Aaron Greenwood and Arkansas right-hander Ryne Stanek … Had his 2013 cut short due to injury … Served as UK's third catcher in 2014, making three starts, including catching starts vs. VMI on opening weekend and at Murray State in the final non-conference game of the regular season.
Summer
Hit .343 (34-for-99) in 34 games with the Fulton Railroaders in the Ohio Valley League, joining Tyler Marshall and Troy Squires on the club … Belted five doubles and three homers, driving in 18 runs and drawing 24 walks.
2014
Served as UK's third catcher, playing in 14 games with three starts … Hit .250 (5-for-20), with two runs and five RBI, stealing a base and owning a 2-7 walk-strikeout ratio … In SEC action, played in seven games with one start, going 2-for-8 at the plate, with two RBI … Was 1-for-1 with the bases loaded, 3-for-7 as a pinch hitter, adding three two out hits and two two-out RBI … Made first start of the year in UK's third game of the year vs. VMI in Wilmington, N.C., drawing a walk and stealing a base … Collected first hit of the year off the bench vs. Eastern Michigan … Got second start of the year as DH at Alabama, also earning a start in the regular-season non-conference finale at Murray State … Had a two-RBI pinch hit vs. No. 12 Florida … Played in 14 games with the Victoria HarbourCats in the West Coast League … Hit .135 (5-for-27) with three RBI and two runs … Had a 7-11 walk-strikeout ratio … Finished with a .273 on-base percentage … Summer ended on July 4.
2013
Earned All-SEC Freshman Team honors as UK's primary backup catcher … Is the first UK catcher to ever earn All-SEC Freshman Team accolades … Joins A.J. Reed (2012), Austin Cousino (2012), Ryan Wilkes (2005) and Antone DeJesus (2005) as UK players to earn conference All-Freshman accolades … Played in 23 games with 19 starts … Hit .250 (15-for-60) with nine runs, five doubles, three homers and nine RBI … Eight of his 15 hits came as extra-base knocks … Drew 12 walks and had two sacrifice bunts and sacrifice flies … Owned a .483 slugging and a .365 on-base percentage … Was perfect defensively in 89 chances … Hit .184 in SEC play, making 12 starts and playing in one game off the bench … Had two doubles and three homers in SEC action, before an injury ended his season during the Vanderbilt series … Hit .364 (8-for-22) in non-conference action with three doubles, four RBI and six walks … Hit .579 (11-for-19) in games that UK won … Hit .233 (7-for-30) with runners on base … Had two, two-out hits and three two-out RBI … Was 2-for-6 off the bench with a double … First career homer came vs. Jordan Montgomery at South Carolina, also homering against Aaron Greenwood at Ole Miss and vs. Ryne Stanek vs. Arkansas … First collegiate appearance came in a 2-for-2 outing off the bench vs. Niagara … First career start came in the home opener, going 1-for-2 with an RBI and a sac fly … First career weekend start came on Saturday while catching Jerad Grundy vs. Akron, going 3-for-4 with two RBI and a double … Went 2-for-2 with a double and two walks in a midweek win over Marshall … Got first career SEC start on Saturday vs. Georgia, coming up twice with the bases loaded and less than two outs, striking out twice … Returned to the starting lineup 17 days after start vs. Georgia after quality practices … Broke out with a two-run homer at South Carolina against Montgomery, bringing UK within striking distance in a comeback bid … After starting catcher Micheal Thomas caught 18 innings at Western Kentucky on a Tuesday night, Fettes earned the start at No. 16 Ole Miss in the series opener vs. ace Bobby Wahl … Doubled vs. Wahl and drew a walk in the ESPNU Thursday Night SEC Game of the Week … In the series finale, hit his biggest homer of the year, a clutch, game-tying homer vs. the Rebels … In a start vs. Vanderbilt's Kevin Ziomek in the series opener, went 1-for-4 with a double and a walk … While running to first in the series finale, suffered a leg injury that ended his season … Played in nine games in the Northwoods League during the summer for the Willmar Stingers … Batted .138 (4-for-29) with two RBI, one steal and a 4-7 walk-strikeout ratio.
2012
Redshirted season … Was vital to the development of the pitching staff throughout the preseason and spring.
High School
One of the top high school catchers in the nation, turned down the Tigers as a 43rd round draft pick in the 2011 MLB Draft to attend Kentucky … A two-time all-state selection and a member of the East/West All-Star Game … Named team MVP three years … Set single-season school records for homers (11) and RBI (49) and the career record for homers (27) … Hit six homers as a senior and had 11 homers as a junior, with a .500 average and 49 RBI … Had seven homers and 31 RBI as a sophomore and three homers as a freshman … Led Lamphere to the league championship three years and the district championship as a junior … Played for coach Adam Wooley … Also played two years of football.
Personal
Full name is Gregory Kiel Fettes … Son of Greg and Shelia and Melanie … Born Jan. 15, 1993 in Madison Heights, Mich. … Has six siblings, including brothers Jason (23), Tim (21), Chris (18), Austin (16) and Joe (14) and sister Leanne (25) … Cousin Anthony played basketball for Eastern Kentucky.
Read more