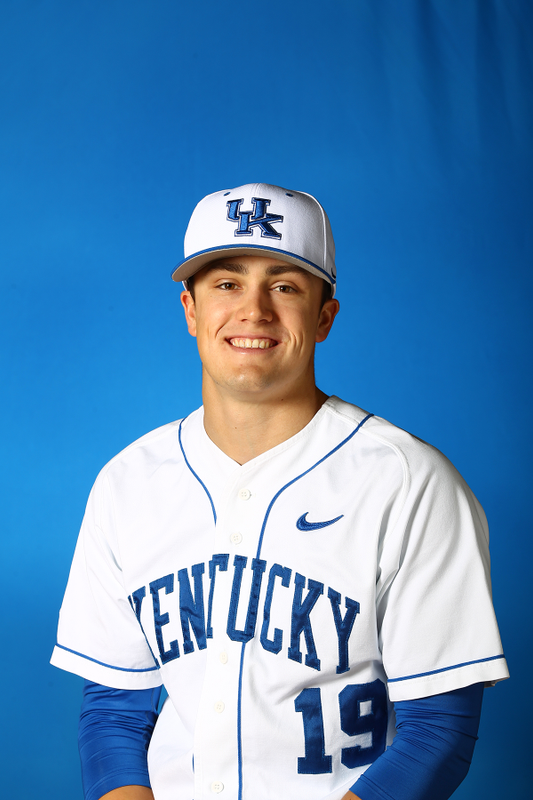 19
Evan

White
height

6-3

Weight

205

class

Junior
• Preseason Second Team All-America (Collegiate Baseball)
• Preseason Second Team All-America (Perfect Game)
• Preseason Third Team All-America (NCBWA)
• Preseason Third Team All-America (D1 Baseball)
• Preseason First Team All-SEC (Coaches)

• Preseason Top 100 College Prospects, No. 33 (Baseball America)
• Preseason Top 100 College Prospects, No. 29 (D1 Baseball)
• SEC No. 11 2017 draft prospect (D1 Baseball)
• 2016 USA Baseball Collegiate National Team
• 2016 Rawlings Gold Glove (1B)
• 2016 Second-Team All-SEC (1B)
• 2016 All-SEC Defensive Team (1B)
• Two-time 2016 SEC Player of the Week (3/7/16; 3/28/16)
• 2015 Freshman All-SEC (1B)
• 2015 All-SEC Defensive Team (1B)
• SEC Academic Honor Roll (2016)
• SEC First-Year Academic Honor Roll (2015)
Outlook
One of the nation's top two-way players at first base…Incredibly talented defender, having been voted All-SEC Defensive Team each of the past two seasons and Rawlings Gold Glove winner in 2016 for his glove work…Enters the season with the longest current hitting streak among SEC players at 16 games…Will likely hit third in lineup…Line drive hitter with more potential for more power…Considered one of the top Major League Baseball Draft-eligible college prospects in the country…Will primarily remain at first base but could see time in the outfield if situation dictates such a move…Picked up invaluable experience playing for USA Baseball over the summer…Already been named to several preseason All-America teams.
Summer
Spent the summer as a member of USA Baseball's Collegiate National Team…Started 15 of the team's 19 games around the globe, primarily at first base with spot starts in the outfield…Hit .250 in 52 at bats with a triple and three runs batted in…Scored eight runs, walked three times and had a perfect fielding percentage.
2016
Started all 54 games in which he appeared…Batted a team-high .376 in 226 at bats, the 11th-best mark in school history…Scored 44 and drove in 40 runs…Had 15 doubles, three triples and five home runs…Stole a team-high 10 bases (in 13 attempts)…His 85 hits were tied for the 8th-most in a single season in school history…Slugged .535 with an on-base percentage of .419…His .376 batting average ranked No. 3 in the SEC last season and his 85 total hits tied for sixth…Of the leading hitters in the league he led the conference in hits per game at 1.57…Had a 21-game hitting streak from 3/4 to 4/3…Finished the season with a 16-game hitting streak, which is the longest current streak in the SEC entering the 2017 season…Had 24 multi-hit games and 10 multi-RBI games…Had 28 two-strike hits…In crucial series against Missouri to close the regular season went 6-of-12 with four RBI…Had six hits in series at Auburn…Went 4-of-8 in two games against Louisville…Went 7-of-14 with four runs, two RBI, a double and a home run in series win over No. 1 Florida, earning SEC Player of the Week honors…Also was named SEC Player of the Week after going 9-of-12 with six runs scored and eight RBI in three-game sweep of Buffalo 3/5 to 3/7…Hit leadoff or No. 2 in all 54 games he played…Hit .364 in SEC play with 22 runs, eight doubles, two triples, a home run and 15 RBI…Made just one error in 54 games, finishing with a .998 fielding percentage.
2015
Started 52 games in his collegiate debut, earning Freshman All-SEC honors and was named the first baseman on the SEC All-Defensive Team … Hit .318 (69-for-217) with 12 doubles, one triple, two homers and 28 RBI … Had a .410 slugging and a .369 on-base percentage … Stole 3-of-4 bases … Had four sac flies and laid down a sac bunt … Scored 27 runs and had a 15-33 walk-strikeout ratio, getting hit by five pitches … Reached base safely in 47 of 52 games … Was removed from a start vs. Northern Kentucky in March due to a minor injury, missing the ensuing three games … In SEC play, hit .296 (37-for-125) with 16 runs, eight doubles, one triple, one homer and 15 RBI, with a .758 OPS … Had 20 multi-hit games and five multi-RBI games … Ran up a 13 game hitting streak and finished the year on a three-game stretch … Primarily hit second in the order (41 times), also hitting leadoff once … Hit .330 with runners on base, .500 with the bases loaded and .362 with runners in scoring position … Had 18 two-out hits and 10 two-out RBI … Had a hit in his first 11 NCAA games … Batted .319 in home games with 10 doubles and 11 RBI … Hit each of his homers on the road, with a .302 average in 22 road games … In games UK won, batted .397 with 19 RBI … Hit .316 (12-for-38) in Feb., .329 (23-for-70) in March, .328 (20-for-61) in April, and .292 (14-for-48) in May … Had a .292 (7-for-24) with two doubles and a triple in five games vs. No. 1 ranked teams … Went 3-for-5 in his NCAA debut in the season opener vs. Ball State … belted his first career homer at Southern California (vs. Tyler Gilbert) … Had a career-high three walk game vs. Murray State in the first end of a doubleheader … Was removed from the second game of the doubleheader after suffering a minor injury, snapping his 11-game hitting streak with an 0-for-2 outing … Returned four games later to go 2-for-4 against Cincinnati in the Queen City … Went a career-high 4-for-7 in an 11-inning marathon at No. 1 LSU in the series finale rubber match win … Also went 3-for-7 at Arkansas … Had seven consecutive two-hit games spanning the Tennessee and Florida series … Went 3-for-4 in the regular-season finale at Missouri with three RBI and his second homer, in a must-win game … Was 1-for-4 in the SEC Tournament. 
High School
The All-Ohio Baseball Player of the Year … Set school records for hits in a season (50), career doubles and RBI … Rated as the 13th best Ohio prospect available in the 2014 MLB Draft … Played for coach Mike Shade at Gahanna Lincoln … Earned first-team All-State, All-Region and All-District honors as a junior and senior … Also earned all-district and all-conference honors as a sophomore and honorable mention accolades as a freshman … Led team to the regional championship as a junior and senior and three district championships … Played basketball as a freshman. 
Personal
Full name is Evan McKee White … Son of Joe and Erin … Has a brother, Jarod (17) and a sister, Kendall (13) … Born in Columbus, Ohio … Major is pre-Integrated Strategic Communciations…Grandfather and uncle played in the Cincinnati Reds organization…Both parents played basketball in college…Father also played baseball…Favorite MLB team in the Cincinnati Reds…Wears No. 19 because his father wore the same number in high school and Reds star first baseman Joey Votto wears it.
Read more