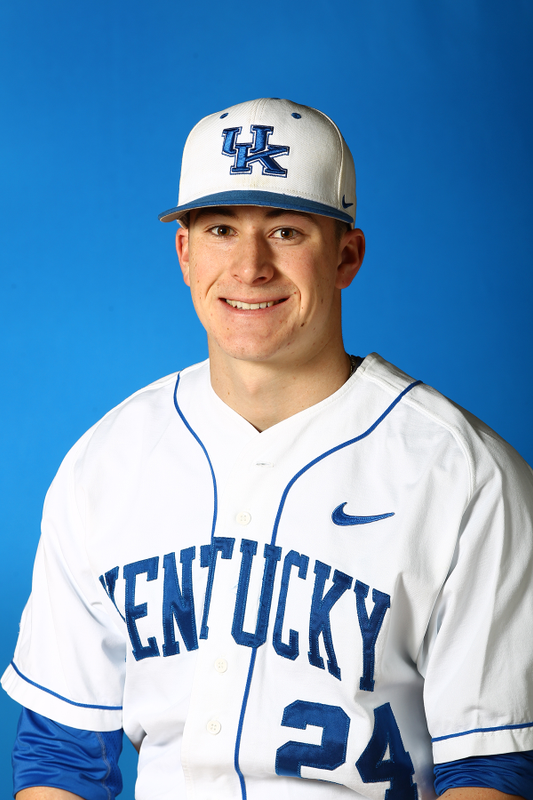 24
Dylan

Dwyer
height

6-1

Weight

175

class

Senior
• SEC Academic Honor Roll (2015)
• 2013 No. 18 prospect in the Perfect Game League (Perfect Game)
• SEC Freshman Academic Honor Roll (2013)
Outlook
Talented left-hander has experienced it all during his career, late-inning reliever, lefty specialist, middle relief, midweek starter and SEC weekend starter … Shined as a sophomore in weekend starts … Is a good athlete on the mound, with an ability to throw several pitches for strikes … Threw a complete-game shutout vs. Cincinnati in midweek action as a sophomore. 
Summer
Appeared in 12 games with 11 starts in the Northwoods League, owning a 4-6 record and a 5.46 ERA … Worked 59.1 innings, allowing 69 hits and 24 walks, striking out 37 … Allowed one run on three hits in seven innings on June 25 … Tossed 8.2 shutout innings on July 1, allowing only six hits and a walk … Worked seven shutout innings on July 23, allowing only three hits and a walk. 
2015
Appeared in 16 games in relief, with a 2-0 record and a 3.03 ERA … Tossed 29.2 innings, allowing 27 hits and 11 walks, striking out 26 … Held opponents to a .233 average … Inherited 12 runners, allowing only three to score … Worked in six games in relief in SEC play, allowing eight runs in 4.2 innings with an 11.57 ERA … Was 2-0 with a 1.44 ERA in 10 non-SEC games … Worked in 11 innings at Cliff Hagan Stadium, owning a 2-0 record and a 2.93 ERA in 15.1 road games … Was 1-0 with a 0.00 ERA in Feb., a 1-0 record and a 4.35 ERA in March, a 0-0 2.16 ERA in April, and a 0-0, 6.23 ERA in May … Worked a shutout inning vs. Richmond in his season debut … Fired 3.1 innings without an earned run at No. 16 UC Santa Barbara … First four outings, 9.1 innings, came as scoreless … Won midweek game in relief at Cincinnati, with 2.2 shutout innings … Came on at No. 5 Florida to strand the bases loaded … Worked four no-hit innings at No. 2 Louisville, allowing a run on a pair of walks. 
2014 
Pitched in 14 games with 10 starts as a sophomore, totaling a 1-1 record and a 5.65 ERA … Worked 56 innings, allowing 56 hits and 22 walks, striking out 47 … Served as UK's midweek starter to open the year, before injuries to Kyle Cody and Chandler Shepherd forced him into the weekend rotation … Worked in eight SEC games with five starts, owning a 3-2 record and a 7.00 ERA in 27 innings … Was 2-1 with a 4.03 ERA in six non-SEC games … Was 4-1 with a 3.93 ERA at Cliff Hagan Stadium … Was 5-0 with a 2.75 ERA in eight games that UK won … In March and April, had a 5-2 record and a 3.48 ERA in 44 innings, allowing just 37 hits and 10 walks … Threw the first midweek complete-game shutout in UK history in his third career start, tossing a nine-inning blanking over Cincinnati … Marked the first complete-game shutout for UK since Alex Meyer vs. No. 1 Vanderbilt in 2011 and the first complete game for a UK pitcher in a midweek game since Greg Dombrowski in 2005 vs. Murray State … Made his season debut as the starter in UK's fourth game in four days on opening weekend, striking out the first six hitters he faced at USC Upstate, before running into trouble in the third inning, allowing four runs … Worked three innings and allowed one run in three innings as UK's starter in the home opener vs. Wright State … Followed up his shutout vs. UC with 7.1 innings at No. 16 Indiana, allowing four runs in the eighth inning to dent his outing … Returned to the mound to pick up a midweek win over No. 8 Louisville in Lexington, allowing two runs in 5.2 innings, of an 8-3 win … Worked in relief vs. Florida, before tossing a strong 6.1 shutout innings in a win over Missouri to even the series … Continued strong run of form with 6.2 innings at Texas A&M, allowing just one run … Allowed six runs in starts vs. Ole Miss and at Tennessee, before allowing four runs in two innings vs. Auburn to move to the bullpen … Came on in relief at Georgia in the season finale, allowing three runs in an inning, before suffering a non-baseball related injury to his non-throwing hand that ended his season … Joined UK outfielder Kyle Barrett and UK staff member and former star Mike Brown in leading the Amsterdam Mohawks to the Perfect Game Collegiate League title … Made 11 starts on the summer, with a 2-2 record and a 4.87 ERA … Worked 40.2 innings, allowing 40 hits and 25 walks, striking out 40 and allowing opponents to hit .263.
2013
Talented southpaw emerged as a weapon against left-handed hitting for UK's record-setting bullpen … Appeared in 14 games in relief, with a 1-0 record and a 3.86 ERA … Worked 16.1 innings, allowing 20 hits and seven walks, striking out seven … Appeared in five SEC games in relief, with seven earned runs allowed in seven innings, walking five and striking out one … Did not allow an earned run in non-SEC games, a span of nine contests and 9.1 innings … In 10 games and 11.1 innings at Cliff Hagan Stadium had a 1-0 record and a 2.38 ERA … Inherited 10 runners on base, allowing just three to score … Allowed only five hits to left-handed hitters … Collegiate debut came in the season opener, going 1.1 shutout innings … Worked a perfect frame vs. Kansas State … Tossed 2.2 shutout innings vs. EKU in the second home game of the year … Got a key out vs. Michigan State, before working a shutout frame vs. Marshall … Came on to face a left-handed hitter vs. Georgia in his SEC debut, plunking the hitter, which came around to score the first run allowed by Dwyer in 2013 … Next outing inflated his numbers, as UK was in the midst of a 11-1 setback vs. No. 2 LSU and needing to save the bullpen for the rest of the series … Worked 1.2 innings at LSU, allowing five hits and six runs, walking two … Allowed a run and got an out vs. Tennessee in his next outing … Regained his rhythm with two innings vs. No. 9 Louisville, allowing an unearned run … Worked a shutout frame at No. 16 Ole Miss … Tossed a career-high four innings vs. No. 1 Vanderbilt, allowing three hits and one run, coming on a solo homer … Last outing of the year came vs. No. 15 Indiana, walking the hitter he faced.  
High School
One of the top prospects in the state, earned first-team All-State honors by the KHSBCA and ESPNHS … Led Calloway County to its first ever regional championship game … Posted a 11-1 record as a senior … Had a strong outing vs. Meade County in the State Tournament, allowing only two hits and striking out 13 … Earned four letters under coach Zach Hobbs … Played football junior year … Senior season, hit .386 with 38 RBI.
Personal
Full name is Dylan Patrick Dwyer … Born Feb. 18, 1994 in Montgomery County, Md. … Son of Gary Dwyer and Kim Vaught … Has two brothers, Corey (23) and Travis (17).
Read more