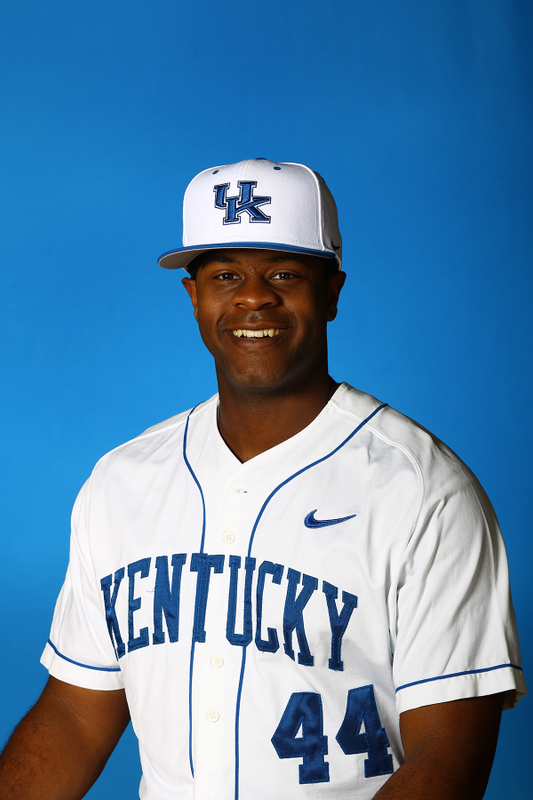 44
Dorian

Hairston
height

5-11

Weight

210

class

Senior
• CoSIDA Academic All-District (2016)
• SEC Community Service Team (2016)
• SEC Academic Honor Roll (2015)
• SEC Academic Honor Roll (2014)
• SEC Freshman Academic Honor Roll (2013)
Outlook
Veteran slugger emerged as an everyday player, in right field and as the DH, in 2015 with four homers in key situations in SEC play … Had a .318 average in SEC games with nine extra-base hits and a .767 OPS … Has a line-drive approach at the plate with an ability to punish mistakes … Has good athletic ability and feel for the game, showcasing his maturity in the way he approaches each day … Is a model student-athlete that is active in the Affrilachian Poets Society and has had several of his pieces of poetry published … Was showcased in a television advertisement based upon his ability on the diamond, his dedication in the classroom and his relationship with a notable UK professor Frank Walker, produced by the university, that aired throughout UK's sporting events …. Younger brother, Devin, is the starting shortstop for rival Louisville, emerging as an elite defender as a freshman in 2015.
Summer
Played in 46 games with 41 starts in the Coastal Plains League, batting .258 (40-for-155) with five doubles, one triple, three homers and 25 RBI … Stole 13-of-16 bases, with a .361 slugging and a .348 on-base percentage … Had two outfield assists … Owned 18 walks and 31 strikeouts, getting plunked by four pitches. 
2016
Played in 42 games, with 31 starts as a senior…Named to CoSIDA Academic All-District Team…Tied for fourth on the team with five home runs…Hit a walk-off homer in the bottom of the 12th inning to clinch the series win over No. 2 South Carolina…Also had the game-winning RBI in game two of the South Carolina series…Had six games with two hits, most recently against Missouri in the regular season finale…Had 17 multiple-hit games in his career.
2015
Became a vital run producer halfway through the season, playing in 42 of UK's 55 games with 32 starts … Hit .281 (36-for-128) with six doubles, four homers – all in SEC play – with 21 RBI and five steals … Had a .345 on-base percentage and a .422 slugging percentage … Was plunked by six pitches … Had one outfield assist … Made a team-leading 22 starts as the DH and 10 starts in rightfield … Had 10 multi-hit games and five multi-RBI games … Hit .318 (27-for-85) in SEC games, with five doubles, four homers and 16 RBI, stealing five bases … Had a .518 slugging and a .376 on-base percentage in SEC play … Came off the bench with a 1-for-2 outing in the series opener vs. Ball State … Made first start of the season in week two at Southern Cal … Went a season-best 3-for-3 vs. Northern Kentucky on March 8 … First career homer came at No. 1 LSU (vs. Jake Godfrey) in the series finale rubber match, leading off the second inning for an early 1-0 UK lead in an eventual 11-inning thriller … Hit second homer at Arkansas (vs. Trey Killian), before belting bombs at home vs. Vanderbilt (vs. Phillip Pfiefer) and Georgia (vs. David Sosbee) … At Cliff Hagan Stadium, hit .339 with five doubles, two homers and 14 RBI … Had a .237 average on the road … In games UK won, hit .353 with three homers and 15 RBI … Had a team-leading three homers in night games … Hit .222 (2-for-9) in Feb., .355 (11-for-31) in March, .293 (12-for-41) in April and .234 (11-for-47) in May … In 12 games vs. top-25 opponents, had six extra-base hits, including two homers … Belted two homers in SEC series openers … During the summer, played in 32 games with 23 starts for the Newark Pilots in the Perfect Game League … Hit .188 (15-for-80) with 19 runs, three doubles and 13 RBI … Drew eight walks and struck out just 13 times, stealing four bases.
2014
Served as UK's fifth outfielder and primary right-handed hitting outfielder … Played in 17 games with four starts, hitting .400 (10-for-25) with a double, two triples and seven RBI … Drew three walks, was hit by two pitches and stole a base, owning a .600 slugging and a .500 on-base percentage … Was 2-for-8 in SEC action, playing in seven games with one start … Hit .471 (8-for-17) with six runs, one double, two triples and seven RBI in non-SEC games … Was 7-for-14 at Cliff Hagan Stadium and 2-for-8 on the road … Hit .600 (9-for-15) in games that UK won and was 1-for-10 in games that UK lost … Had three multi-hit games and three multi-RBI games … Made three starts in leftfield and one start in rightfield … Hit .500 (9-for-18) with runners on base, .625 (5-for-8) with runners on and two outs and .667 (6-for-9) with runners in scoring position … Made season debut with a two-RBI triple vs. St. Joe's in Norfolk, Va. … Went 2-for-2 with three runs and two walks off the bench vs. Ball State … Earned first start the following game vs. Ball State, going 2-for-4 with a steal and two RBI, getting plunked by two pitches … Earned second consecutive start, at No. 16 Indiana … Went 2-for-4 in a start vs. Xavier, collecting a triple … Started at No. 5 Vanderbilt in his first career SEC start … Collected pinch hits at Texas A&M and Georgia  … Played for the Lexington Hustlers in the Great Lakes League … Played in 28 games, hitting .211 (20-for-95) with seven runs, six doubles, two triples and 11 RBI … Had an 8-28 walk-strikeout ratio, stealing 5-of-5 bases … Finished with a .294 on-base percentage.
2013
Competitive right-handed hitting outfielder played in six games with one start … Batted .286 (2-for-7) with an RBI and a walk … Had a .375 on-base percentage in limited time … Went 1-for-4 in SEC play … Made one start, as the DH for UK during its second game of the series at No. 14 South Carolina, hitting No. 9 … First collegiate appearance came with a pinch-hit RBI single vs. Niagara … First career SEC appearance came at No. 14 South Carolina, with UK looking for toughness in the lineup it turned to Hairston for a pinch-hit single … Earned the start in the following game after his single, going 0-for-3 with a pair of strikeouts. 
High School
Starred at Tates Creek High School, the same program that produced UK standout righthander Trevor Gott … Led Tates Creek in hits (32), triples (five), homers (three), RBI (23) and slugging percentage (.540) as a senior … Named honorable mention all-state by the KHSBCA … Earned four letters under coach Dom Fucci at Tates Creek … Attended Governor's Scholar for the Arts program.
Personal
Full name is Dorian Geoffrey Hairston … Born Jan. 28, 1994 in Lexington, Ky. … Son of Donald and Valerie Hairston … Has a younger brother, Devin (18) … Father played basketball at Berea.
Read more