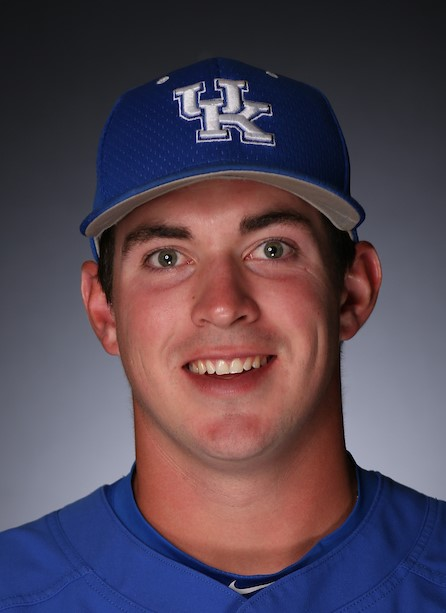 42
Brad

Schaenzer
height

6-2

Weight

215

class

Senior

Hometown

Oxford, Mich.
Outlook
Lefty who was much-improved in 2017…Really meshed well with new pitching coach Jim Belanger…Served as mid-week starter and weekend reliever…Throws strikes…Keeps the ball down…When ball gets up he gets in trouble…Better raw stuff than probably given credit for but won't blow hitters away…Did not give up a run in his first 19.0 innings last season.
2017 SUMMER
Appeared in four games with the Danbury Westerners of the New England Collegiate Baseball League…Made three starts, going 2-0 with a 4.98 ERA in 21.2 innings…Struck out 20 and walked just six with a 1.250 WHIP…Ended his shortened summer with a tremendous outing, giving up one earned run and striking out eight in 7.0 innings to pick up the win…Played with UK teammate Zeke Lewis.
2017
Appeared in 23 games, including five starts…Posted a unblemished 5-0 record with a 3.46 ERA in 52.0 innings…Allowed just 41 hits and opponents hit only .218 against him…Struck out 42 and walked just 14 on the season…Began the season with 19.0 consecutive scoreless innings of work and 20.0 innings dating back to 2016…Set career highs on 3/7 vs. Wright State in innings (6.0) and strikeouts (8)…Appeared twice against Louisville, giving up no runs and only two hits in 5.1 innings…Now owns a 6-1 record in his three-year career.
2016 SUMMER
Appeared in 11 games as a member of the Willmar Stingers of the Northwoods League…Was teammate of fellow Wildcats Luke Becker and Kole Cottam…Started eight games and came out of the bullpen in three…Finished the summer 4-1 with a 4.32 earned run average and 35 strikeouts in 50.0 IP…Was lights out over his final four starts: 4-0, 1.73 ERA…Statistics skewed by one bad start early in the summer.
 
2016
Appeared in 11 games, all as a reliever…Was 0-1 with a 6.10 earned run average in 10.1 innings pitched…Yielded 14 hits, nine runs and seven earned runs, while walking seven batters…Struck out 13, giving him more than a strikeout per inning (1.3)…Recorded a season-high three strikeouts against Miami (Ohio) on 4/27…Pitched a season-high 3.0 innings against Northern Kentucky on 3/29…Did not allow a run in seven of his 11 appearances…Threw 1.1 innings vs. Louisville on 4/13, striking out two and giving up only one hit…Stranded five of the nine runners he inherited.
2015
Appeared in 14 games with one midweek starts in his collegiate debut, earning a 1-0 record and a 4.50 ERA in 24 innings … Allowed 24 hits and eight walks, striking out 18 … Held opponents to a .273 average, allowing one homer … Inherited 14 runners in relief, allowing six to score … Did not allow a hit through his first 5.2 collegiate innings and allowed only two runs in his first six outings (16.1 innings) … Was strong in non-SEC play, working 21.1 innings with a 2.11 ERA … Was perfect in three outings and four innings on the road … Was also scoreless in three neutral site innings … In games UK won, had a 0.75 ERA in 12 innings …  Made his collegiate debut with three shutout innings, allowing just one walk, at No. 16 UC Santa Barbara … Made first career start in the home-opening doubleheader vs. Murray State, allowing one run over a career-long five innings … Earned his first career win with three shutout innings in relief vs. Northern Kentucky in UK's home finale. 
 
HIGH SCHOOL
Set the school record with 266 career strikeouts … Had a 8-2 record and a 1.47 ERA as a junior, striking out 77 in 57 innings … Was called up to the varsity roster as a freshman … As a junior, led Lake Orion to a 32-10 record, winning league, district and regional titles … Batted .396 with 31 hits, four homers and 47 RBI … Played with the Midwest Elite travel program … Played football all four years and basketbal as a freshman … Was a preseason All-America selection in 2012 and 2013. 
 
PERSONAL
Full name is Bradley Quintan Schaenzer..Ppronouned "Shin-zer"…Born in Rochester, N.Y. … Son of Tom and Denise … Has an older brother, Cole (23) … Major is Management…Mother swam at the University of Illinois…Favorite MLB team is the Detroit Tigers…Favorite MLB player is Tigers slugger Miguel Cabrera.
Read more