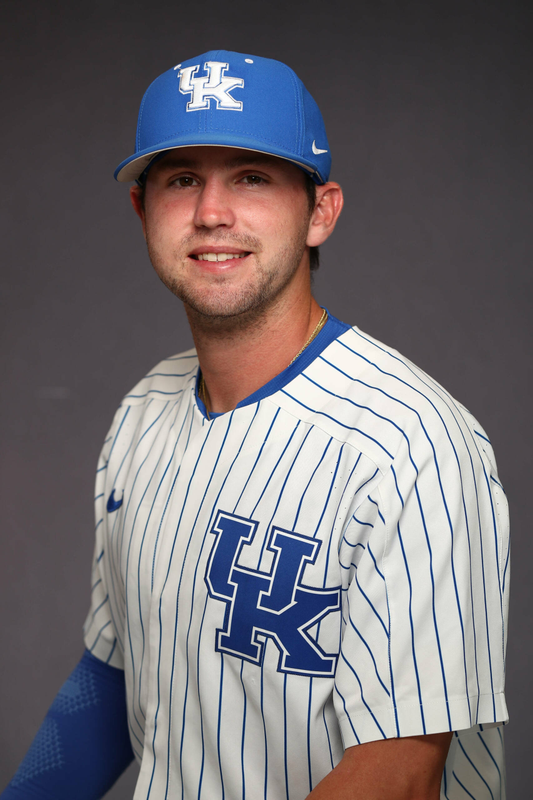 1
Ryder

Giles
position

INF/RHP

height

6-0

Weight

180

class

Senior

Hometown

Pinehurst, N.C.

Previous School

East Carolina
*Years of Eligibility Remaining: 1
• First-Team All-American Conference (2022)
• Seven-time ECU Director of Athletics Honor
• American Athletic Conference All-Academic Team (2019-21)
PRIOR TO KENTUCKY
Appeared in 185 career games with 158 starts at East Carolina…Batted .219 in 448 at bats with 74 runs, 97 hits, 12 doubles, three home runs and 61 RBI…ECU all-time career leader with 34 sacrifices…Stole eight bases…Appeared in 50 games with 10 starts on the mound…Pitched to a 3.95 ERA in 84.2 innings with 77 strikeouts…Tallied six wins and six saves.
2022 (East Carolina)
Appeared in 47 games with 29 starts, batting .176 in 68 at bats…Scored 10 runs and drove in seven…Pitched in 15 games, starting 10…Pressed into duty as Friday night starter for Super Regional team…Went 4-1 with 3.27 ERA and one save in 44.0 innings.
2021 (East Carolina)
One of four players to start all 61 games during his third season with the program – all at shortstop…Batted .211 (39-for-185) with a home run and four doubles…Drove in 18 runs while scoring 29…Led the team with 16 total sacrifices (15 sac hits) where he ranked second nationally…Stood sixth in the country and first in The American in sac bunts per game (0.25) …Registered eight multi-hit and four multi-RBI games…Made 11 relief appearances on the mound posting a 1-1 record with two saves…Had a 4.38 ERA…Struck out 15 while walking just two in 12.1 innings…Held opposing hitters to a .255 composite batting average…Did not allow a run in first eight outings (Feb. 26-April 11).
2020 (East Carolina)
One of seven players to start at least 15 games during the shortened COVID-19 pandemic season…Hit at a .239 clip (11-for-46) with a pair of doubles…Drove in 10 runs while scoring six times…Tallied five total sacrifices (1/SF, 4/SH) to lead the club … Drew just one walk and struck out 13 times…Registered a pair of multi-hit and three multi-RBI games…He appeared in four games (all in relief) posting an 0-1 record with a pair of saves, posting a 10.38 ERA …Struck out seven batters while walking just one in 4.1 innings of work …Did not commit an error in 51 chances at shortstop (1.000 fielding pct.) tallying 23 putouts, 28 assists and turning four double plays.
2019 (East Carolina)
Started 52 games at third base…Batted .242 (36-for-149) with a home run and 26 RBI…Laced five doubles and scored 29 runs…Registered three game-winning RBI (all in league play)…Posted a 1-0 record with one save and a 3.75 ERA … Combined on a pair of shutouts (USF/ March 29, Tulane/ April 26)…Made first career start against Duke (April 3) tossing three scoreless frames with a pair of strikeouts…Earned first career win against Quinnipiac (June 2) in relief at the Greenville Regional.
HIGH SCHOOL
Two-sport athlete who earned seven letters (baseball 4, basketball 3) at Union Pines High School…Named Tri-County 6 Conference Player-of-the-Year as a senior…Three-time all-conference selection…Also took home Raleigh News & Observer All-Metro and 3A North Carolina Baseball Coaches Association All-State accolades as a senior…Along with all-conference honors, also named all-metro, all-state and garnered conference player-of-the-year accolades … Played travel ball for Andy Partin of the Dirtbags All Blacks…Named Underclass Honorable Mention (2017) and Rawlings-Perfect Game Honorable Mention All-America (2018)…Second-Team All-Atlantic Region selection by Perfect Game … Rated as the fourth-best shortstop and 30th overall prospect in North Carolina by Perfect Game…Tabbed as the 143rd-best shortstop in the nation and a Top 500 national recruit by Perfect Game …
PERSONAL
Full name is Ryder Morrison Giles…Born in Pinehurst, N.C.…Son of Laura and Rick Giles…Has one sibling (Bailey)… Graduated from East Carolina with a BSBA in management (Dec. 2021)…Seven-time ECU Director of Athletics Honor (Fall 2018-present) … Three-time American Athletic Conference All-Academic Team member (2019-21).
*ECU Athletics Communications contributed to this bio
Read more