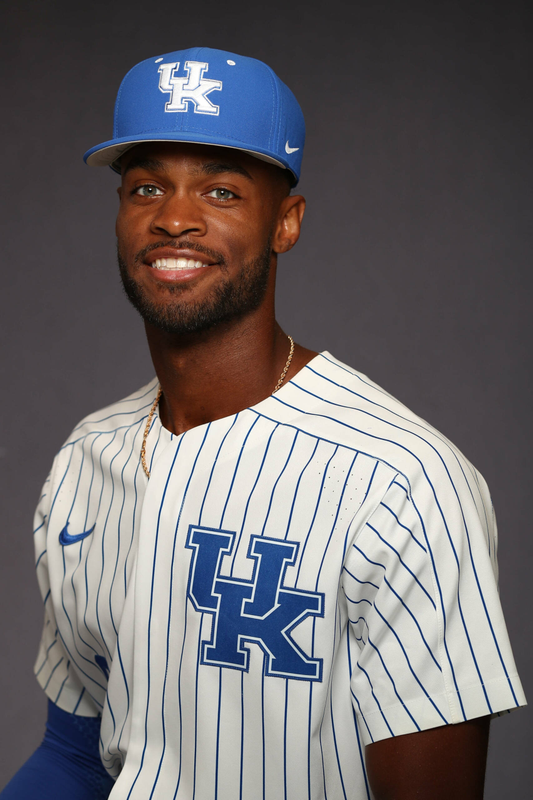 0
Kendal

Ewell
position

OF

height

6-3

Weight

210

class

Junior

Hometown

Calumet City, Ill.

Previous School

Eastern Kentucky
*Years of Eligibility Remaining: 2
• Dean's List (Fall 2022)
• First Team All-ASUN (2022)
• Golden Spikes Award semifinalist (2022)
• Ohio Valley Conference All-Freshman Team (2021)
•A-SUN Player of the Week (4/4/2022, 4/25/2022)
•National Player of the Week, 4/25/2022 (Collegiate Baseball, Perfect Game/Rawling, Bobby Bragan Collegiate Slugger Award)
PRIOR TO KENTUCKY
Played three seasons at Eastern Kentucky…Batted .333 in 111 career games…Had 21 doubles, three triples, 21 home runs and 85 RBI…Scored 86 runs and stole 13 bases…Had an OPS of .997 in 400 at-bats…Started 104 of 111 games played.
2022 SUMMER
Played for the Frederick Keys of the MLB Draft League…Batted .299 in 97 at-bats, scoring 21 runs and driving in 17…Smacked 22 doubles, two triples and two home runs…Drew 16 walks as part of a .927 OPS…Led the Keys in doubles, triples, RBI, steals and OPS at the time of his final game.
2022 (EASTERN KENTUCKY)
First Team All-ASUN Conference outfielder … one of 31 semifinalists for the Golden Spikes Award, which is given each year to the top amateur baseball player in the country … was the only player from the ASUN to be chosen as a semifinalist and only the second player in program history to be a semifinalist for the Golden Spikes Award … D1Baseball.com ranked outfielder Kendal Ewell as the No. 1 prospect in the ASUN for the 2022 MLB Draft … ranked as the 34th best outfielder in the nation by D1Baseball.com, no other ASUN player was ranked higher … on the Bobby Bragan Collegiate Slugger Award 2022 Watch List, the BBCSA is based on performance at the plate, academics and personal integrity … played in and started all 58 of the team's games … made all his starts in left field … hit .361 with 10 doubles, 14 home runs, 51 RBIs and 55 runs scored … had 11 steals in 15 attempts … posted a .607 slugging percentage and a .482 on-base percentage … led the team with 25 multi-hit games … tied for second on the team with 12 multi-RBI games … was fourth in the ASUN in OBP, sixth in slugging, tied for sixth in walks (40), seventh in hitting, tied for seventh in hits (79), ninth in runs, tied for 10th in home runs, tied for 15th in RBIs and tied for 20th in steals … had the 37th best on-base percentage in the nation … Was chosen as the ASUN Player of the Week on April 4 after hitting .611 with eight runs, one double, one home run and six RBIs with an .833 slugging percentage and a .682 on-base percentage in four games … after hitting .722 with five home runs, 10 RBIs and a 1.611 slugging percentage in four games during the week of April 18-24, Ewell was picked as the ASUN Player of the Week (April 25), one of the Collegiate Baseball Newspaper National Players of the Week, the Perfect Game/Rawlings National Player of the Week and the Bobby Bragan Collegiate Slugger Award National Player of the Week … went 3-for-4 with a home run, a run and three RBIs at Mercer (Feb. 20) … finished 2-for-4 with a run, a home run and four RBIs against Bowling Green (March 5) … had a 4-for-4 game with a double and two RBIs against Bellarmine (March 25) … went 4-for-5 with two doubles, a home run, three runs scored and five RBIs against Bellarmine (March 27) … Received the Golden Spikes Award Performance of the Week specifically for his 5-for-5 game with three home runs, six RBIs and four runs scored against North Alabama (April 23).
2021 (EASTERN KENTUCKY)
Chosen to the Ohio Valley Conference All-Freshman Team … played in 47 games and started 46 times … started 37 times in right field and nine times as the designated hitter … hit .303 with 11 doubles, seven home runs, 34 RBIs and 31 runs scored … drew 22 walks, tied for the team lead, and had a .390 on-base percentage … slugged .509 … had two stolen bases in three attempts … went 2-for-4 with two doubles, a run and two RBIs in the season-opener at Georgia Tech (Feb. 19) … had a 3-for-4 game with an RBI at Southern Illinois Edwardsville (March 27) … went 3-for-5 with two runs and two RBIs at Eastern Illinois (April 10) … hit for the cycle against North Dakota State (May 20) with a single in the first inning, a solo home run in the third, a double in the fourth and a triple on a ball hit to the gap in right center in the bottom of the sixth … finished 4-for-5 with four runs and two RBIs … played in the Appalachian League during the summer of 2021, part of the Major League Baseball and USA Baseball Prospect Development Pipeline (PDP).
2020 (EASTERN KENTUCKY)
Played in six games … batted .167 … went 1-for-1 against Siena College (March 1) … earned a spot on the Ohio Valley Conference Commissioner's Honor Roll
PERSONAL/HIGH SCHOOL
Full name is Kendal Jaylin Ewell … son of Marc Ewell and Vivian Greenwood …Drafted in the 40th round of the 2019 MLB Draft by the Colorado Rockies … hit .385 with 11 doubles, seven home runs, 41 RBIs and 34 runs scored as a senior in 2019 at Marist High School … Earned all-conference and offensive player of the year honors his senior season while leading the Redhawks to a 26-11 record a regional title and a sectional championship.
*EKU Athletics Communications contributed to this bio.
Read more