UK Athletics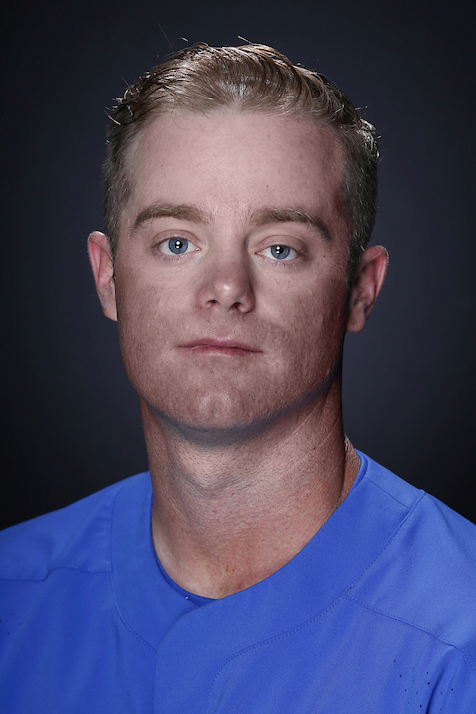 Will Coggin, a former player and coach in the Southeastern Conference, is entering his fourth season as an assistant coach and recruiting coordinator on Kentucky's baseball staff.
Coggin is reunited with head coach Nick Mingione after the duo had a successful tenure together at Mississippi State. The former Bulldogs infielder and assistant coach has proven his salt as a recruiter and hitting guru who has helped develop 17 big leaguers.
"I'm ecstatic to welcome Will to Kentucky," Mingione said. "I watched his transition from player to coach first hand and then his evolution into one of the elite recruiting coordinators in the country.
"He's a winner. He's won at every step of his career: he's been to Omaha as a player, he won multiple conference championships while coaching at St. Johns River State College and the SEC title at Mississippi State. He was an integral part of the success we enjoyed in Starkville and will be an indispensable piece of reaching our goal at Kentucky of reaching Omaha."
Coggin was a staff member on the 2016 club that won the SEC championship, was a national seed in the NCAA Tournament and saw 11 players selected in the Major League Baseball Draft. It was his second stint in Starkville, having played for the Bulldogs from 2007-08 and served on former UK and Mississippi State coach John Cohen's staff from 2009-12. He spent three seasons at St. Johns River State College in Palatka, Florida before returning to State before the 2016 season.
During that 2016 season, the Bulldogs showed drastic offensive improvement, as their team batting average improved by 42 points (.271 to .313), on-base percentage jumped from .372 to .407 and slugging percentage exploded by 91 points. The club hit 30 more home runs, 60 more extra-base hits and scored 90 more runs on the way to 20 more wins.
Perhaps most impressive was Coggin's work with then-freshman outfielder Jake Mangum, who took the batting title en route to becoming the first Mississippi State player to win SEC Freshman of the Year and first freshman to win the C Spire Ferriss Trophy, which is awarded to the best college baseball player in Mississippi. Mangum, of course, would go on to become the SEC's all-time hits leader in leading the program to back-to-back trips to the College World Series in 2018 and 2019.
He also played an important role in the development of 2017 SEC Player of the Year and First-Team All-American Brent Rooker, who won the SEC's Triple Crown for batting average, home runs and RBI on his way to being named the Roy F. Kramer SEC Male Athlete of the Year. Rooker made his debut with the Minnesota Twins in 2020.
Following the 2016 campaign, Coggin, a native of Booneville, Mississippi, was promoted to the assistant coach and recruiting coordinator role Mingione held before accepting the Kentucky job. The two worked hand-in-hand at State for five seasons, during which time the program went to two Super Regionals and won the SEC regular season title and conference tournament title (in different seasons).
In between his two stints at Mississippi State, Coggin helped St. Johns River State College post 122 victories in three seasons, including a 57-14 mark in the Mid-Florida Conference. The 122 wins from 2013-15 were the most by a Florida junior college and the program spent time in the top five nationally in 2014 before being ranked No. 1 for much of the 2015 campaign. The Vikings won a school-record 47 games in 2015, won three straight league titles for the first time since 1966-68 and won their first Florida State Tournament game in 38 years.
While at SJRSC, Coggin's calling card was player development, where 25 players went on to sign with Division I-A programs and 45 with four-year schools. Current big-leaguer Nate Lowe (Texas Rangers) earned NJCAA First-Team All-American honors in 2015 after hitting .372 with 59 runs, 53 RBI and 17 home runs in 56 games before signing with Mississippi State.
Before getting into coaching, Coggin was a middle infielder on Mississippi State's 2007 and 2008 teams after two seasons at Northeast Mississippi Community College. He earned his bachelor's degree in kinesiology in 2010 from Mississippi State before adding a master's degree in sports administration in 2012.
Birthplace: Amory, Mississippi
Education
High School: Booneville (Miss.)
College: Mississippi State (Kinesiology, 2010; Master's in Sports Administration, 2012)
Playing Career
2005-06: Northeast Mississippi Community College
2007-08: Mississippi State
Coaching Career
2009-12: Mississippi State, Student Assistant
2013-15: St. Johns River (Fla.) State College, Assistant Coach
2015-16: Mississippi State, Coordinator of Baseball Camps
2016-17: Mississippi State, Assistant Coach/Recruiting
Coordinator
2020-: Kentucky, Assistant Coach/Recruiting Coordinator
Read more