UK Athletics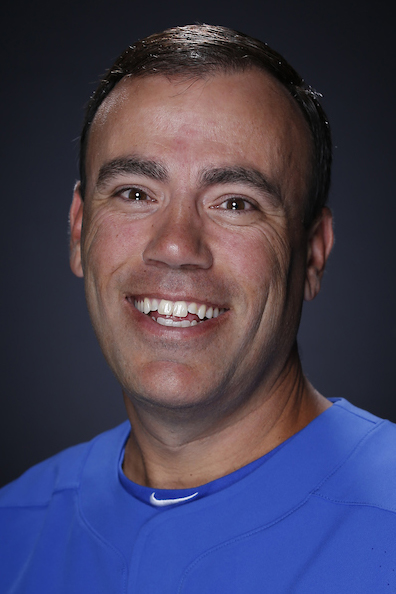 Nick Mingione – who was named Kentucky's head coach on June 13, 2016 – has already made his mark after just six seasons in Lexington, becoming a respected piece of the UK Baseball program and local community, while guiding the Wildcats to their only two Super Regional appearances in school history.
In his rookie season as a head coach, Mingione proved a quick study as the 2017 Wildcats etched their name all over the school's record books. The program made a trip to the NCAA Tournament Super Regionals for the first time and finished ranked in the Top 10 of every major college baseball poll. In year seven, Mingione repeated the feat by returning to the Super Regional and climbing into the Top 10 during the season.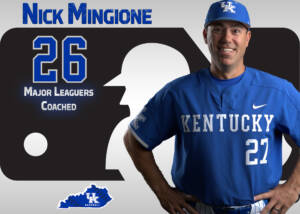 UK has hosted a regional three times in history, all of which Mingione was on staff for, including twice as head coach.
Additionally, the Cats' 43 wins in 2017 were just two shy of the school record and the most for a first-year coach in the program's history. The 19 wins in Southeastern Conference play were the second-most in school history, just one shy of the 2006 championship team's 20, which Mingione also was a part of as an assistant coach.  In 2018, the Cats spent the majority of the season in the Top 25, including ten weeks in the Top 10. The 77 victories in Mingione's first two seasons are the most in a two-year period at UK since John Cohen won 78 games in 2007-08.
The success has carried over to the Major League Baseball Draft, where Mingione and his staff's ability to groom players for a professional career has led to 33 players being selected in the past six MLB Drafts. The 21 players selected in the 2017 and 2018 drafts were the most of any program in the country and Mingione has helped mentor two top 20 overall picks in first baseman Evan White (17th, 2017) and left-handed pitcher Zack Thompson (19th, 2019).
In 2018, 13 Cats were selected in the draft, the highest total of any program in the country. The total set a new program record for most draftees in a single year, shattering the previous mark of nine. Additionally, UK now has had 19 players drafted in the first 10 rounds over the past six seasons. The 20 underclassmen who have been drafted and signed during Mingione's tenure have garnered a total of $12,663,000 million in signing bonus money, more than $633,000 per draftee.
Already, five players from the 2017 team – RHP Sean Hjelle, LHP Zach Logue, RHP Zach Pop, OF Zach Reks and 1B Evan White – have made it to the big leagues. In all, 21 players coached by Mingione during his career have reached The Show.
Mingione – who spent eight seasons as an assistant to Cohen at Mississippi State – was an immediate hit with fans and community leaders. He made it a point to have his team involved in the community, part of his "Student. Person. Player." guiding principle of the program, participating in numerous philanthropic events in Lexington while also taking time for more than 100 local speaking engagements. In July 2023 he was named one of Lexington's 50 most influential people under 50.
In his first season at UK his ethos for the program was on full display as UK players earned SEC Pitcher of the Year, SEC Scholar Athlete of the Year and SEC Community Service Team honors.
"Nick Mingione is exactly the kind of coach we hoped to hire when we began our search," UK Director of Athletics Mitch Barnhart said. "His passion, tactical mind and tireless recruiting efforts made him an important part of Mississippi State's staff during some great years for the program. More than that, he is a man of substance who is committed not only to developing young men as baseball players, but as students and people."
His impact on the Commonwealth culminated in being named a Kentucky Colonel on Oct. 23, 2017. The designation is the highest honor a civilian can receive in Kentucky. He also was named the 2022 winner of the Fellowship of Christian Athlete's Jerry Kindall Character in Coaching Award for his work on and off the field.
Mingione took over the Kentucky program after serving as assistant coach and recruiting coordinator under Cohen at Mississippi State starting before the 2009 season. Working with the team's outfielders, first basemen and hitters, Mingione helped lead MSU to an incredible run of success, including the program's first Southeastern Conference regular-season championship since 1989 in 2016, a runner-up finish in the College World Series in 2013 and an SEC Tournament championship in 2012.
"This is an opportunity I've dreamed about for more than a decade," Mingione said. "From the moment I first stepped foot on campus I knew it would be a place I could call home. What an incredible feeling to be back. Kentucky is a special place and this baseball program has had great moments over the years, including some that I have been a part of."
Prior to his time at Mississippi State, Mingione spent two seasons at UK as an assistant under Cohen in 2006-07. UK won 33 SEC games in those two seasons, including in 2006 when UK claimed its first SEC championship. After the historic regular season, the Wildcats hosted an NCAA Regional for the first time. Mingione worked extensively at UK with the likes of All-American Collin Cowgill and John Shelby III.
Mingione has a sterling reputation as a recruiter. Over the 12 seasons at Kentucky and Mississippi State for which recruiting rankings are final, he has helped land classes with an average ranking of 13th, including top-three classes in 2013-15. He also has landed a pair of top five transfer classes in 2021 and 22. He also has an unmatched track record of player development, coaching 86 players selected in the MLB Draft, as well as 47 All-Americans and six conference players of the year. His first recruiting class at Kentucky was ranked in the Top 10 of all the major industry outlets.
The Cats also have been dominant in the classroom, having 31 players receive SEC Academic Honor Roll and First-Year Honor Roll in 2018, eight more than any other school in the conference. Zach Logue was named the SEC Scholar Athlete of the Year in 2017, Troy Squires won the prestigious Senior CLASS Award in 2018, the first Kentucky player to do so, and Marshall Gei was First-Team Academic All-America in 2019. T.J. Collett then became the second Wildcat in four years to win the Senior CLASS Award when he was honored in 2021. UK also has had an Academic All-American in three straight seasons.
In six seasons, the Cats have had 197 players earn All-SEC academic honors, including a league-high 34 in 2020 and 39 in 2021. The program has earned the ABCA's prestigious Team Academic Excellence Award, which requires a cumulative team grade point average of at least 3.00, each of the 2018, 2019, 2020, 2021 and 2022 seasons, the only school in the SEC to accomplish that feat.
"Nick Mingione has been preparing for this opportunity for the last 13 years and I absolutely know that he will make the most of it," Cohen said. "He is one of the nation's elite recruiters. He is a brilliant tactician of the game. His ability to prepare kids for success in the SEC is of the highest level.
"He will make himself an irreplaceable part of the Kentucky baseball community and his wife is one of the finest people I've ever met. You try and surround yourself with people who make you a better coach and a better person. Nick Mingione has been that kind of person for me and like a member of my family."
"He's a special coach," LSU coach Jay Johnson said. "They know how to play. They know how to win. Their pitchers know exactly who they are, how to execute it. They know exactly the style of offense that they are, and they play it great. He's a special dude. He's a special competitor. He's a great coach and a great human being."
Before rejoining Cohen at MSU, Mingione spent a season at Western Carolina as assistant coach and recruiting coordinator. There, Mingione helped lead the Catamounts to top-40 national ranking in 11 different offensive categories.
Prior to his first stint at Kentucky, Mingione spent three years as an assistant coach at Embry-Riddle University, his alma mater. The Eagles appeared in the NAIA College World Series in each of those seasons, culminating in a runner-up finish in 2005. Mingione also coached at Florida Gulf Coast in 2002, helping lay the foundation for the program before its inaugural season in 2003. He began his coaching career in 2001 at Mariner High School, his alma mater.
Mingione – born in Tarrytown, N.Y., before growing up in Florida – graduated from Embry-Riddle in 2000 with a degree in aerospace studies, as well as a triple minor in business, psychology and humanities. He was also a four-year letterman on the school's baseball team.
Away from coaching, Mingione travels often for both speaking engagements and mission trips. In 2013, he and six current and former members of the MSU program helped build houses and run baseball clinics for youth on the Bahamian island of Eleuthera. When he returned stateside, he was inducted into the "Be The Best You Are" Baseball Clinic Speaker Hall of Fame. Other past inductees include Ted Williams (2002), Ron Polk (2003), Leo Mazzone (2006) and Cohen (2008).
Mingione and his wife, Christen, have one son, Reeves.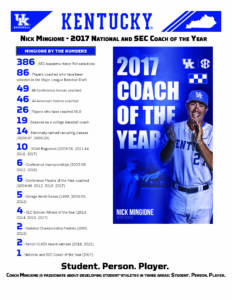 Read more