UK Athletics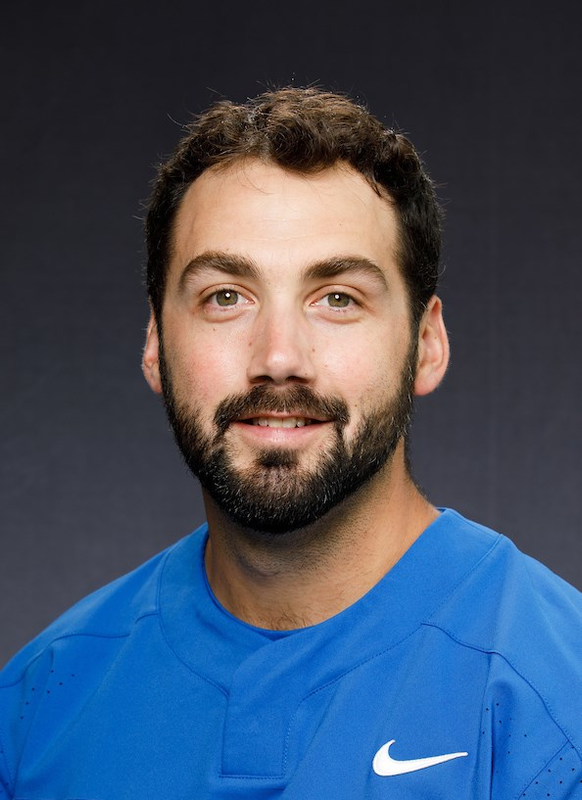 Nick Ammirati (am-uh-RAH-tee), who helped guide Southern Miss to an NCAA Tournament appearance last season as an assistant coach and has an impressive track record of success as a player and coach, has joined Nick Mingione's staff as Kentucky's volunteer assistant coach, it was announced Thursday.
"When I think about the baseball pedigree of Nick Ammirati, I think about a winner," Mingione said. "He was a state and national champion in high school, a national runner-up in college and early in his coaching career he has proven that he knows what it takes to win and develop young men. Having coached him and followed his career since, I know he will align with the importance we place on developing players both on and off the field. Nick is going to bring a versatile set of skills to this position with experience as a catching and hitting coach at his previous stops. He is going to be a knowledgeable asset to our coaching staff and we cannot wait for him to get started."
Mingione and Ammirati have a history of success together as Ammirati was the starting catcher on Mississippi State's College World Series runner-up team in 2013 when Mingione was the Bulldogs assistant coach. Ammirati's track record is notable both as a player in high school and college, and as a coach at the NCAA and NJCAA level.
Ammirati comes to Lexington after one season at Southern Miss, helping the squad to 40 wins and an appearance in the NCAA Oxford Regional. The Golden Eagles pushed the regional to its final game, earning wins over Southeast Missouri, Florida State and Ole Miss before eventually falling in the regional final to the host Rebels. Southern Miss won 22 Conference USA games in 2021, which tied for the second most of any team in the league.
His impact at Southern Miss last season coaching the offense and first base was significant as the Golden Eagles ranked high nationally in several offensive categories, including 17th in home runs, 23rd in doubles and 31st in slugging percentage. Ammirati also helped infielder Reed Trimble to Perfect Game/Rawlings All-America third-team honors as the all-conference and freshman All-America honoree ranked first nationally in runs batted in and was 24th nationally in home runs.
Prior to his stop at Southern Miss, Ammirati spent four seasons at Hinds Community College as an assistant coach, serving as program's recruiting coordinator and the school's sports information director. In his first three years at Hinds, he was the pitching and catching coach, leading the Eagles to back-to-back regional appearances, including a regional championship and NJCAA Division II World Series appearance in 2017. The 2017 season saw Hinds' pitching staff rank sixth in the nation with a 3.43 earned run average, which also ranked as the lowest team ERA in program history. The 2018 and 2019 staffs also ranked high, finishing seventh and 20th in the nation, respectively.
The 2020 season saw different coaching roles for Ammirati at Hinds as he took over coaching third base and helped the team offensively while working primarily with catchers and infielders. The Eagles again shined under his tutelage with a blistering team batting average of .340 and a .553 slugging percentage. Both marks ranked top-10 nationally. His time at Hinds shows an innate ability to develop top talent, helping 61 players during his four-year tenure continue to the next level, including 44 NCAA Division I signees – seven of which signed with Southeastern Conference schools.
Ammirati came to Hinds after two years at Northwestern State where he worked with current Louisiana Tech head coach Lane Burroughs. In his two seasons as assistant coach and camp coordinator in Natchitoches, Louisiana, NSU claimed a pair of 30-win seasons and had six players taken in the MLB Draft, including Nick Heath who made his MLB debut in July 2020.
Ammirati's baseball career began at Seton Hall Prep in West Orange, New Jersey, where he was a high school state and national champion as the team's starting catcher. The 2007 Seton Hall Prep team went 33-1 thanks to Ammirati and battery mate Rick Porcello, who pitched for the Boston Red Sox and was the 2016 American League Cy Young Award winner.
After getting drafted out of high school in the 46th round by the Miami Marlins in 2009, Ammirati spurred the big leagues and began his collegiate baseball career at Seton Hall University. As a freshman in 2010, he played in 22 games with 18 starts before transferring at the end of the season to Panola College in Texas.
After a successful one-year stint in Panola, Ammirati transferred to Mississippi State where he played 64 games with 52 starts across two seasons. On top of being the starting catcher in Starkville for the 2013 CWS runner-up squad, Ammirati was the battery mate for 12 eventual big league pitchers.
Ammirati earned his bachelor's degree in public relations from Mississippi State in 2013 where he was a two-time SEC Academic Honor Roll honoree. He received his master's in health and human performance from Northwestern State in 2016. He is married to the former Caroline Pound.
Follow along with the Cats on Twitter, Facebook and Instagram, and on the web at UKathletics.com.
WHAT THEY'RE SAYING ABOUT NICK AMMIRATI …
Milwaukee Brewers Cy Young Candidate Pitcher Brandon Woodruff: "Ammo was one of my former catchers in college and helped lead us to a CWS national championship appearance. He is someone who makes everyone around him better. His wealth of knowledge of both the offensive and pitching side of the game will be an extremely valuable asset to the players at Kentucky."
Mississippi State Director of Athletics, Former UK and MSU Head Baseball Coach John Cohen: "Nick Ammirati is one of the elite young coaches in college baseball. His knowledge of the swing, creativity, along with his passion and work ethic make him the perfect fit for Kentucky Baseball."
Louisiana Tech Head Coach Lane Burroughs: "Ammo is one of the brightest young baseball minds in the game. He is an absolute baseball junkie. I've seen Nick grow as a recruit to a player and ultimately to a colleague. He is one of the young hungry lions in college baseball. His knowledge of catching is off the charts. Coach Mingione got a good one and he will add so much value to an already great program"
Pittsburgh Pirates All-Star Second Baseman Adam Frazier: "Ammo is one the best baseball minds I have been around. He has an incredible passion for learning and teaching, and he is constantly studying the game in order to help players grow and evolve to reach their highest potential. Without a doubt, he will have a tremendous impact, both on and off the field, for the University of Kentucky."
Read more