UK Athletics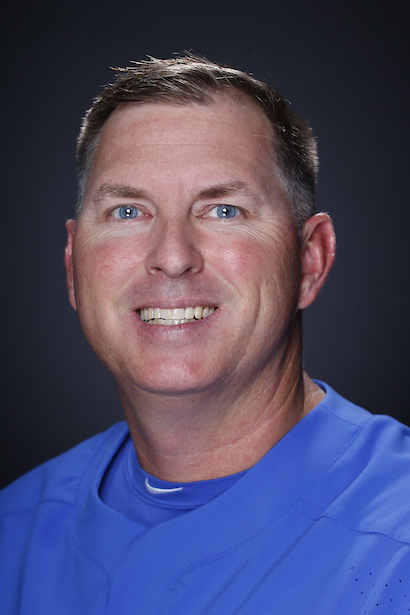 Dan Roszel came to Lexington after nearly two decades of high-level success at four programs, including nine seasons at East Carolina where the Pirates finished in the nation's top 50 in earned run average seven times. East Carolina advanced to six NCAA Regionals during his nine years on staff and Kentucky advanced to its second-ever Super Regional in 2023, in large part due to the strength of his pitching staff.
"Dan has a track record of winning, he's committed to helping student-athletes win all areas of their lives, and he's a proven developer of Major League Baseball pitchers," Mingione said. "He's an an invaluable resource for our program."
In 2023, Kentucky's staff provided stability and became a strength as the Wildcats roared to 40 victories and the No. 12 overall national seed in the NCAA Tournament. Later that summer, he added three draft picks and two free agent signings to his body of work, bringing his UK totals to eight pitchers drafted and three signed by big league organizations.
In 2022, Roszel's staff set the single-season school record at Kentucky for strikeouts and helped mentor All-American Tyler Guilfoil.
Upon joining ECU in 2010, Roszel has mentored 15 Major League Baseball draft picks, nine All-Americans and 19 all-conference selections while the program piled up 342 victories, six NCAA Regional appearances and two Super Regional runs. Since 2013, seven of Roszel's pupils have made their MLB debuts, including Seth Maness and Heath Hembree (2013), Mike Wright and Shawn Armstrong (2015), Jeff Hoffman, Richard Bleirer and Jharel Cotton (2016).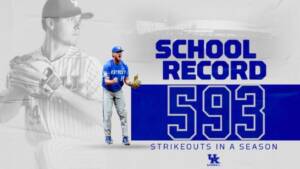 In 2019, Roszel disciple Jake Agnos was named to six All-America squads and set the American Athletic Conference's single-season strikeout record with 145 in 102.0 innings on his way to being named the 2019 AAC Pitcher of the Year. He was selected by the New York Yankees in the fourth round of this summer's draft.
In his 21 seasons as a coach, Roszel has seen 34 of his pitchers sign professional contracts, headlined by MLB all-star Chris Sale, who he coached while at Florida Gulf Coast. Sale, who has finished in the top five of the American Cy Young Award vote six times, was selected 13th overall by the Chicago White Sox in the 2010 draft. In 2014, Hoffman became Roszel's highest draft pick when taken ninth overall by the Toronto Blue Jays.
After completing his playing career at the University of North Florida, Roszel broke into the coaching ranks and within three seasons had joined Gardner-Webb University, where he saw two first-day draftees in four years. From there, Roszel went to Florida Gulf Coast for two seasons, helping the Eagles win an Atlantic Sun Conference title in its first season at the Division I-A level, the only team in NCAA history to accomplish that feat. Before settling at East Carolina, he spent two seasons at College of Charleston, where three of his pitchers were selected in the 2010 MLB Draft as the Cougars came within one win of a Super Regional appearance.
"Nick Mingione's vision for the program of developing young men as students, people and players, his leadership style and the Lexington community were all important factors in (coming to Kentucky)," Roszel said. "This is a dream come true."
Roszel, a 2000 graduate of North Florida, and his wife Melissa have three children, Madyson, Makenna and Clayton. Roszel received his degree in criminal justice with a minor in political science.
MLB Draft History
39 – Pitchers who have signed professional contracts
18– Players to reach MLB
2 – Top 15 overall draft picks (Jeff Hoffman, 9th; Chris Sale, 13th)
By the Numbers
25 – All-conference selections
11 – All-Americans
8– NCAA Regionals (2010-12, 2015-16, 2018-19, 2023)
3 – NCAA Super Regionals (2016, 2019, 2023)
2 – Conference tournament championships
2 – Conference Pitchers of the Year
1 – Regular season conference championship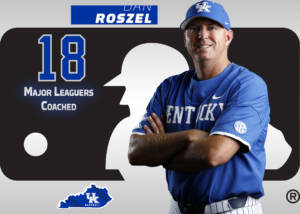 Hometown: Jacksonville, Florida
Education
High School: Sandalwood (Fla.)
College: University of North Florida (2000, Criminal Justice)
Playing Career
1996-98: Edison Community College
1998-2000: North Florida
Coaching Career
2000: North Florida, Graduate Assistant
2001-02: Lake City Community College, Assistant Coach
2003-06: Gardner-Webb, Pitching Coach/Recruiting Coordinator
2007-08: Florida Gulf Coast, Assistant Coach/Pitching Coach
2009-10: College of Charleston, Pitching Coach/Recruiting Coordinator
2011-19: East Carolina, Pitching Coach
2020-: Kentucky, Pitching Coach
Read more