WENDELL & VICKIE BELL SOCCER COMPLEX
570 Wildcat Court
Lexington, KY 40506
ADMISSION
Spectators ages 6 and up entering Wendell & Vickie Bell Soccer Complex must have a valid ticket regardless of age to gain admission.
ALCOHOL
New in 2023, alcohol will be sold at Wendell and Vickie Bell Soccer Complex. Beverage sales will be limited to beer and seltzer. A limit of 2 beverages per transaction per person and an identification check will take place at each transaction. Alcohol sales for soccer will conclude at the completion of 60 minutes into the game (i.e., fifteen minutes after halftime has concluded).
CLEAR BAG POLICY
Each fan will be permitted to carry one large clear bag – either a one-gallon Ziploc-style bag or a 12″ x 6″ x 12″ clear bag – plus a small clutch that does not exceed 4.5″ x 6.5″. A clear bag shall be clear from top-to-bottom and up to a 2" trim/border on the bag is generally acceptable. The small clutch allows privacy for small personal items and is also easily searched. Non-compliant bags — empty or not — may not be carried inside compliant clear bags. Backpacks and drawstring/cinch bags are not permitted.
CODE OF CONDUCT
The University of Kentucky asks that all guests respect others around them to keep UK Soccer games as enjoyable as possible for all. If anyone displays conduct that endangers or disrupts players, coaches, officials or other guests, the University of Kentucky reserves the right to remove the individual from Wendell & Vickie Bell Soccer Complex. No refunds are given in such cases.
CONTACT INFORMATION
UK Event Management – 859.323.8535
UK Ticket Office: (859) 257-1818
UK Campus Parking – 859.257.5757
UK Police – 859.257.1616
Social Media: @UKWomensSoccer & @UKMensSoccer
DISABILITY SERVICES
Parking: Accessible parking (first-come; first-served) is available near the entrance to Wendell & Vickie Bell Soccer Complex in the lower paved lot. Vehicles must show a valid state-issued hangtag.
Seating: Accessible seating is located at the top of section A (accessible via the elevator by the concession stand).
DRONES
The use of drones and any other unmanned or remote-controlled aircraft is expressly prohibited both inside and in the vicinity of the Wendell and Vickie Bell Soccer complex on game day. Any such use is defined as a Violation of National Defense Airspace by the Federal Aviation Administration and violators may be subject to criminal penalties.
EMERGENCIES & EVACUATIONS
In the case of an emergency, please follow the instructions of any game day staff member and public address announcer, proceed to the nearest exit in a calm and safe manner. Guests should use the stairs and ramps as a means of evacuation. Elevators may not be working at the time.
ENTRY
The Ticket Office and stadium gates will open 1 hour prior to kick-off.
FIRST AID
Limited first aid supplies are available at Wendell & Vickie Bell Soccer Complex. Please see an Event Staff member for assistance. For select games, medical personnel will be on site.
IN-GAME PROMOTIONS
Please check Twitter @UKWomensSoccer & @UKMensSoccer for the most up to date promotions schedule.
LOST & FOUND
Items and reports should be submitted to Event Staff. After the game, remaining lost items will be turned over to UK Police (859) 257-1616.
MERCHANDISE
The UK Team shop will be located on the upper concourse, above the stairs.
PARKING
Parking is available beginning 2-hours prior to gametime. A limited number of accessible parking spaces will be available near the entrance to Wendell & Vickie Bell Soccer Complex.
Parking in all areas surrounding Wendell & Vickie Bell Soccer Complex is available on a first-come, first-served basis, so fans are encouraged to arrive as early as possible. The following areas will be open for parking:
• College Way West lot, immediately adjacent to Kentucky Proud Park
• Purple Lots by The Bell Complex/John Cropp Stadium
• Kroger Field Blue Lot
• Kroger Field Green Lot
• The Greg Page Lot, between the Arboretum and Commonwealth Drive
Shuttles to the surrounding parking lots will be in effect on men's soccer and women's soccer gameday overlaps.
PLAYING SURFACE
Public access to the playing field is strictly prohibited. Violators are subject to arrest and prosecution.
PROHIBITED ITEMS – STRICTLY ENFORCED
Alcohol
Aluminum Containers
Animals (with the exception of service dogs)
Artificial Noisemakers
Combustible Heaters Containers (aluminum, glass, etc.)
Flash Cameras
Food
Ice/Ice Chests
Large bags (accepted bag size is 12 x 6 x 12)
Smoking & Vaping
All weapons, including firearms, carried either concealed or openly are prohibited items at UK Athletic Facilities per KRS 237.115. Anyone in violation of this will not be granted entrance.
PROHIBITED ITEMS – MUST BE APPROVED BY UK ATHLETICS PRIOR TO BEING CARRIED INTO THE FACILITY
Approved Banners and Signs May Not Be Affixed to Any Part of the Facility, They May Only Be Held.
Banners
Flags
Poles/Extensions
Signs
One unopened bottle of water
Standard outdoor folding chair – for Berm seating only, not permitted on concourse. Chairs are subject to search and may not be left at the facility.
PROJECTILES
The throwing of any object is strictly prohibited. Guests identified throwing any objects will be ejected from the game and may be prosecuted. RAINOUTS, DELAYS & CANCELLATIONS
In the event of impending inclement weather, please follow @UKWomensSoccer & @UKMensSoccer on twitter to confirm the status of the game.
RESTROOMS
Restrooms are located on the concourse at Wendell & Vickie Bell Soccer Complex.
SEATING
Seating is general admission and offered on a first come, first served basis. Seating is available in the main seating bowl and end zone bleachers. The berm will be used as overflow seating when needed. The first two rows of Section B & D are reserved for home and visiting team player guests.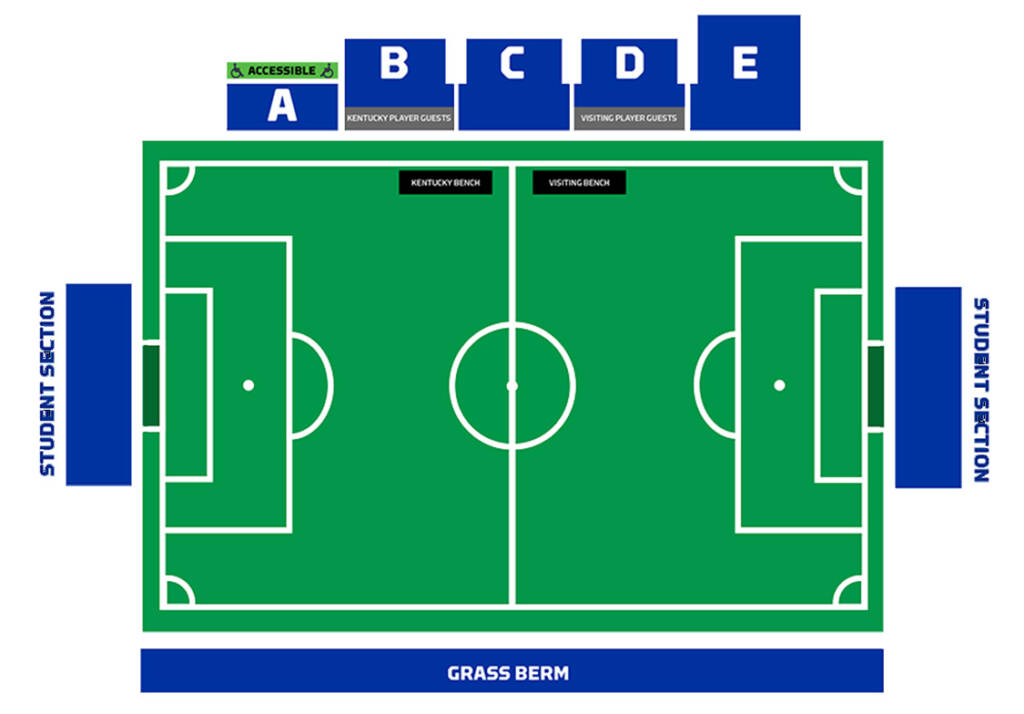 TICKETS
All tickets will be mobile and no physical season ticket books will be printed. Season and individual game buyers will use the UK Athletics App to access and manage their tickets. Season ticket holders may also manage their tickets by visiting UKathletics.com/MyUKAccount from their mobile device's web browser. Mobile ticketing allows fans to text, email and add tickets directly to their smartphone.
Visit UKathletics.com/MobileTickets for complete information, including step-by-step instructions and frequently asked questions.
Fans are strongly encouraged to view tickets and save it to their phone digital wallet (Apple Wallet or Google Play) in advance of arriving at Wendell & Vickie Bell Soccer Complex.
Tickets for Soccer are sold through the UK Ticket Office. Phone: (859) 257.1818.
Season Tickets
General Admission $60
GA Single Game
Adults: $8.00
Seniors/Youth: $5.00
Groups: $4.00 in advance only by reaching out to WeAreUK@uky.edu
Kids 5 and Under: Free
Faculty/Staff: Free w/ID plus 1 guest
UK Student: Free w/ ID
The ticket office will close at the start of the half of each match.
Discounted group tickets prices are available by calling the UK Ticket Office in advance of the game.
TOBACCO PRODUCTS
Tobacco products and electronic cigarettes are prohibited on the University of Kentucky campus.
TEXT ASSIST
To report a complaint, non-emergent issue or ask a question, please text UKSOCCER to 69050 to begin a conversation with the Event Manager.
TWITTER
For real-time updates regarding game day information, please follow @UKWomensSoccer & @UKMensSoccer
UMBRELLAS
Umbrellas may be brought into the stadium but may not be opened in the seating areas.
WEATHER POLICY
In the case of inclement weather, a decision will be made to postpone or reschedule games. Follow @UKWomensSoccer & @UKMensSoccer on Twitter for the latest game day updates.
Fans can email game-day questions, concerns, and suggestions to BBNfirst@uky.edu