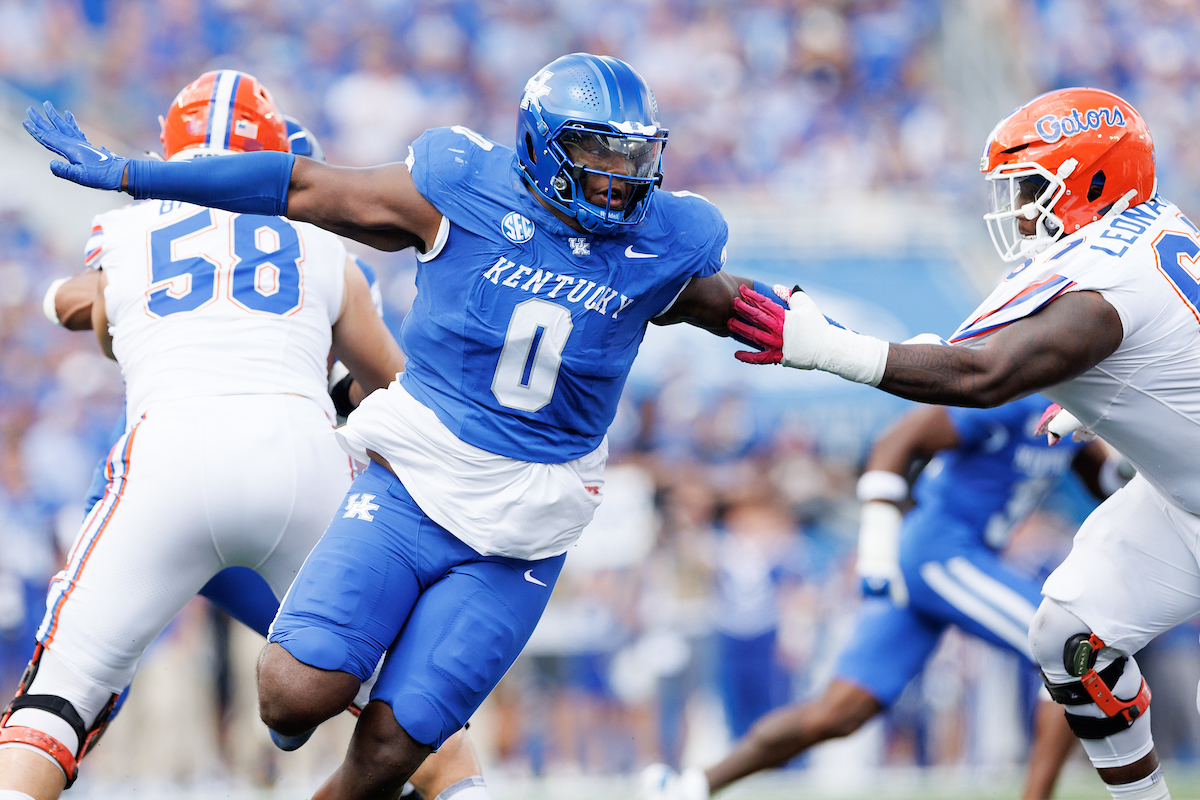 After a disappointing, and at times frustrating, loss at South Carolina on Saturday, Kentucky returns to the field this weekend to face archrival Louisville at Cardinal Stadium.
Kentucky (6-5) dropped its final Southeastern Conference game of the season to the Gamecocks on Saturday in Columbia. Little things continued to hamper the Cats in that loss, according to head coach Mark Stoops. On offense, Stoops noted a few areas of concern.
"There's been a variety of things," Stoops said. "A protection here, a drop here, a turnover, you name it."
On defense, the Cats largely played well, although Stoops would like to see one area in particular improve.
"I think the biggest thing is (lack of) consistent (quarterback) pressure," Stoops said. "There's things we can do better on the back end. So, I think that's a combination of things."
Now, the Cats turn their attention to No. 9 Louisville, which has experienced a tremendous turnaround in year one for new head coach Jeff Brohm. Stoops has admired the job that Brohm has done with the Cards this season.
"A lot of respect for Coach Brohm and Louisville and the turnaround that they've done and the team that they have," Stoops said. "Looking forward to going up there and playing for the Governor's Cup. Should be a great game."
Specifically, the Cardinals do the little things well, according to Stoops.
"Very fundamentally sound in all areas," Stoops said. "Defensively, playing very disruptive. Offensively, just good at what they do. Very efficient in the run game. Good running backs, good scheme."
Kentucky has won the game against Louisville in each of the last four meetings. While the winning streak is nice, Stoops knows that means nothing in regards to this year's game.
"I'm looking forward to Saturday's game. I would desperately like to keep that trophy here," Stoops said. "It's been here for a while and I hope it stays here. But this is one heck of a football team and this is a new year. It's a brand new game and it's an important one for both teams."
Stoops hopes that his team will rise to the occasion once again, facing another hostile road environment.
"Hopefully we can bring our 'A' game and play up to our potential," Stoops said.
The UK head coach wants his team to go back to being who his Kentucky teams have always been.
"We know what we're capable of," Stoops said. "And whether we're playing the number one team in the country, which we have, or anybody else, it's truly always about us and how we play. In Saturday's game (at South Carolina), we had our opportunities and at certain moments, we fell short. And there's one way out of that stuff – go work. Go work and go grind and show the resolve that our teams generally have had. We know we're not perfect, we know we've got things to work on. But we've always had the ability and the grit to fight back."
The Cats will call on that formula again this weekend, facing a Louisville team that's been very good this season.