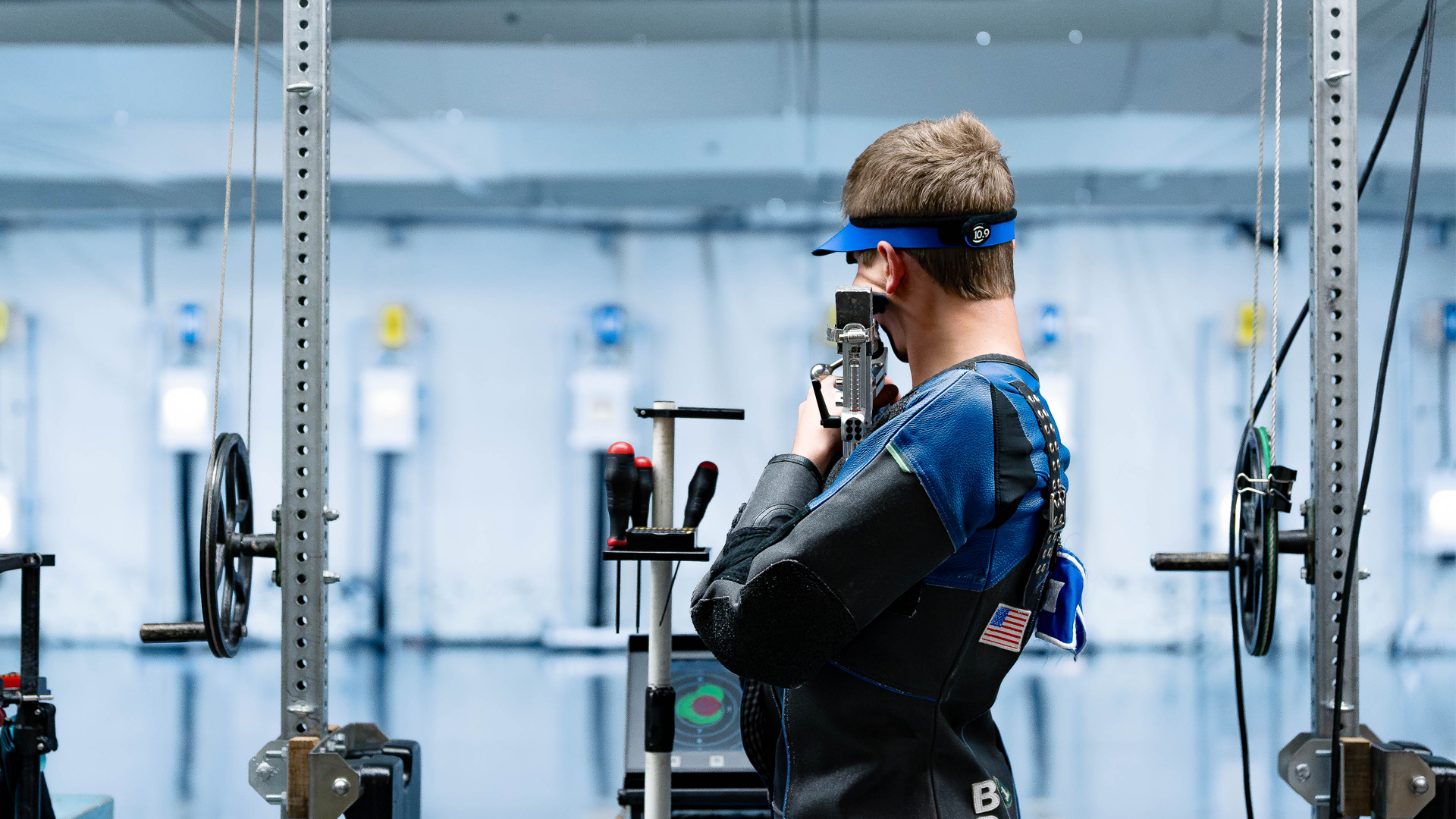 FAIRBANKS, Alaska – Behind a career day from fifth-year senior Emmie Sellers, who set career highs in both smallbore and air rifle for a new career-high aggregate, the University of Kentucky rifle team posted its season-high team score Sunday with a 4745 in a tri-match with both Alaska-Fairbanks and Akron inside the Tanana Valley Sportsmen's Association Range in Fairbanks, Alaska.
Kentucky scored a season high score in both disciplines Sunday, posting a 2357 in smallbore and 2388 in air rifle for the high aggregate. The season-high mark surpasses the previous season high of 4727 secured in the season opener vs. Morehead State. Alaska-Fairbanks also posted a 4745 team score and is the official winner of the match, winning the tiebreaker because of a higher number of center shots overall. Akron finished with a 4716 in third place.
"That performance is exactly what we were hoping for to wrap up the 2023 schedule and I am so proud of the team today," UK head coach Harry Mullins said. "For us to be able to wrap the calendar year with our highest score yet and do it in the way we did was great. So proud of Emmie, what a day for her, and then Sofia was fantastic as always. Martin was fantastic in smallbore and that is what we need from him more consistently. Overall, great day for us and already cannot wait to get back started in January."
Kentucky's 2357 smallbore is the sixth-highest smallbore score in the nation this season as the Wildcats are one of only two teams in the nation to score a 2357 or higher in smallbore this year. UK's 2388 in air rifle ties the third highest team score in the discipline this season and UK is one of only three teams with an air rifle team score of 2388 or higher. The 4745 aggregate ties the fifth-highest team score in the nation this season as only UK, TCU, Alaska-Fairbanks and WVU have hit 4745 or higher.
Sunday's match was split amongst two relays with Kentucky having three athletes in each relay. In the first relay, Kentucky had sophomores Sofia Ceccarello and Martin Voss and freshman Braden Peiser. Ceccarello was fantastic in both disciplines, scoring a 591 in smallbore and 599 in air rifle. This was the fifth 599 of the year in air rifle for Ceccarello, who is the only athlete in the nation to have five or more 599s in air rifle. Her two high scores total a 1190 aggregate, which tied for the highest individual score of the match.
Peiser and Voss also excelled in smallbore in the first relay, scoring high marks. Peiser posted a 589, including a 199 standing, which is an outstanding score in the hardest of the smallbore positions. Peiser ended his day with a 595 air rifle for a 1184 aggregate, which was good for sixth overall at the match. Voss tied a career high and set a new season high in smallbore with a 589 and followed with a 583 air rifle for a 1172 aggregate.
Sellers was the star in the second relay for Kentucky, scoring career-high marks in both smallbore and air rifle. She scored an impressive 588 in smallbore thanks to a perfect 200 in prone, marking the third-straight match that she has upped her career-high smallbore score. In air rifle, Sellers scored a 598, which also was a career best and was just two shots off a perfect 600. The two strong scores earned her a 1186 aggregate, which also is a career high and placed her fourth individually at the match.
Fellow fifth-year senior Jaden Thompson scored a 577 in smallbore and an impressive 596 in air rifle for a 1173 aggregate. Rounding out the scoring was junior Allison Buesseler, who scored a 577 in smallbore and 592 in air rifle for a 1169 aggregate.
Alaska-Fairbanks, which won the 2023 NCAA National Championship, was paced by Rachael Charles, who scored a 591 in smallbore and 599 in air rifle for a 1190 aggregate. Sara Karasova posted a 1188 aggregate for UAF with a 593 smallbore and 595 air rifle. For Akron, Gavin Perkowski scored a 587 smallbore and 598 air rifle, while Andrew Duross scored a 581 smallbore and 598 air rifle.
Sunday's match was the last of 2023 for Kentucky, ending the fall portion of the slate with a 7-1 record. UK will return in 2024, starting Jan. 13 at Army in a dual match with the Black Knights. The following day on Jan 14, UK will face Nebraska also at West Point, New York. On Jan. 21, UK will travel to Murray State for the Withrow Invitational, followed by a dual match at West Virginia on Feb. 10. The Wildcats will host a NCAA Qualifier vs. Morehead State on Feb. 17 and begin postseason play Feb. 24 at the GARC Championships.
For more information on the Kentucky rifle team, visit UKathletics.com or follow UKRifle on Twitter, Instagram and Facebook.