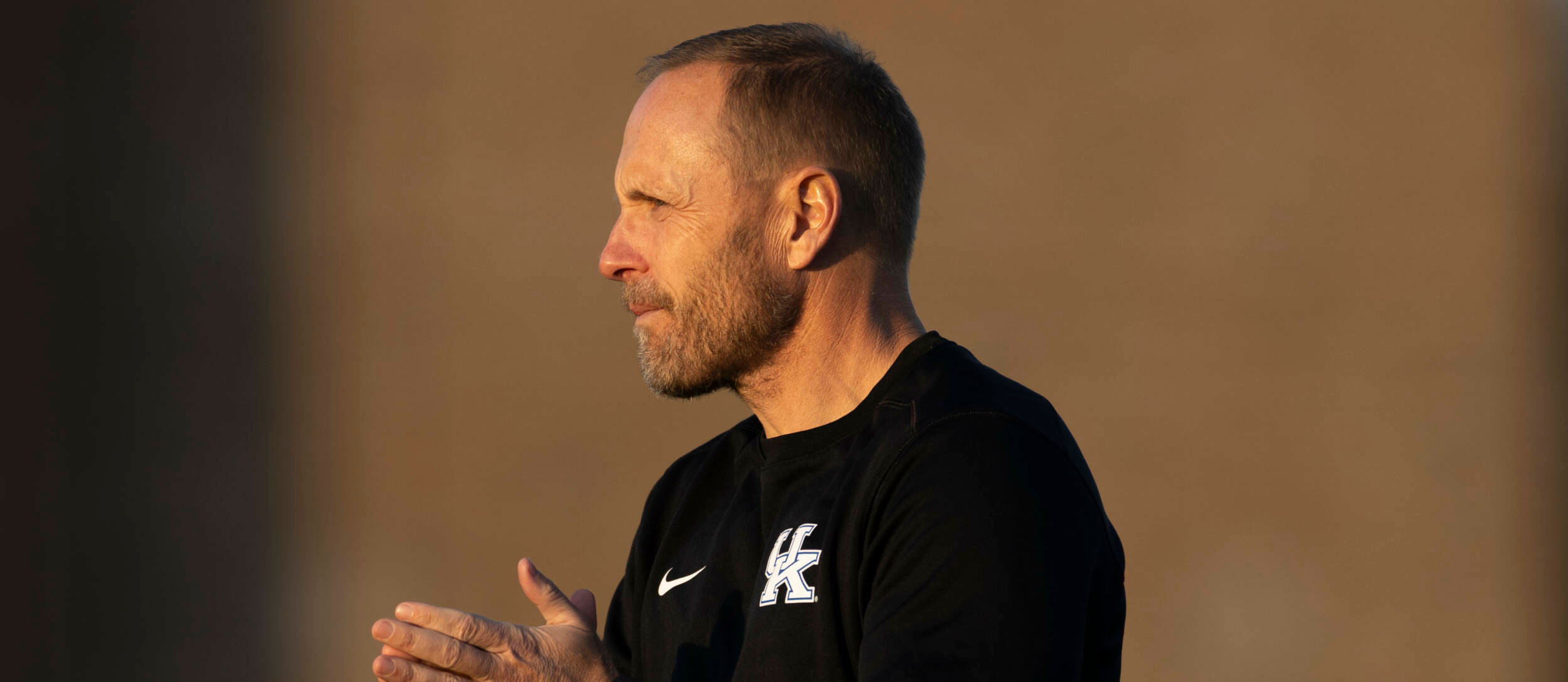 November 19, 2023 - 09:15 PM
The Road to Louisville Ends in South Bend for the Wildcats
SOUTH BEND, Ind. – Kentucky men's soccer (8-8-4, 3-3-3 Sun Belt) fell 2-0 to No. 2 Notre Dame (12-2-4, 6-0-2 ACC) in the second round of the 2023 NCAA DI Men's Soccer Tournament on Sunday evening at Alumni Soccer Stadium.
Since 2018, the Wildcats have seen the second round of the tournament five consecutive times. UK is one of three Division I programs in the nation to accomplish the feat. The other two programs to do so have been Indiana and Georgetown.
In his 12 seasons at the helm of the program, head coach Johan Cedergren has led Kentucky to 10 NCAA Tournaments to tally 14 appearances in program history.
At the beginning of the 2023 match slate, Kentucky was 3-6-0 facing a tough start to year. However, in October, the Cats began to change the trajectory going unbeaten in its final seven regular season matches. Kentucky upset No. 1 Marshall and No. 2 West Virginia making the Sun Belt Conference Tournament to begin a postseason run. Following a big win over fourth-seeded James Madison in the quarterfinal round, UK fell to top-seeded Marshall in the semifinal contest.
Following the incredible turnaround by the 2023 squad, the Cats made the NCAA Tournament for the 14th time in program history. In the first round of the big dance last Thursday, Kentucky defeated Xavier, 2-0, in Cincinnati. However, the season came to a close in South Bend on Sunday against the Fighting Irish.
The first half of the match began quickly with freshman Alfred Baafi recording three shots in the first 14 minutes. Overall, Kentucky recorded five shots in 45 minutes of regulation and two saves before entering the halftime period scoreless.
However, in the first two minutes of the second half, Notre Dame's Bryce Boneau scored the first goal of the contest. The Fighting Irish scored again to secure the second-round victory in the 79th minute with the final goal scored by Nolan Spicer. Kentucky recorded three more shots before time on the clock expired.
In head coach Johan Cedergren's postgame interview, he said, "I think we could've played better today. Disappointed in the result, but incredibly proud of the guys for how well they have done in the last 10 games." He ended his statement by saying, "We'll be back."
The Wildcats conclude the 2023 match slate 8-8-4 going 3-3-3 in conference play.
For the latest on Kentucky Men's Soccer, follow @UKMensSoccer on X, Facebook and Instagram, as well as on the web at UKAthletics.com.