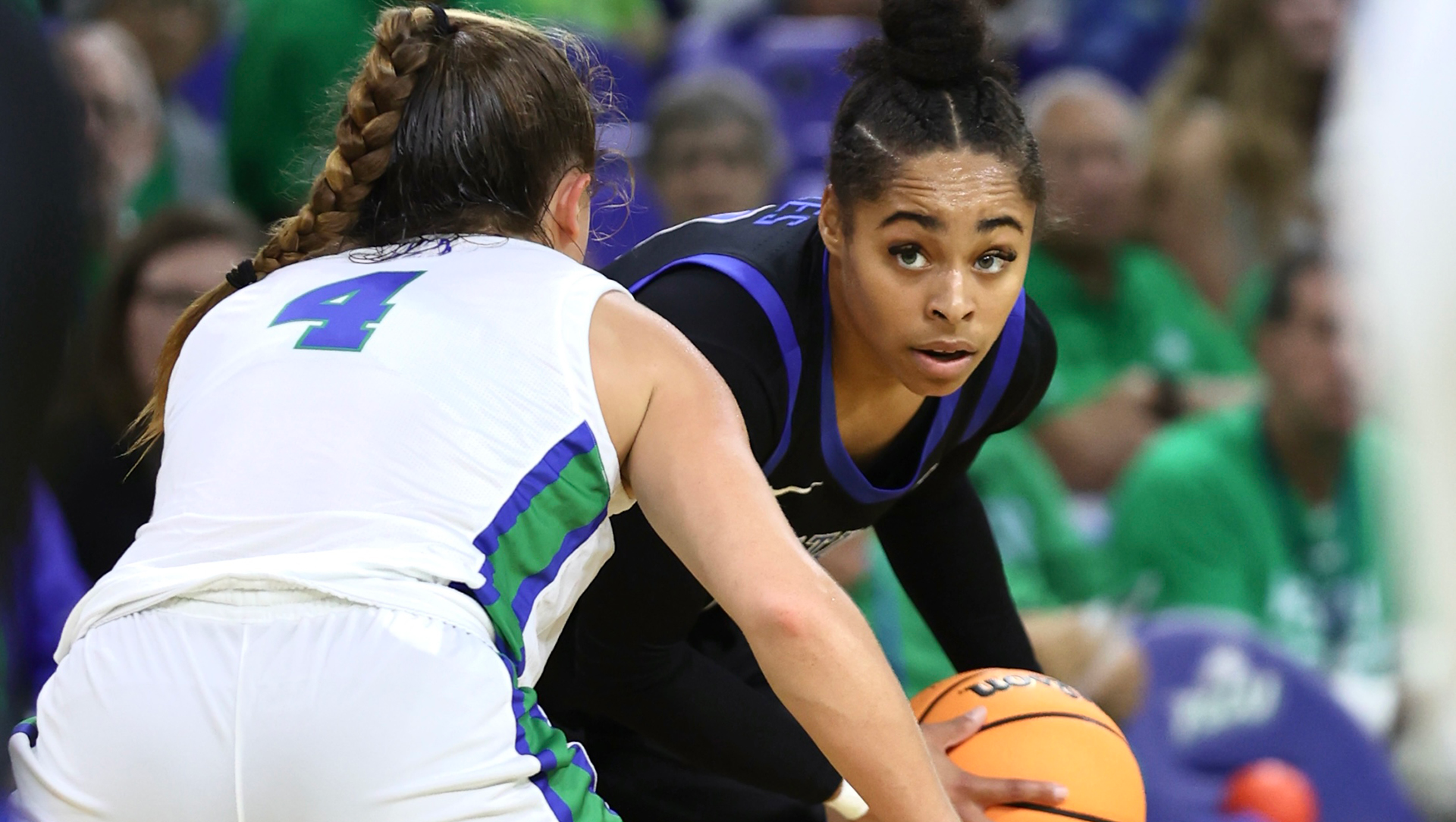 November 19, 2023 - 05:57 PM
Kentucky-FGCU Postgame Notes
UK ATHLETICS COMMUNICATIONS AND PUBLIC RELATIONS
WOMEN'S BASKETBALL POSTGAME NOTES
KENTUCKY AT FLORIDA GULF COAST
SUNDAY, NOV. 19, 2023
ALICO ARENA – FORT MYERS, FLA.
 
Florida Gulf Coast 59, Kentucky 48- FINAL
 
Team Records and Series Notes 
Kentucky is 2-2 in 2023-24, while Florida Gulf Coast is 3-1 this season.
The University of Kentucky women's basketball program is in its 50th season.

UK has an 896-590 (.603) all-time record, just four wins away from 900.

Kyra Elzy is in her fourth season as the head coach of the Wildcats, holding a 51-42 (.548) overall record.
Kentucky will play No. 14/18 NC State on Thursday, Nov. 23 at 3:15 p.m. ET at the University of Virgin Islands Sports and Fitness Center in the U.S. Virgin Islands.

The game will be streamed on ESPN+.
Team Notes
Kentucky used the starting combination Brooklynn Miles, Saniah Tyler, Ajae Petty, Emma King and Amiya Jenkins for the first time this season.

Kentucky is 0-1 when using that starting combination.

Maddie Scherr (ankle) was unavailable.

The Eagles won the opening tip.
Amiya Jenkins was the first player to score for Kentucky.
Eniya Russell was the first substitute off the bench for Kentucky.

Kentucky outrebounded Florida Gulf Coast, 38-31.

Kentucky has outrebounded all four of its opponents this season.
Kentucky led Florida Gulf Coast, 16-7, in second-chance points.

The Wildcats held the Eagles to four points in the fourth quarter, one point more than the program record.
How It Happened
Florida Gulf Coast went on a 11-0 run in the first minutes and 50 seconds, scoring five of those points off Kentucky's two turnovers in that time.

The Wildcats called their first timeout at thaskjWU

Amiya Jenkins broke the scoring drought at 5:49 in the first quarter thanks to a layup.

Kentucky then forced Florida Gulf Coast to a stop on the other end, as Brooklynn Miles grabbed the defensive rebound and dished it back out to Jenkins for a 3-pointer to make the score 11-5, FGCU.
UK didn't score for the remaining three minutes and 24 seconds of the first quarter, as the Eagles led the Wildcats, 18-7.

Kentucky had better scoring to start the second quarter, going 5-of-12 from the field for a 10-9 advantage in the period by the 2 minute and 43 second mark.

The Wildcats closed out the second quarter on a three-minute scoring drought, which was at last capped by Ajae Petty with a strong layup at 28 seconds.

Despite their drought, they held the Eagles to just a free throw and a layup in that time, too.

Kentucky trailed FGCU, 30-19, at halftime.

The Wildcats turned the ball over 10 times in the first half, allowing the Eagles to score 14 points off those miscues.

The Eagles opened up the second half on a 12-2 run in the first two-and-a half-minutes, which included a 10-0 run, as they took a 21-point lead over the Wildcats, 42-21.

Kentucky held Florida Gulf Coast without a score from the field for the next five minutes (7:34 – 2:01). Meanwhile, UK enjoyed a 10-4 run during that time, holding FGCU to just four free throws.
The Eagles rallied back to go on a 9-0 run over the last two minutes and 18 seconds, as they led the Wildcats, 55-31, at the end of the third quarter.

Kentucky went on an 11-0 run to begin the fourth quarter, cutting Florida Gulf Coast's lead to 13 points, as FGCU called its first timeout of the game at 5:59.

Out of the timeout, FGCU turned the ball over and Amiya Jenkins capitalized with a jumper to make it a 13-run and an 11-point deficit, 55-44, at 5:40.
Kentucky had a 17-4 edge over Florida Gulf Coast in the fourth quarter.
The Eagles defeated the Wildcats, 59-48.
Player Notes
Amiya Jenkins, a sophomore guard, led Kentucky in scoring for the second time this season with a career-high 18 points.

She made a career-high seven field goals.
She added six rebounds, one steal and one assist.

She has made at least one steal in all four games this season.

Ajae Petty, a senior forward, had 15 points and 13 rebounds for her second straight double-double.

It marked her fifth straight game scoring at least 10 points.
It marked her fourth game this season and the 13th game of her career scoring at least 10 points.
It marked her third game this season and the fifth game of her career scoring at least 15 points.
It marked her third game this season and the fifth game of her career with at least 10 rebounds.
It marked her third game this season and the fifth game of her career she recorded a double-double.
She added two blocks, one assist and one steal.

She has recorded a steal for two straight games.