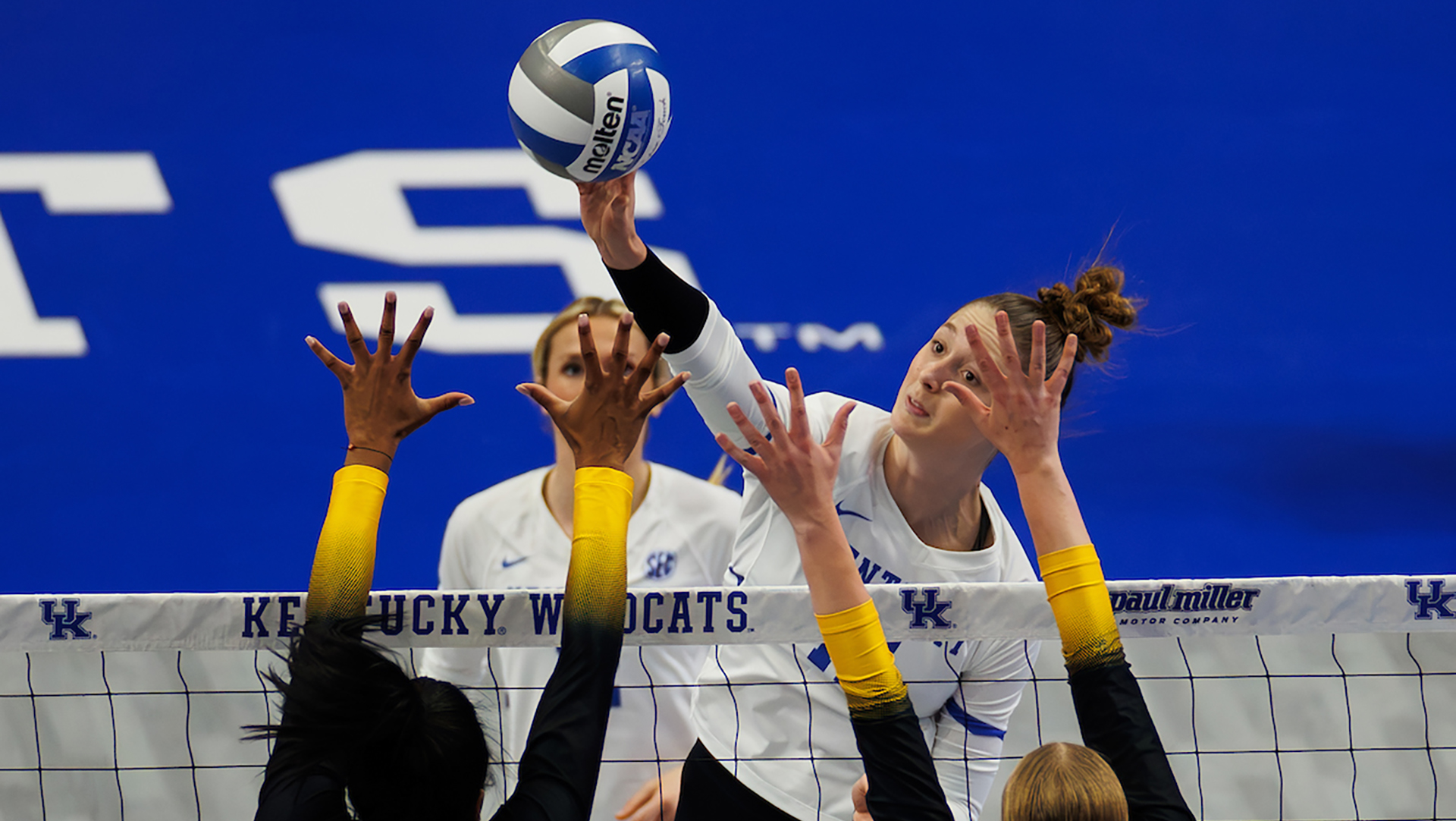 The Kentucky volleyball team was without senior standout Reagan Rutherford on Sunday as the Cats hosted Southeastern Conference rival Missouri. UK would need someone to step up to fill the void left by Rutherford's absence due to injury.
Luckily, the Cats have the best freshman in the conference in Brooklyn DeLeye. And DeLeye made sure the Cats had plenty of offense in a three-set sweep of the Tigers.
The Topeka, Kansas, native had 20 kills on 44 swings and hit .318 for the match. She added six digs, an assist, an ace and a block assist in the match.
It was the seventh consecutive match that DeLeye has reached double digits in kills and the 16th such match this season. Sunday also marked the third time this season that DeLeye has recorded at least 20 kills. The freshman has played outstanding volleyball, especially in conference play, and that was the moment when she knew something clicked.
"Honestly, I think it was when we started SEC play," DeLeye said. "Something really clicked that showed me that I needed to really step it up for the team. I took it personal to do that for us."
UK head coach Craig Skinner knew that DeLeye would have an adjustment but he has seen her hard work pay off.
"Just getting accustomed to the college game," Skinner said of DeLeye. "She didn't play at an elite club level but to play all kinds of sports in high school then come at this level, it's an adjustment. We have to learn what the speed of the game is like, what the power is like, how to hit edges of the court but you don't get to that point if you don't put the effort and work into it and Brooklyn does."
While DeLeye led Kentucky in kills, she was not alone in carrying the offensive load. Two other Cats reach double figures in kills in the match. Senior Elise Goetzinger had 11 kills, while Erin Lamb added 10.
Kentucky won the first six points of the match and cruised through the first two sets. DeLeye led the offense early with seven kills in the first set. DeLeye admits that, as the season has gone on, she's having more fun and she knows why.
"I'm getting more comfortable with the team and the girls," DeLeye said.
Skinner and his Cats have a seventh straight SEC title in their sights and he knows why that has happened.
"It's hard work," Skinner said. "It's tough. It's tough to respond in those situations. We set out at the beginning of the year to be our best at the end of the season. It's an expectation to keep working and improve."
DeLeye's improvement, thanks to hard work and perseverance, is paying off in big ways for her and her team.