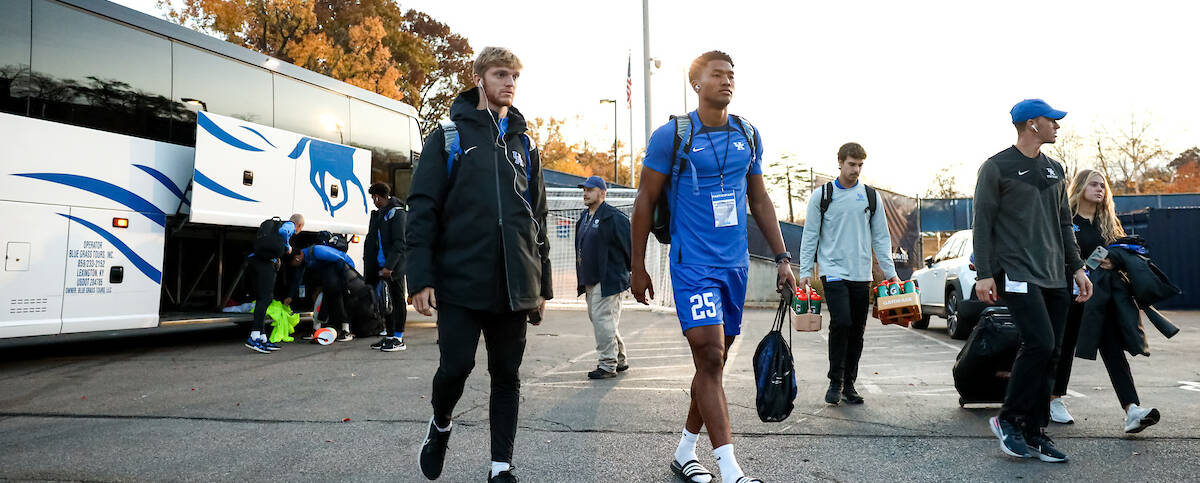 November 18, 2023 - 02:08 PM
Men's Soccer Prepares for Fifth Consecutive NCAA Second Round Contest
LEXINGTON, Ky. – Kentucky men's soccer (8-7-4, 3-3-3 Sun Belt) will travel to South Bend, Ind. where it will take on No. 2 Notre Dame (11-2-4, 6-0-2 ACC) at Alumni Soccer Stadium on Sunday at 5 p.m. EST.
Since 2018, the Wildcats have seen the second round of the NCAA DI Men's Soccer Tournament five consecutive times. UK is one of three Division I programs in the nation to accomplish the feat. The other two programs to do so have been Indiana and Georgetown.
In his 12 seasons at the helm of the program, head coach Johan Cedergren has led Kentucky to 10 NCAA Tournaments to tally 14 appearances in program history.
Senior Ben Damge's brace in the first round at Xavier advanced Kentucky to the round of 32. The match also featured Casper Mols' seventh clean sheet and eighth win of the season, as well as assists for freshmen Josh Gordon and Marqes Muir.
Notre Dame enters Sunday's contest after falling to Louisville 2-3 in the quarterfinal round of the ACC Tournament. However, the Fighting Irish received a first-round bye to the big dance.
Kentucky and Notre Dame hold an all-time series record of 3-2-0 (Notre Dame) with the last matchup taking place in 2021 resulting in a 1-0 UK home victory. The two programs first went head-to-head in 1991 which ended in a 2-0 home Notre Dame win.
Live stats for the match at Notre Dame are available by clicking here. Big Blue Nation can also stream the match live on ESPN+. For more information on the Road to Louisville, click here.
For the latest on Kentucky Men's Soccer, follow @UKMensSoccer on X, Facebook and Instagram, as well as on the web at UKAthletics.com.