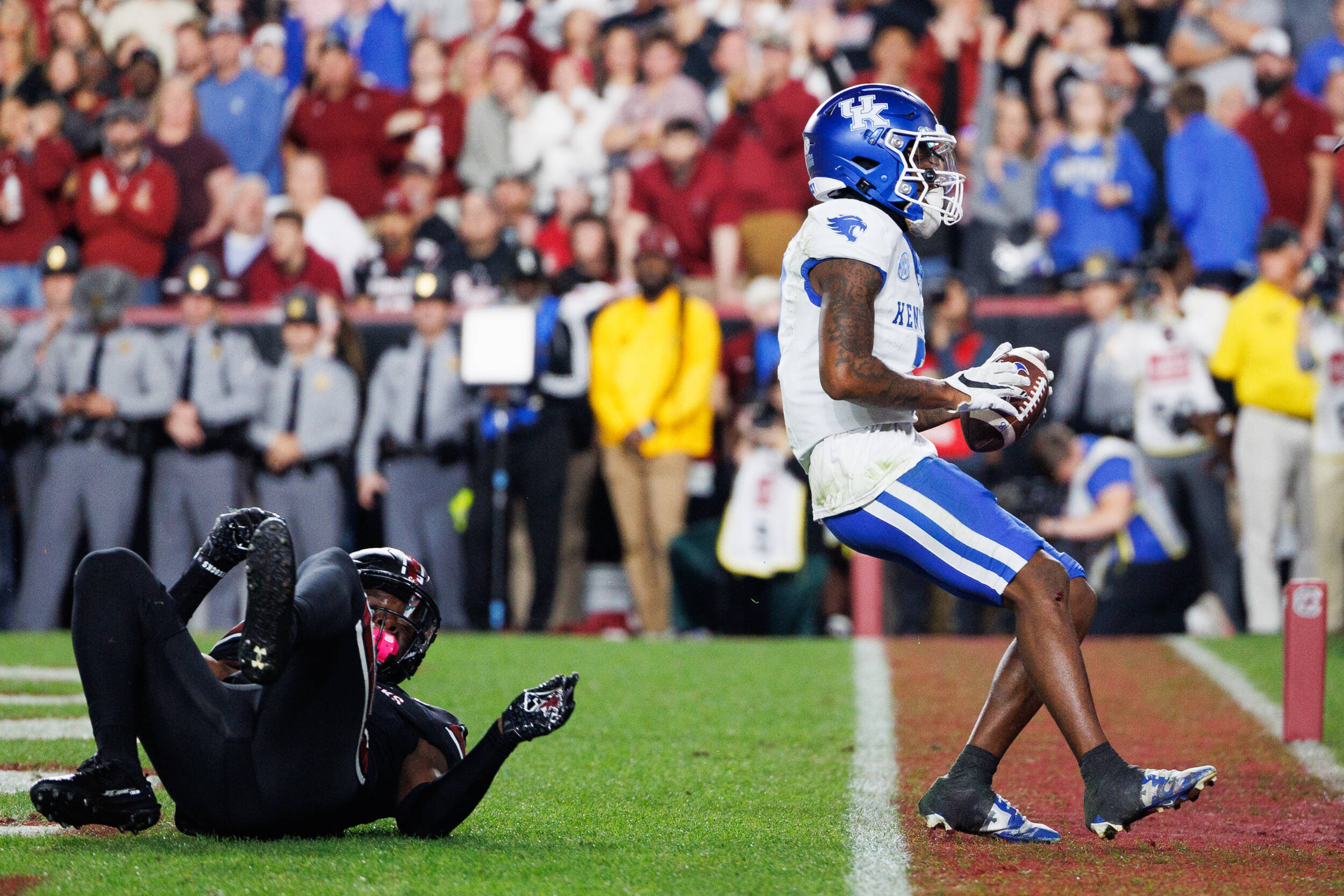 KENTUCKY FOOTBALL POSTGAME NOTES
KENTUCKY AT SOUTH CAROLINA
WILLIAMS-BRICE STADIUM | COLUMBIA, S.C.
NOV. 18, 2023  
FINAL SCORE: South Carolina 17, Kentucky 14
Team Records and Series Information
Kentucky is 6-5 overall and 3-5 in the Southeastern Conference, while South Carolina is 5-6 overall and 3-5 in the league.
South Carolina leads the all-time series, 20-14-1.

South Carolina leads the all-time series in games played in Columbia, 10-6-1.
Kentucky is 7-4 against South Carolina under head coach Mark Stoops.

Next for UK: Kentucky concludes the regular season Saturday with a trip to in-state rival No. 10/9 Louisville for the Governor's Cup.

UK has won the past four meetings.
Kickoff time is noon and it will be televised on ABC.
Team Notes
Kentucky's nine-play, 92-yard scoring drive on its first possession of the second half was the longest in terms of yards traveled this season and was capped by Ray Davis' 31-yard rush.

The possession gave UK a 14-10 edge midway through the third quarter.

The defense forced punts on eight of South Carolina's final nine possessions before a kneel down to end the game.
Player Notes
Quarterback Devin Leary completed 17-of-35 for 171 yards and a TD.

He has thrown for 20 touchdowns this season, entering the game second in the SEC in that category.
He now has 9,041 passing yards and 81 passing touchdowns in his career.

Running back Ray Davis carried the ball 12 times for 61 yards and a score.

The touchdown gives him 17 total touchdowns for the season, tying Moe Williams (1995) for second place for most TDs in a season.
He has 102 points this season, tying Austin MacGinnis (2017) and Moe Williams (1995) for third place on the single-season points list.
He now has 990 rushing yards on the season and needs 10 more to become the 11th player in school history to reach 1,000 rushing yards in a single season. To this date, the feat has been accomplished a total of 14 times by 10 players.
He has caught a pass in 23 consecutive games.

Running back Ramon Jefferson rushed six times for 50 yards.

For the second consecutive game, his first rush was an explosive play, this time a 21-yard rush after a 74-yard jaunt vs. Alabama last week.

Wide receiver Dane Key hauled in four passes for a team-high 51 yards.

Key has 1,047 career receiving yards, surpassing 1,000 for his career.

Wide receiver Barion Brown caught four passes for 30 yards.

He improved his streak of 24 straight games with a reception, which is every game of his college career.
He has 1,019 career receiving yards, surpassing 1,000 for his career.
He hauled in a seven-yard touchdown pass in the second quarter.

Wide receiver Tayvion Robinson had three catches for 29 yards.

The score marked the 15th touchdown reception of his career and his fourth this season.
He has 998 receiving yards at Kentucky, needs two for 1,000.

Tight end Izayah Cummings caught three passes for 43 yards.

It was his first three receptions of the season.

Defensive lineman Deone Walker tied for the team lead with nine tackles.

He had 2.0 tackles for loss and one sack.

Linebacker D'Eryk Jackson also had nine total tackles.
Game captains: Kenneth Horsey, Devin Leary, Deone Walker, Trevin Wallace