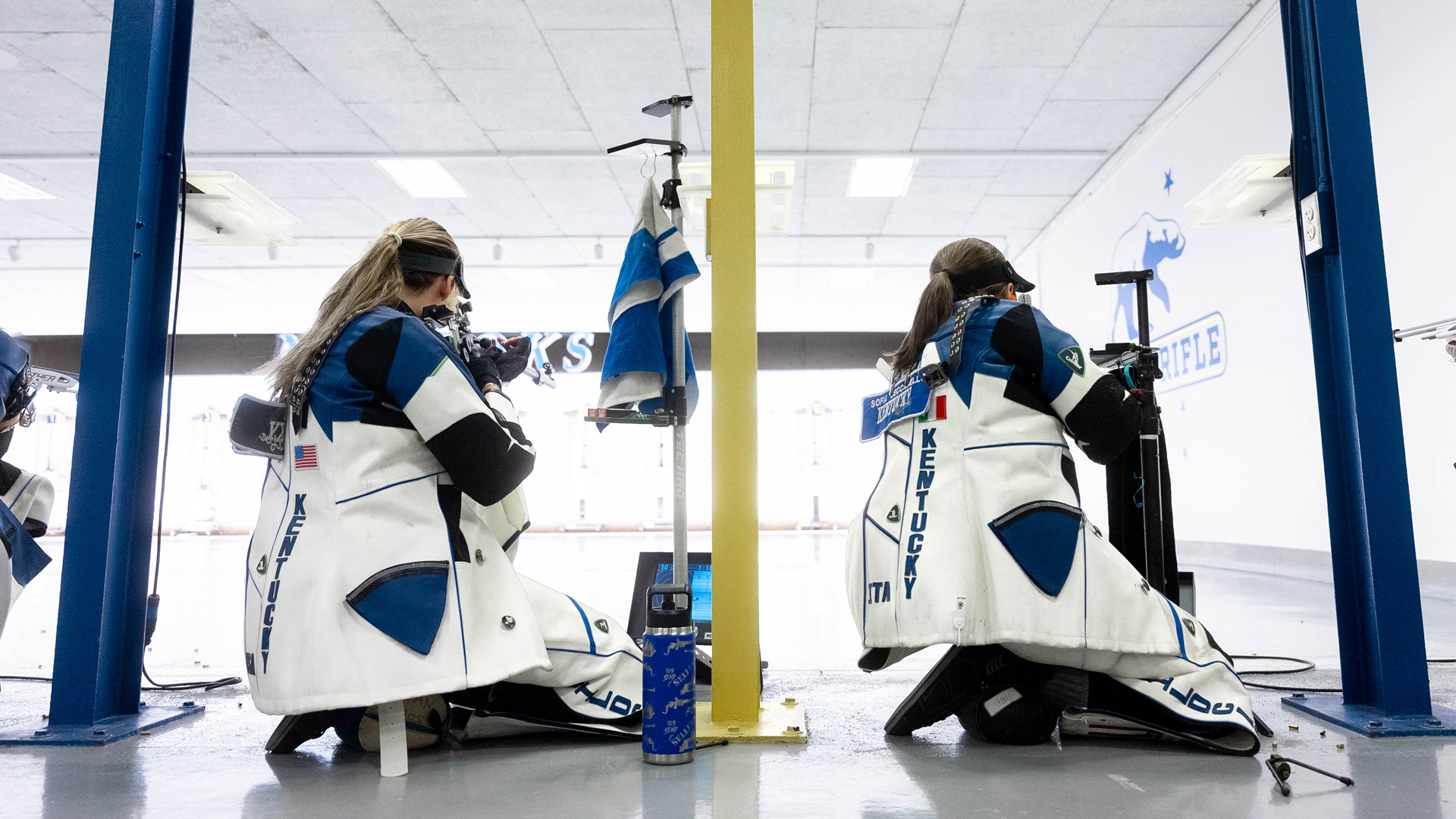 FAIRBANKS, Alaska – After a slow start in smallbore, the University of Kentucky rifle team posted its largest air rifle score of the season and the fifth best in the nation this season to earn a 4721-4712 victory over Akron on Saturday in Fairbanks, Alaska.
Kentucky started with a 2337 in smallbore, trailing Akron by one point after the discipline as the Zipps posted a 2338. The Wildcats answered in a big way in air rifle, posting a 2384 while Akron earned a 2374. The high air rifle score for Kentucky was its best of the season and tied the fifth-highest air rifle team score in the nation this season.
"Good bounce back in air rifle today as Sofia, Braden and Emmie all really performed well to give us the boost we needed," UK head coach Harry Mullins said. "We have some things we need to fine tune in smallbore and we will get that done, but overall happy with the fight we showed in air rifle to put up a good road score. Have to quickly learn from some things and get back at it tomorrow in what should be a fun tri-match with Alaska and Akron."
Kentucky started the match in smallbore, shooting a 2337 team score. Sophomores Sofia Ceccarello and Martin Voss lead the team with 587s, while junior Allison Buesseler and fifth-year senior Emmie Sellers each earned a 584. Fellow fifth-year senior Jaden Thompson scored a 579 with freshman Braden Peiser ending the relay with a 569.
It was Ceccarello that paced Kentucky in air rifle yet again, scoring a 599 for the fourth time this season. She is the only athlete in the nation this season to score a 599 or higher in air rifle four or more times this season. Finishing just behind her in air rifle was Peiser, who posted another season high for the second straight match with a 597. Sellers also earned a season-best 596 in air rifle, while Buesseler scored a 592. Thompson and Voss wrapped up the match with Thompson posting a 589 and Voss a 584.
Individually, Ceccarello scored a 1186 aggregate to lead everyone at the match, while Sellers was third with a 1180. Buesseler was fifth with a 1176 while Voss was eighth with a 1171. Thompson scored a 1168 aggregate while Peiser ended with a 1166.
For Akron, Gavin Perkowski scored a 585 in smallbore and 597 in air rifle to lead the team with a 1182 aggregate. Natalia Siek scored a 586 in smallbore and 591 in air rifle for a 1177 aggregate.
Kentucky will return to action Sunday at 1 p.m. ET in a tri-match with Alaska-Fairbanks and Akron at the Tanana Valley Sportsmen's Association. Live targets and NCAA Scorecard will be available online at UKathletics.com.
For more information on the Kentucky rifle team, visit UKathletics.com or follow UKRifle on Twitter, Instagram and Facebook.