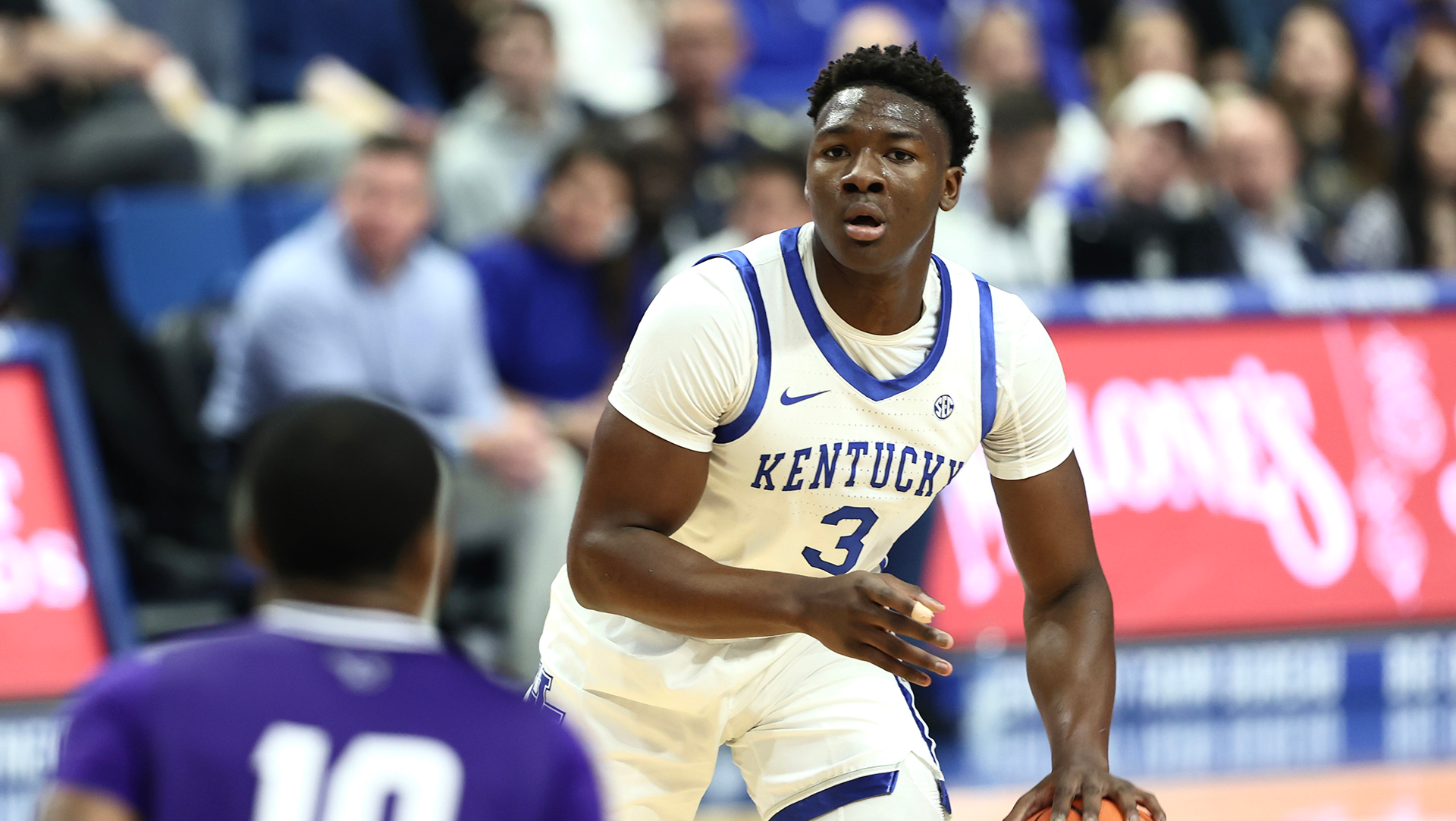 November 17, 2023 - 10:01 PM
Kentucky-Stonehill Postgame Notes
KENTUCKY MEN'S BASKETBALL POSTGAME NOTES
RUPP ARENA AT CENTRAL BANK CENTER | LEXINGTON, KY
NOV. 17, 2023
ATTENDANCE: 18,960
Final Score: No. 17/16 Kentucky 101, Stonehill 67
Team Records and Series Notes
Kentucky is 3-1 on the season, Stonehill is 1-4.
This was the first meeting between the teams.
This was UK's second game in the Wildcat Challenge presented by Kentucky Tourism.
UK continues the five-game homestand Monday against St. Joseph's for the final game of the Wildcat Challenge. Game time is 7 p.m. and it will be televised on SEC Network.
Team Notes
Kentucky totaled 101 points, reaching the century mark for the 20th time in the John Calipari era, the first time since a 106-63 win over South Carolina State exactly a year ago, Nov. 17, 2022.
Kentucky made 17 of 32 on 3-pointers, the most 3-pointers made in the Calipari era and the most since making 20 threes (35 att.) on March 4, 1995, against LSU.
Kentucky shot 39 of 61 from the field, 63.9%, the eighth-highest single-game figure of the Calipari era.
Kentucky had assists on two-thirds of its baskets, 26 assists on 39 field goals made. The 26 assists are sixth-most in one game in the Calipari era.
Kentucky limited Stonehill to 37.5% from the field (24 of 64). UK is 235-24 (90.7%) in the Calipari era, 2-0 this season, when the opponent shoots 40% or less.
Kentucky led by as many as 37 points. The Wildcats are 332-15 (95.7%) in the Calipari era when leading by as many as 10 points at any time during the contest.
Kentucky had a pair of 20-point scorers for the first time this season.
Kentucky is 650-81 (88.9%) in the 48th season in Rupp Arena at Central Bank Center.
Player Notes
Reed Sheppard had a season-high 25 points, making 7 of 8 3-pointers.

The seven threes tie for the 13th most in school history and are just one shy of the most in one game in the Calipari era.
Sheppard's seven assists are a season high.
Sheppard had three steals and has had at least two thefts in each game.

Rob Dillingham had a season-best 20 points and has hit double-digits in all four games. He added seven assists, tying Sheppard for game-high honors.
Antonio Reeves had 15 points, giving him double figures in all four games.
Tre MItchell had 15 points on an efficient 7 of 9 shooting.
Coach John Calipari
Calipari has an 834-254 all-time on-court record and a 389-114 mark at Kentucky.
Calipari is 319-64 at UK against unranked competition.
This was Calipari's first game vs. Stonehill.
Calipari is 222-21 in Rupp Arena at Central Bank Center.
In the First Half
Kentucky started D.J. Wagner, Antonio Reeves, Justin Edwards, Adou Thiero and Tre Mitchell.
Stonehill scored the first five points of the game before a Mitchell layup got the UK on the board with 18:31 on the clock.
Rob Dillingham and Reed Sheppard were UK's first substitutions with 16:16 remaining.
Stonehill held its last lead at 12-11 when Reeves' layup and 3-pointer gave the Wildcats the lead for good.
A 14-0 run, ended with consecutive 3-pointers by Sheppard, put the Wildcats in control at 30-15.
After missing their first 3-point attempt, the Wildcats bagged their next six long balls.
UK went to intermission with its largest lead of the half, 21 points at 58-37.
In the Second Half
Kentucky began the second half with the starting lineup.
Stonehill tallied the first eight points, cutting the count to 58-45 and prompting a UK timeout at 17:12.
Ahead 61-48, a 10-0 run pushed UK ahead 71-48.
Kentucky led by as many as 37 points at 99-62.
UK went into triple digits with 19 seconds left when Edwards' layup curled around the rim before finally dropping home to make the Cats' tally 101.