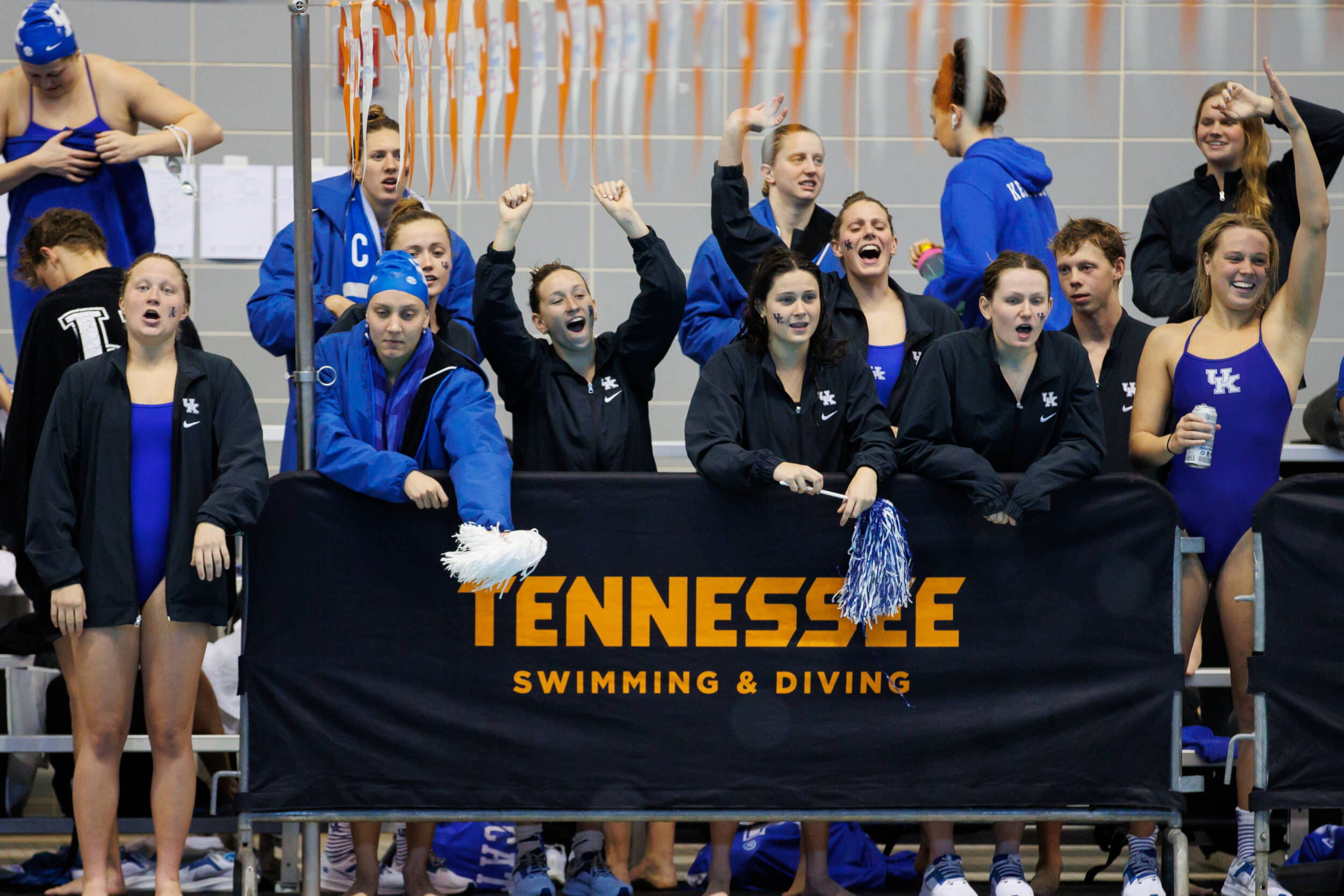 November 17, 2023 - 08:28 PM
Frericks, Merani Land on Podium on Final Night of Tennessee Invite
KNOXVILLE, Tenn. – Ryan Merani and Grace Frericks posted podium finishes as Kentucky swimming & diving closed the Tennessee Invitational on Friday, finishing in fourth place in the men's competition and fifth in the women's meet, held at the Allan Jones Aquatic Center.
The UK men ended the three days with 512 total points, while the Wildcat women finished with a score of 436.
"It was a great three days of racing for our team," head coach Bret Lundgaard said. "We competed well, persevered through a lot of racing and showed our personalities as we continue to build our competitive identity. We come out of the week with so much information for our second half preparation and the most exciting part is that the team is ready to get back to working on building their end of season goals."
Merani, a sophomore from Lutherville Timonium, Md., finished as the silver-medalist in the men's 200 butterfly, touching the wall in 1:43.28. A fellow sophomore, Frericks notched a podium finish of her own, placing third in the 200 backstroke with a time of 1:54.73. Merani and Frericks join Sam Duncan, who won the men's 1-meter diving on Wednesday, as Kentucky podium finishers for the week.
Kentucky notched several "A-finalists" in the morning prelims, led by Merani (200 fly) and Torie Buerger (200 back) both earning the number two overall seed for finals. Others qualifying for "A-final" swims were Frericks (200 back), Zane Rosely (200 fly), Max Berg (100 free) and Lance Johnson (200 breast).
Caroline Benda opened the night session for Kentucky, posting an NCAA B-standard to finish seventh in the women's 1650 freestyle at 16:26.55. It was a new personal best for Benda, improving upon her mark of 16:27.70 at last year's midseason invitational. On the men's side, freshman Carson Hick also placed seventh, finishing the mile swim in 15:28.04.
Frericks' third-place finish in the 200 backstroke was one of three NCAA B-standards for Kentucky in the event alongside Buerger (sixth, 1:55.72) and Libby Grether (1:56.79). Senior Max Berg continued his solid week, earning another B-standard in the 100 freestyle with a time of 43.38, while Bridget Engel clocked a B-cut of 2:13.06 in the 200 breaststroke.
In the women's 1-meter diving, Claire McDaniels and Abby Devereaux both advanced through to the final, where McDaniels would place ninth and Devereaux 11th.
For the week, Kentucky totaled 15 NCAA B-cuts and four new program top-10 times.
Next up for the Cats, several team members will compete at USA Diving Nationals (Nov. 28 – Dec. 6) and the Toyota U.S. Open (Nov. 29 – Dec. 2).
NCAA B Standards:
Women's 1650 Freestyle: Caroline Benda (16:26.55)
Women's 200 Backstroke: Libby Grether (1:56.79)
Women's 200 Backstroke: Torie Buerger (1:55.72)
Women's 200 Backstroke: Grace Frericks (1:54.73)
Men's 100 Freestyle: Max Berg (43.38)
Women's 200 Breast: Bridget Engel (2:13.06)
Men's 200 Fly: Ryan Merani (1:43.28)
Top-10 Times in Program History
9th – Men's 200 Breast: Lance Johnson (1:58.49)
For the latest on UK Swim & Dive, follow the Wildcats on X and Instagram at @UKSwimDive, and on Facebook at Kentucky Swimming and Diving.