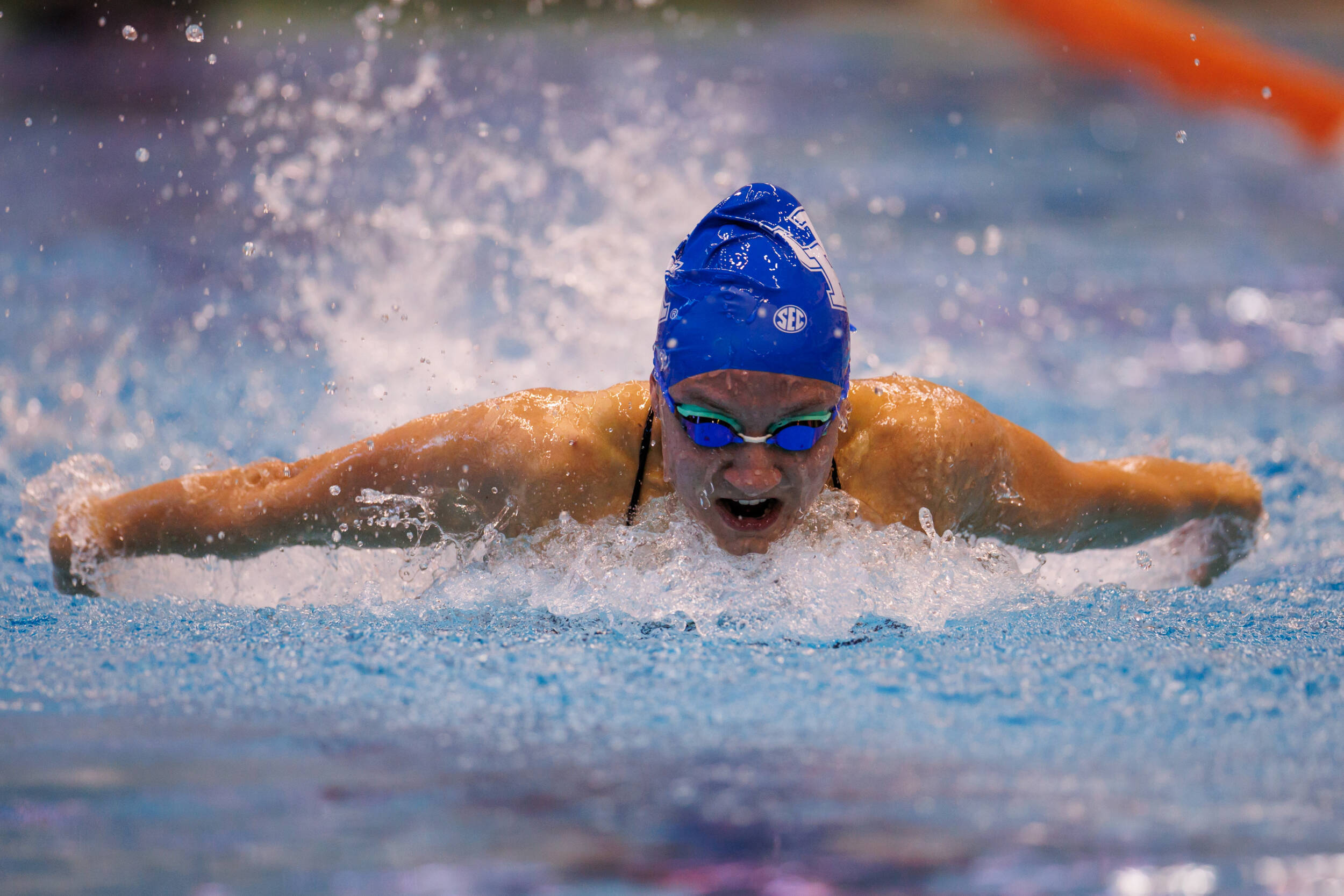 November 16, 2023 - 10:01 PM
Kentucky Remains in Fourth After Day Two of Tennessee Invite
KNOXVILLE, Tenn. – Kentucky swimming & diving earned eight NCAA B-Cuts along with one new zone standard on day two of the Tennessee Invitational inside the Allan Jones Aquatic Center on Thursday.
The Wildcats ended the day in fourth place as a team on both the men's and women's sides. With one day of competition still remaining, the UK men sit at 357 points and the women at 300.5. Tennessee tops the men's leaderboard at 826, while the Virginia women are in the driver's seat with a score of 713.5.
Thursday morning's preliminary session was highlighted by an Olympic Trials cut from junior Caroline Benda. Benda navigated the 400 IM long course track in 4:48.39 to earn the second overall seed for the night session final and secure her spot in Indianapolis next summer.
Several other Wildcats had strong morning swims to grab "A-final" lanes including Ryan Merani (100 Fly + 400 IM), Madi McGlothen (400 IM), Anna Havens Rice (400 IM), Max Berg (200 Free), Lance Johnson (100 Breast), Torie Buerger (100 back) and Grace Frericks (100 back).
UK racked up the points in the women's 400 IM with their three A-finalists placing four, five and six, all with NCAA B-standard times. McGlothen, the freshman, led the way at 4:16.33, followed by Benda at 4:16.85 and Rice at 4:17.09. The Cats also tallied a pair of top-ten finishes in the men's 400 IM with Merani in fifth at 3:47.17 and "B-final" winner Zane Rosely in ninth at 3:50.06. Both Merani's and Rosely's times were NCAA B-standards.
Senior Max Berg also managed a B-cut, clocking a 1:35.28 in the 200 freestyle to finish fifth. In the women's 100 breast, it was Bridget Engel achieving a B-standard, touching the wall in 1:00.96 for 12th place. Buerger joined the group with her B-cut in the 100 back, registering the ninth-fastest time in program history at 52.79 to finish fourth in the field.
The Wildcats ended the night with a second-place result in the men's 800 Freestyle relay as Merani, Victor Martin Roig, Berg and Rosely combined on the 6:26.36 effort.
Thursday's diving included the men's 3-meter springboard and the women's platform. Kentucky's Sam Duncan followed his victory yesterday with another podium showing on Thursday, placing third with a final score of 354.05. Junior Abby Devereaux and senior Claire McDaniels led UK's efforts in the platform competition, placing sixth and tenth, respectively, with scores of 249.95 and 222.35. For Devereaux, the mark was good for an NCAA zone cut.
The Tennessee Invitational will conclude tomorrow with the 1650 freestyle, women's 1-meter diving, men's platform diving, 200 backstroke, 100 freestyle, 200 breaststroke, 200 butterfly and the 400 freestyle relay.
NCAA B Standards:
Women's 400 IM: Caroline Benda (4:16.85)
Women's 400 IM: Madilyn McGlothen (4:16.33)
Women's 400 IM: Anna Havens Rice (4:17.09)
Men's 400 IM: Ryan Merani (3:47.17)
Men's 400 IM: Zane Rosely (3:50.06)
Men's 200 Free: Max Berg (1:35.28)
Women's 100 Breast: Bridget Engel (1:00.96)
Women's 100 Back: Torie Buerger (52.79)
Top-10 Times in Program History 
9th – Women's 100 Back: Torie Buerger (52.79)
10th – Men's 100 Breast: Lance Johnson (54.53)
For the latest on UK Swim & Dive, follow the Wildcats on X and Instagram at @UKSwimDive, and on Facebook at Kentucky Swimming and Diving.