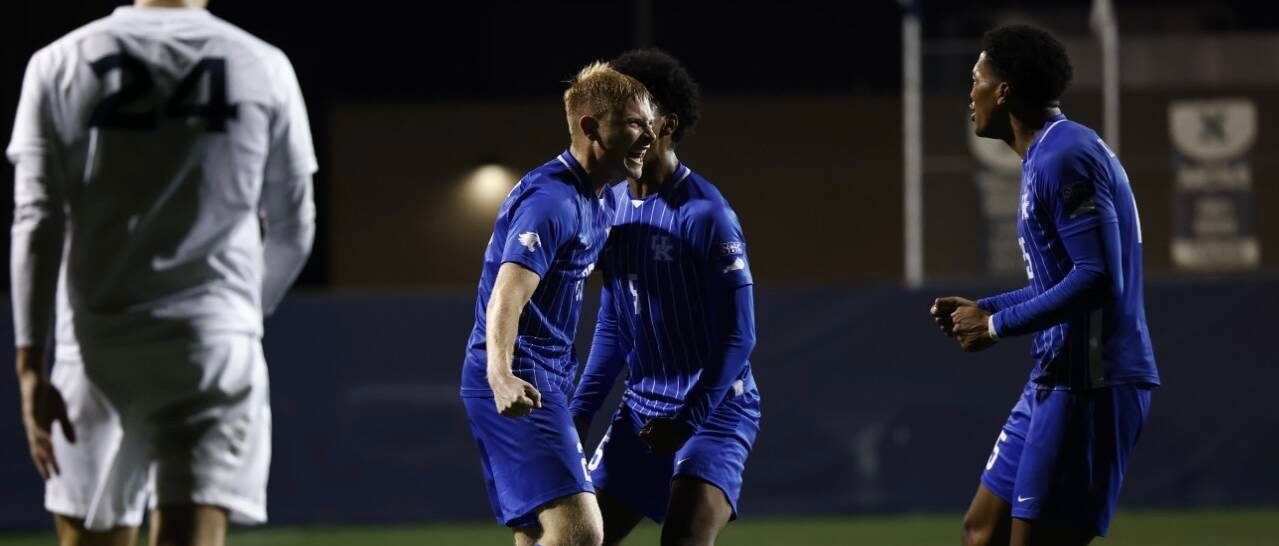 November 16, 2023 - 10:57 PM
Ben Damge Hammers a Brace to Advance Cats to NCAA Second Round
CINCINNATI, Ohio. – Kentucky men's soccer (8-7-4, 3-3-3 Sun Belt) advances to the second round of the NCAA Tournament after defeating Xavier (9-3-6, 4-1-3 Big East) 2-0 at Corcoran Field on Thursday evening.
Ben Damge scored a brace to secure the victory for the Wildcats to advance Kentucky to its fifth consecutive second round appearance. In his 12 seasons at the helm of the program, head coach Johan Cedergren has led Kentucky to 10 NCAA Tournaments to tally 14 appearances in program history.
In the first 15 minutes of the contest, keeper Casper Mols recorded a save to begin the momentum for the Cats. Nearly 10 minutes later in the 26', Damge drilled in his first goal of the night. He was assisted by freshman Josh Gordon who recorded his first assist of the season.
The Wildcats entered the halftime period with the 1-Nil advantage, four shots and one save recorded.
As the second half of regulation commenced, Kentucky was locked in to secure the win. Damge, in the 68th minute, scored his second goal of the night to put UK up 2-0. From a free kick into the box, freshman Marqes Muir connected to pass the ball to the hometown kid. The Mason, Ohio native sent the ball into the net earning the new nickname "The Hammer" from Cedergren.
Kentucky ended the contest with eight total shots and two saves as Mols earned his 7th clean sheet of his sophomore season. The keeper is now 8-5-4 on the year.
Kentucky and Xavier now hold an all-time series record of 9-5-3 (UK) following this evening's contest. The two programs first went head-to-head in 2000 which ended in a 3-1 win for the Musketeers.
The Cats will travel to South Bend, Ind. on Sunday to take on Notre Dame at 5 p.m. For more information on the Road to Louisville, click here.
For the latest on Kentucky Men's Soccer, follow @UKMensSoccer on X, Facebook and Instagram, as well as on the web at UKAthletics.com.