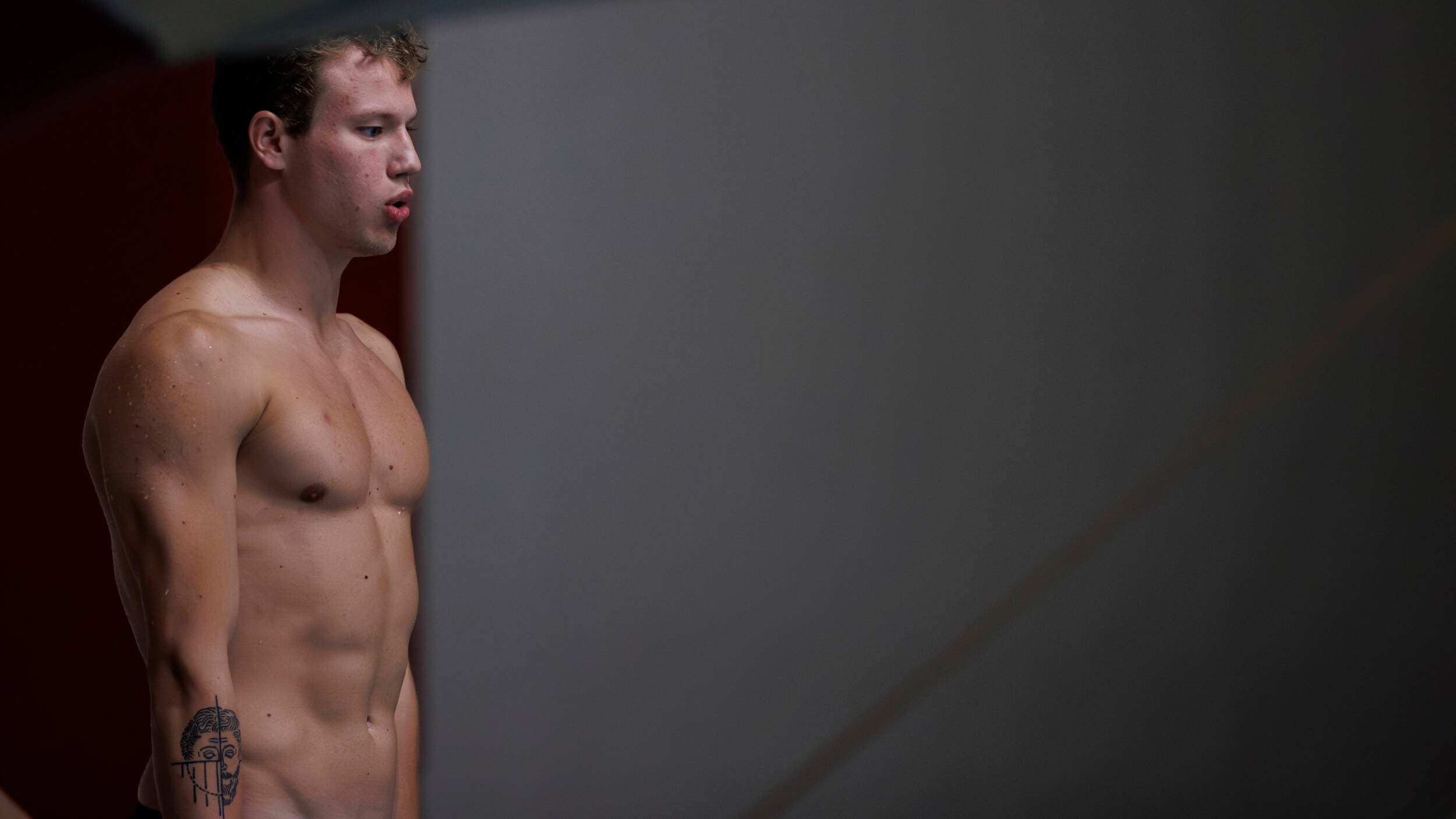 November 15, 2023 - 11:12 PM
Sam Duncan Wins 1-meter Diving, Kentucky Ends Day One of Tennessee Invite
KNOXVILLE, Tenn. – Kentucky senior Sam Duncan earned first in the men's one-meter springboard, while three Wildcats posted NCAA B-Standard times on day one of the Tennessee Invitational at the Allan Jones Aquatic Center.
Following Wednesday's action, both the UK men and women find themselves in fourth place in the team standings.
Senior diver Sam Duncan was a standout performer on the boards, winning both the prelims and final in the men's 1-meter competition. Duncan's final score of 368.95 put him more than nine points clear of the second-place finisher, Tennessee's Bryden Hattie. In women's diving, junior Abby Devereaux reached the final on the three-meter springboard, eventually placing seventh with a score of 290.50.
The morning swim prelims, which were contested in long course, saw Kentucky secure three A-final spots for the short course night session. Carson Hick (500 freestyle), Torie Buerger (200 IM) and Max Berg (200 IM) all earned places in the top finals' heats. Hick, the freshman from White Rock, N.M., would go on to take sixth place with a night swim of 4:23.01, making him the highest placing Kentucky swimmer of the day. Buerger, a senior from Wexford, Pa., took seventh with a 200 IM time of 2:00.91, while Berg was eighth in the men's 200 IM at 1:48.60.
UK ended the day with three NCAA B-cuts, one each from Madi McGlothen, Ryan Merani and Buerger. McGlothen, a freshman out of Charleston, W. Va., clocked a blistering 4:44.22 to win the 500 freestyle C-final and achieve the first NCAA B-standard of her collegiate career. McGlothen's time was the seventh fastest among all finals' participants in the women's 500 freestyle. For Merani, his pace of 1:45.38 in the 200 IM not only secured his second B-cut of the 2023-24 season, but also clinched a new personal best mark and the sixth quickest time in program history. Buerger notched her B-standard in the 100 back, swimming the opening leg of Kentucky's "A" 400 medley relay in 53.45.
The Tennessee Invite will resume tomorrow with the 100 butterfly, 400 IM, 200 freestyle, 100 breaststroke, 100 backstroke, men's three-meter diving, women's platform diving, 200 medley relay and 800 freestyle relay.
Kentucky Event Winners:
Men's 1-Meter Diving: Sam Duncan (368.95)
NCAA B Standards:
Women's 500 Free: Madilyn McGlothen (4:44.22)
Men's 200 IM: Ryan Merani (1:45.38)
Women's 100 Back: Torie Buerger (53.45) *
*Relay Split
Top-10 Times in Program History  
6th – Men's 200 IM: Ryan Merani (1:45.38)
For the latest on UK Swim & Dive, follow the Wildcats on X and Instagram at @UKSwimDive, and on Facebook at Kentucky Swimming and Diving.