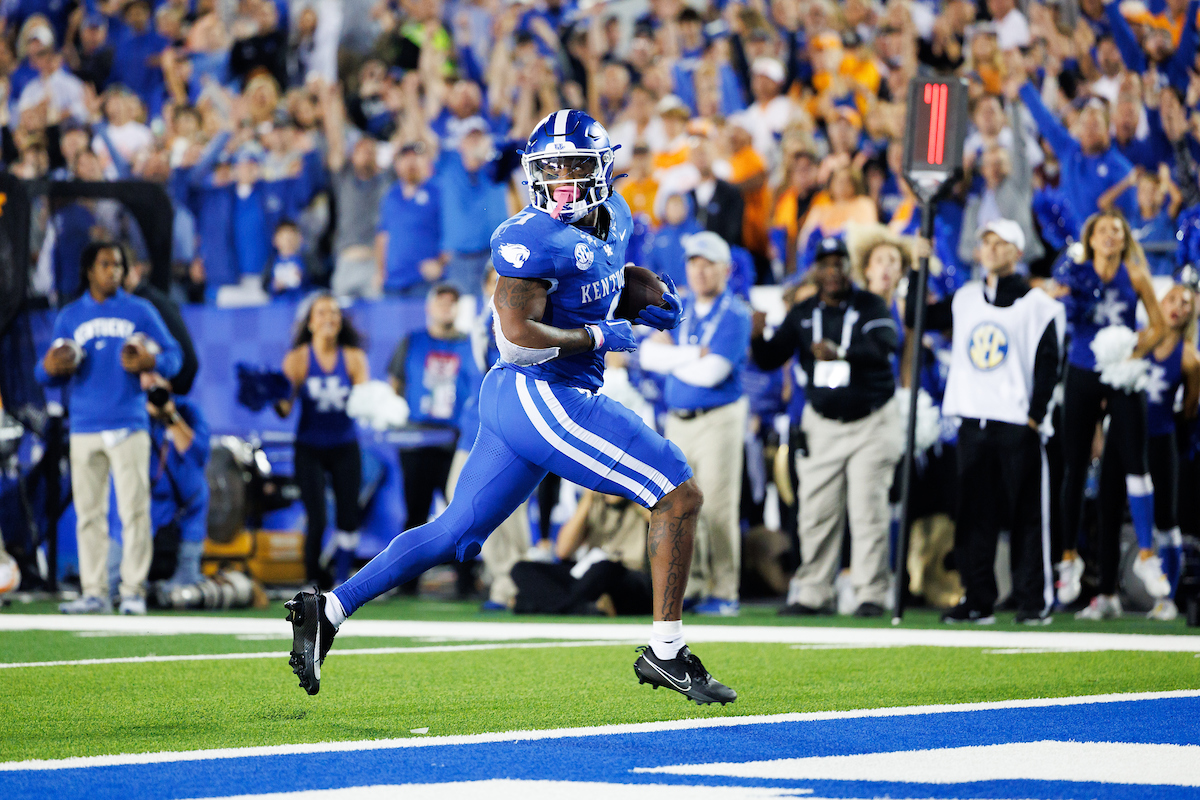 The last time Kentucky was on the road, the Cats knew they were going to face a hostile crowd. Visiting Mississippi State, the Cats knew that the cowbells would be noisy.
In that game, a 24-3 Kentucky win, the Cats were able to take the crowd out of the game early. The Cats will hope to do the same thing on Saturday at South Carolina, where Williams-Brice Stadium is always a difficult place to play. UK running back Ray Davis knows that taking the crowd out of the game early will be important for the Cats.
"Going into any environment, it's going to be difficult to go out there and put up numbers," Davis said. "We know that they're going to go out there with their fan base and be loud. For us, it's just staying poised. We can't control the atmosphere, we can only control anything except for what we do on the field."
The 2023 Cats, who have already won two Southeastern Conference games on the road this season, take pride in being disruptive away from home.
"You get to ruin somebody's Saturday. You get to run someone's Saturday night," Davis said. "The fans are watching three hours of football, then you get a Kentucky win and they're driving home pretty sad. Going to a place where you can ruin someone's Saturday and come away with a tough victory. You saw that against Mississippi State. I think we took the crowd out of it within the first quarter. Once you take the crowd out of the game, then it feels like a home game for you."
For Davis, it's a pretty simple mindset.
"Every day, it's Kentucky versus the world," Davis said. "You step onto a field and anyone who is trying to step in the way of what we're trying to build and establish, you've got to have that mindset of it's us against everybody."
Davis, who played against South Carolina last season when he was with Vanderbilt, knows the Gamecocks' defense is tough.
"It starts with their linebackers," Davis said. "They have two good linebackers who are very lateral in their movement and are electrifying and have a high motor. Understanding where they are on the field and trying to find the weaknesses in their game, there aren't many."
UK offensive coordinator Liam Coen saw changes in the Gamecocks' defensive unit last week.
"We had a bead on some things, then last week against Vanderbilt, they had a shift on defense," Coen said. "They shifted to almost a little bit of a Mississippi State vibe. So that's something that we've had to prepare for. They fly around to the football. They've done a nice job rushing the passer at times. It's more about us getting this thing right. You get an opportunity to go down and compete on a big stage."
The Cats hope to take a similar attitude into Saturday's game. It's a formula that has already worked for Kentucky on a couple of occasions this season.