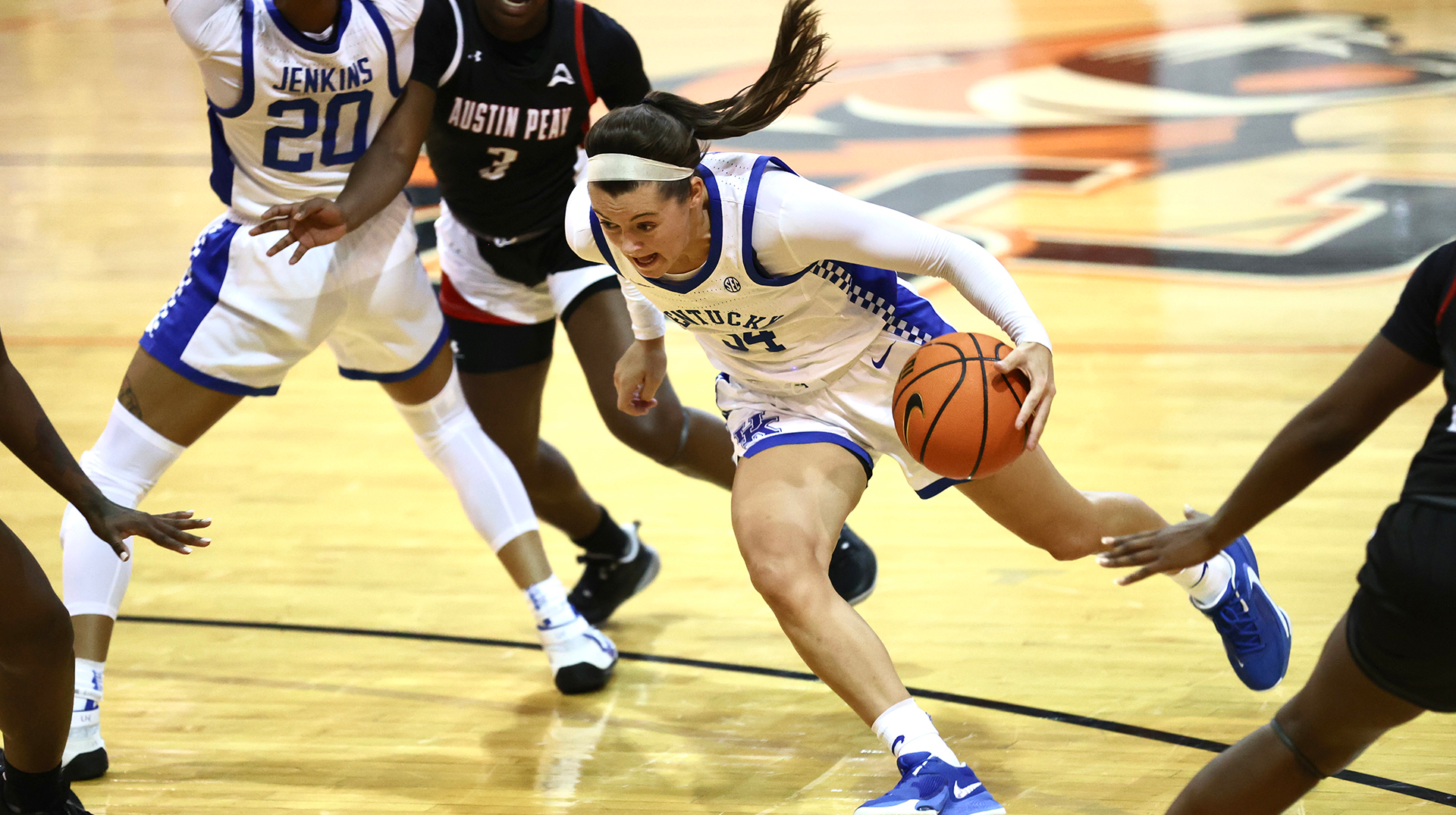 November 14, 2023 - 08:26 PM
Kentucky Falls to Austin Peay on Tuesday
Ajae Petty scored 19 points and grabbed 14 rebounds but the Kentucky women's basketball team lost for the first time this season, falling to Austin Peay 68-63 on Tuesday night at Davis-Reid Alumni Gym in Georgetown.
Saniah Tyler had 11 points and three steals for the Cats, while Eniya Russell added 11 points and seven rebounds.
Kentucky was without star guard Maddie Scherr, who missed the game with an ankle injury.
The Cats made just 22 of 70 (31.4 percent) of its shots from the floor in the game, including just four of 20 (20 percent) from behind the arc. Meanwhile, Austin Peay made 27 of 51 (52.9 percent) from the floor and six of 17 (35.3 percent) from behind the arc.
The game was tight early with four ties before the Governors closed the first quarter on a 6-2 run to lead 14-10 through 10 minutes of action.
Austin Peay's run continued early in the second period as the Govs scored seven straight to build a 21-10 advantage. Kentucky responded with a 15-4 run, sparked by nine points from Tyler, to tie the game at 25-25. APSU responded late and led 30-28 at the half.
As they did in the second period, Austin Peay started the third quarter with a run, this one a 7-0 stretch, to lead 37-28. Kentucky got back within six, 41-35, on a Brooklynn Miles layup, but the Governors would lead 51-41 through three periods.
After falling behind by 13 early in the fourth quarter, Kentucky mounted a run to make the game close. The Cats went on an 18-7 run to cut the deficit to just two, 63-61, with 1:24 to play. But Austin Peay made its free throws down the stretch to hold on for the win.
Kentucky returns to action on Sunday, traveling to Fort Myers, Florida, to face Florida Gulf Coast. Tipoff is set for 2 p.m. ET and the game can be seen on ESPN Plus.