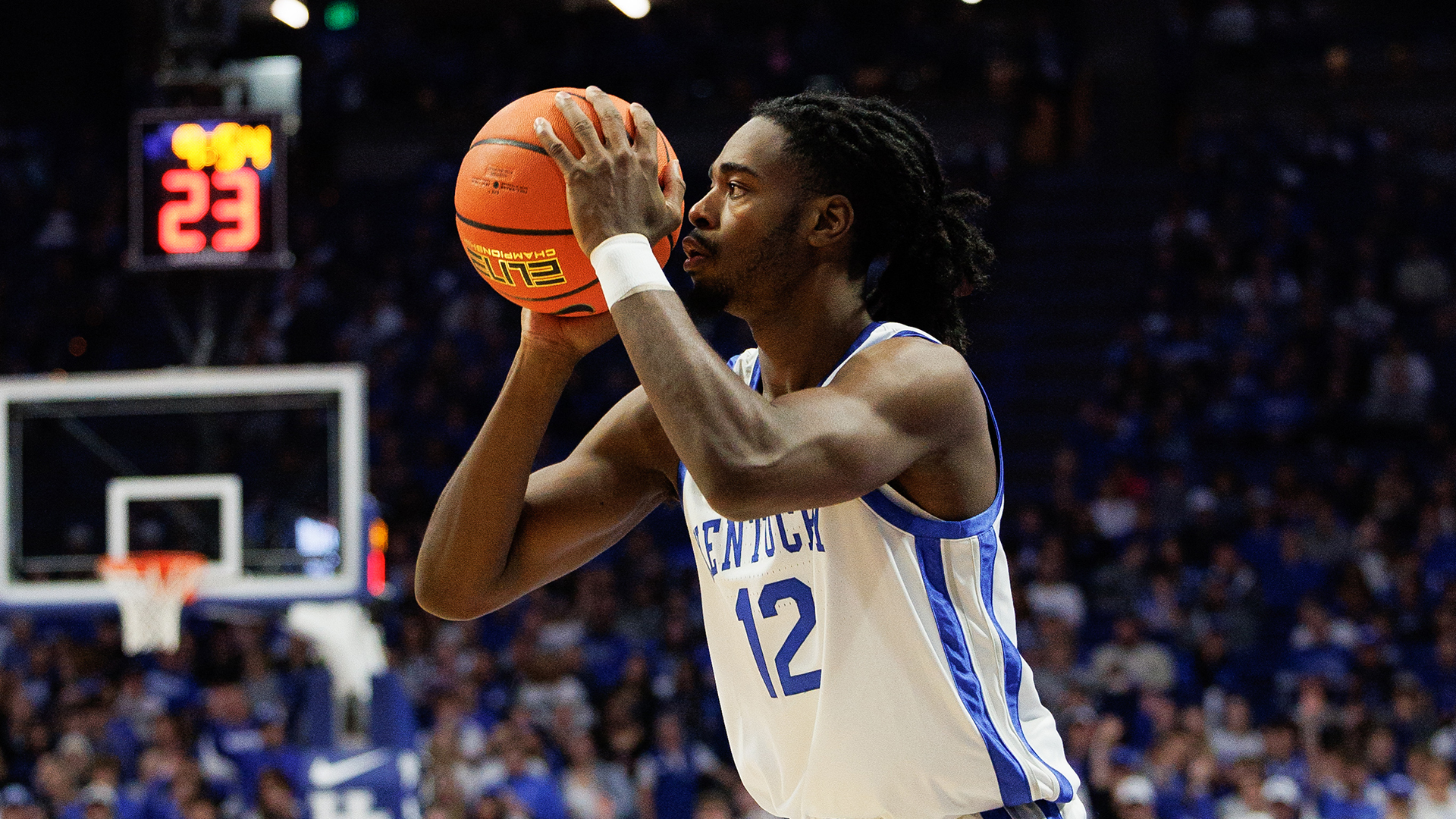 November 13, 2023 - 03:50 PM
Kentucky Set to Face 'Veteran' Kansas on Tuesday
The storyline for Tuesday's game between Kentucky and Kansas writes itself. The two teams with the most wins in college basketball history meet again, this time in the State Farm Champions Classic in Chicago.
Despite that obvious narrative, Kentucky head coach John Calipari knows that this game is not about the storied histories of these two proud programs. It's about the players on the floor for the 2023-24 college basketball season.
"They're a veteran team, older players and we've got young guys," Calipari said on Monday. "We have no idea how they will respond. I'm hoping they respond. Sometimes, they're so young, they don't know and they just go play well. I don't know what to expect."
What's the message that Calipari and his staff are giving to these young Cats?
"Go play loose and free and have fun and let's see who we are right now," Calipari said. "This is our third game. This is literally a brand new team. We've shown signs of really good and we've shown signs of 'oh my gosh, we have to be better than this', which is typical."
Kentucky is off to a 2-0 start after beating New Mexico State 86-46 and Texas A&M-Commerce 81-61 last week. Antonio Reeves currently leads the Cats in scoring, averaging 16 points per game.
Reeves is certainly not bearing all of the scoring load. Freshman Rob Dillingham is posting 14.5 points per outing, while classmate Justin Edwards has averaged 14.0 points through two games. Tre Mitchell (13.5 ppg) and D.J. Wagner (12.0 ppg) round out the five Cats currently averaging double digits in points.
Like Kentucky, Kansas has gotten its season off to a good start, winning both of its early games with ease. The Jayhawks topped North Carolina Central 99-56 in their first game, then beat Manhattan 99-61.
Kansas has been led by center Hunter Dickinson. The Michigan transfer leads Kansas with a 19.0 points per game average through two contests. Kevin McCullar Jr. is close behind at 18.5 points per game, while KJ Adams has averaged 13 points through two games.
"Kansas is the number one team in the country and should be," Calipari said. "They're not going to beat themselves, they play hard, they're very aggressive, they'll play fast when they can."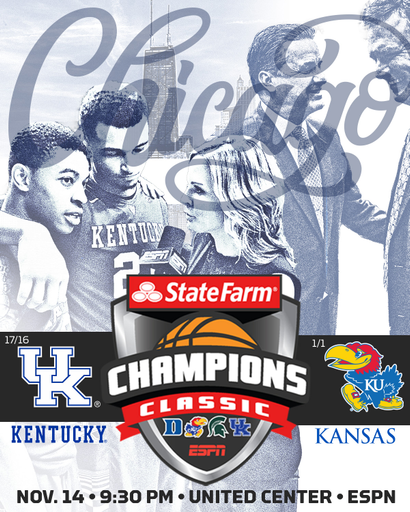 Texas A&M-Commerce Recap
No. 16 Kentucky faced little adversity in its season-opening win over New Mexico State on Monday night. The Cats cruised to a 40-point win after breaking free in the second half.
Friday's game against Texas A&M-Commerce was different. The Lions came out hot, making seven of their first 10 shots, including five from beyond the arc. It all added up to a 19-6 lead for Texas A&M Commerce less than seven minutes into the game.
The Cats would eventually right the ship, going on an 11-1 run to take the lead for the first time, 25-24, with 7:41 left in the first half and the Cats would lead 38-30 at the break.
Kentucky (2-0) would go on to win 81-61, using another big second half to blow open a game that was close at the half.
UK head coach John Calipari thought that, long term, falling behind in this game could be beneficial.
"Loved it," Calipari said. "Now, you have to understand that they had played two games and they were shooting from the three, 20 percent, 21 percent, whatever. I said it doesn't matter, they're playing us, they will come out and make threes. And that's why, in huddles, I was saying we needed to string some plays together."
What, specifically, were the Lions doing to the Cats?
"The problem we had was we were getting beat on the dribble," Calipari said. "We had guys who are supposed to be able to play the ball and they got by us."
Antonio Reeves led all scorers with 21 points, leading five Cats in double figures. Tre Mitchell had 18 points, eight rebounds and
three steals, while Justin Edwards had 16 points and seven rebounds. Freshman guard Rob Dillingham had 12 points, five rebounds and four assists while fellow freshman D.J. Wagner had 11 points. But Calipari was also impressed with a player who scored just three.
"We had five guys in double figures. And I love it when, the guy who was the best in plus/minus couldn't make a basket," Calipari said. "Made one with, what, two minutes to go. Reed (Sheppard). He was like plus-23, 24. He's in the game, you just play better. That's why he's got to be on the floor."
Calipari also liked how the Cats took care of the basketball.
"Would you say we played pretty fast? And we only had three turnovers," Calipari said. "How do you finish with just three turnovers? That's ridiculous."
Taking Care of the Rock
Through two games this season, the young Cats value the rock. The Wildcats have committed just nine total turnovers for an average of just 4.5 per game. UK's assist-to-turnover ratio is +3.2.
Against A&M-Commerce, Kentucky turned the ball over just three times. According to Big Blue History, of 1,633 UK games where turnovers are available, only two other games had fewer: Jan. 5, 2021 vs. Vanderbilt (2) and Dec. 20, 1983 vs. Cincinnati (2).
Per bigbluehistory.net, UK's 6.8 turnovers per 100 possessions are historically unheard of thus far. The Wildcats typically average between 16-24 per 100 possessions throughout history.