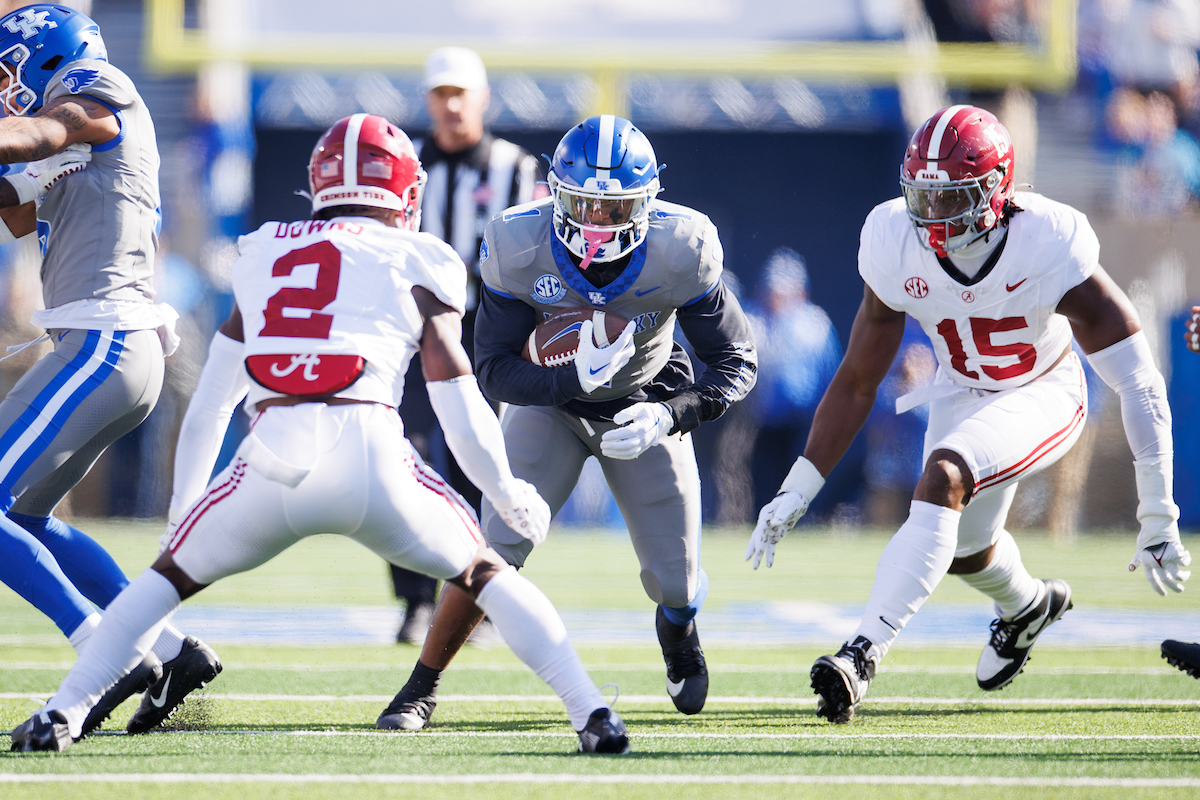 Early in the 2023 season, Kentucky had its rushing attack going. The Cats rolled through their first four opponents, averaging more than 130 rushing yards per game.
But the high point of the season, from a rushing perspective, came in game five when the Cats rushed for a whopping 329 yards against Florida. Ray Davis led the ground attack with 280 yards, just 19 yards shy of the all-time UK record.
Since the Florida game, the Cats have had less productive outings on the ground, due to one reason or another. In games against top-ranked Georgia, Missouri, Tennessee, Mississippi State and Alabama, the Cats have averaged 102.2 yards per contest. Last week against No. 8 Alabama, Kentucky rushed for just 95 yards, 74 of which came on a Ramon Jefferson run in the fourth quarter.
UK head coach Mark Stoops knows that, for his team's offense to be at its best, the Cats must run the ball better.
"I think our yards per attempt were not very impressive if you take that run (by Jefferson) out," Stoops said. "We need to be a little more efficient. We need to get back to point of attack. We have to do a better job. We've done a nice job of getting the ball on the perimeter at different times and mixing that in. But we also need to get yards with our power run game, our inside run game. We need to get some movement, get back to being a little more physical, whether it's the (offensive) line, the tight ends, backs making sure they hit the hole and getting the tough yards."
This week, Kentucky visits South Carolina in an important game for both teams. Stoops is not worried about potentially spoiling the Gamecocks' season at all. The UK head coach is focused on what this game means to his team.
"Zero influence on me on what happens to them," Stoops said. "Bowl placement is a reality for us. Improving our placement, improving our record in the SEC, getting another win. I think that motivation is more of what we're concerned about is us. Trying to get another win, get to .500 in the SEC and get improve our placement."
South Carolina allows 145.2 yards per game on the ground on the season, while Kentucky rushes for 136.5 yards per game this season. The Cats will hope to get the run game back on track Saturday, which could be a key to getting a win in a hostile environment in Columbia.