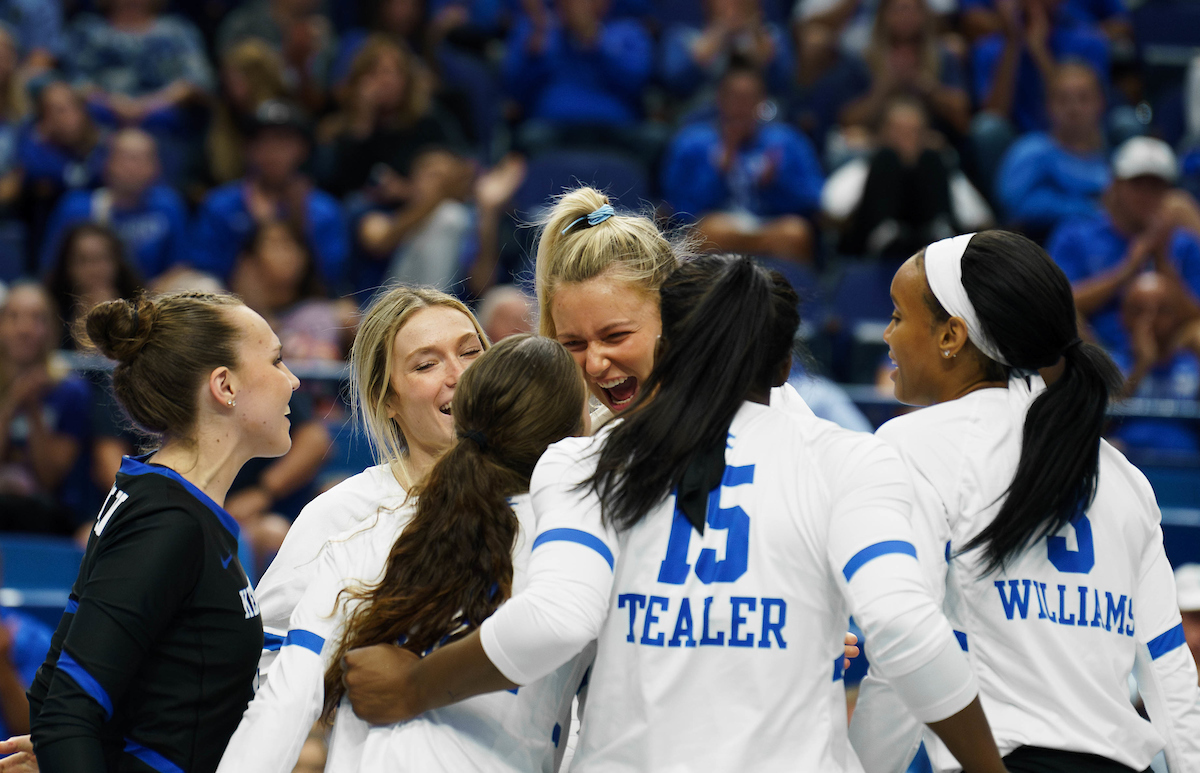 November 12, 2023 - 03:37 PM
Lamb's 14 Kills, .480 Night Sends No. 13 Kentucky Past Georgia
LEXINGTON, Ky. – The No. 13 Kentucky Volleyball team got 14 kills and a .480 afternoon from Erin Lamb to sweep Georgia 3-0 (25-13, 25-23, 25-20) Sunday afternoon as UK collected its sixth top-50 RPI win and fourth in a row in from of over 3,900 people in Rupp Arena.
The Wildcats came out on fire, winning the opening set 25-13 with a .593 hitting percentage and a 71 percent sideout conversion rate as UK punched first to push Kentucky into the lead. After falling behind early in the second with UGA taking an 8-1 lead, Kentucky slowly began to chip away and leveled the set at 19-19 for the first time since it was 0-0. Kentucky then took the lead at 21-20 and sided out to close out a 2-0 win. Kentucky never trailed in the third and took the win to the house.
With Sunday's result, Kentucky holds steady with its one-match lead in the Southeastern Conference over No. 9 Arkansas as UK is now 15-7 overall and are 13-1 in the SEC. Georgia with the loss falls to 15-11 and sits 6-8 in the SEC. The win for Kentucky runs its season-high win streak to 12 in a row, with the win streak having started on Sept. 29 at Georgia in a five-set win.
Kentucky is now 4-0 in November and will look to make it 5-0 in its next match, Thursday, versus Texas A&M in Lexington at Rupp Arena. First serve is scheduled for 7 p.m. ET with the broadcast airing on SEC Network+ and the ESPN app.
Three UK players reached double-figures with Brooklyn DeLeye leading the way on 16 terminations, followed by Lamb's 14 and Rutherford scoring 11 times on 20 swings. Emma Grome ran the UK offense to the tune of a .410 hitting percentage and Eleanor Beavin's nine digs led the way for UK on defense. Azhani Tealer dominated the net play all match, ending the day with two solo stuffs and five block assists.
Set One
A 9-0 Kentucky run changed the dichotomy of the first set, as UK went from trailing 8-4 into a 13-8 lead where the Wildcats blew out the Bulldogs from there. Kentucky hit a mammoth .593 in the set with five different UK players netting two or more kills. Brooklyn DeLeye hit .625 in the set with six kills on eight swings and also had five digs to lead UK in both categories. Georgia called timeout trailing 18-11 following back-to-back blocks from Azhani Tealer and the service pressure of Molly Tuozzo kept UGA out of system down the stretch as UK locked up a 1-0 lead with a 25-13 opening-set win.
Set Two
The second set was a much different story as Kentucky trailed almost the entire time until the end. UK called its first timeout at 14-9 with UGA ahead by five and UK unable to creep any closer than three points. After UK's only ace of the match, the Wildcats got two blocks and an extended-rally kill by Tealer to square the set at 19 and Craig Skinner won a challenge on the next point, getting a touch call to make things 21-20, UK. After UGA took its second timeout, Kentucky got a sideout from Reagan Rutherford and a kill by Rutherford again on a sideout to close the set, 25-23 to take a two sets to none lead in the match.
Set Three
Kentucky never trailed in the third set, racing out to a 10-7 lead before Georgia was pushed into its first timeout after Azhani Tealer's fourth block of the afternoon. The Wildcats sided out at 71 percent and a kill by Erin Lamb made things 19-16 in favor of the Wildcats as Georgia called its final timeout down three. Good passing and good sideouts had Kentucky arrive at set point with a 24-20 advantage and an attack error ended the match as Kentucky picked up its second-straight sweep of an SEC team.
Stat That Matters
Erin Lamb's 14 kills were a new season high, one-upping her 13-kill performance on opening weekend vs. Northern Colorado. Lamb accounted for 14.5 points, with a block assist in the match, as well.
Key Moment
The key moment was an Azhani Tealer and Reagan Rutherford stuff block late in the second set to push Kentucky into a 19-19 tie with UGA after being behind the entire set to that point.
Key Player
The key player in Sunday's match was Emma Grome. Grome had 43 assists and a block assist in Sunday's win to go alongside seven digs.
Kentucky Volleyball in Rupp Arena
UK Athletics announced earlier this spring that Rupp Arena at Central Bank Center will serve as the primary home venue for the Kentucky gymnastics, volleyball and women's basketball teams for the 2023-24 season while Memorial Coliseum undergoes an $82 million renovation.
For the latest on UK Volleyball, follow the Wildcats on Twitter and Instagram at @KentuckyVB.