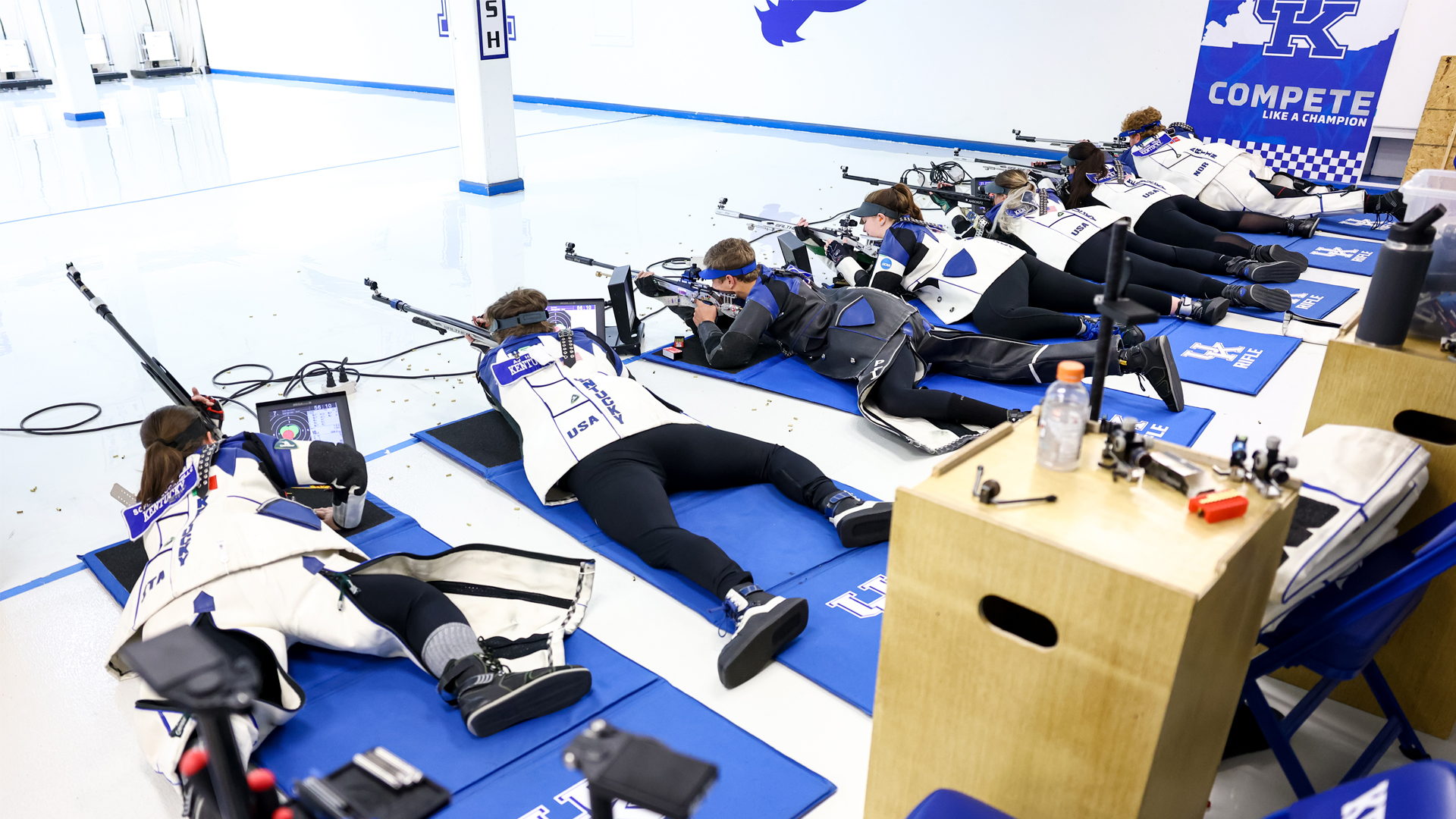 LEXINGTON, Ky. – Behind several career-high performances en route to its second-highest team score of the season, the University of Kentucky rifle team posted a 4723-4705 victory Saturday over Memphis inside the UK Rifle Range in Lexington, Kentucky.
Kentucky started the match with a 2344 smallbore, while Memphis posted a 2328 smallbore. The Wildcats then secured the match with a 2379 air rifle score, just two more than Memphis' 2377 air rifle. The 4723 score was the second highest of the season for Kentucky, just short of the 4727 scored in the season opener. Memphis' 4705 was also its second highest of the season.
"Saw some good things today and happy to end the fall home schedule with a good score and win for Big Blue Nation," UK head coach Harry Mullins said. "Very proud of Emmie for her career-high smallbore and Braden for his career-high air rifle. Overall, good match for us and looking forward to a good week of training and then heading out to Alaska."
Sophomore Sofia Ceccarello led Kentucky in the match, scoring a 584 in smallbore and 598 in air rifle. Fifth-year senior Jaden Thompson scored a 588 in smallbore, which tied her career high, and a 593 in air rifle. Fellow fifth-year senior Emmie Sellers scored a career-high 587 in smallbore and earned a 593 in air rifle. It was a career-high air rifle for Braden Peiser with a 595, while he earned a 581 in smallbore. Junior Allison Buesseler scored a 586 in smallbore and 592 in air rifle, while sophomore Martin Voss scored a 585 in smallbore and 590 in air rifle.
Also on the relay line Saturday was sophomore AJ Hotko and freshman Emily Marne. Hotko scored a 568 in smallbore and 589 in air rifle, while Marne scored a 547 in smallbore and 558 in air rifle.
Memphis was led by Gabriela Zych, who scored a 588 in smallbore and 594 in air rifle. Sophie Gruz and Angeline Henry each scored a 1176 aggregate. Cruz had a 583 in smallbore and 593 in air rifle while Henry had a 580 in smallbore and 596 in air rifle.
The fall schedule will wrap with a trip to Fairbanks, Alaska, next week for Kentucky. UK will compete in two matches up there, first against Akron on Nov. 18 and then Alaska and Akron on Nov. 19.
For more information on the Kentucky rifle team, visit UKathletics.com or follow UKRifle on Twitter, Instagram and Facebook.