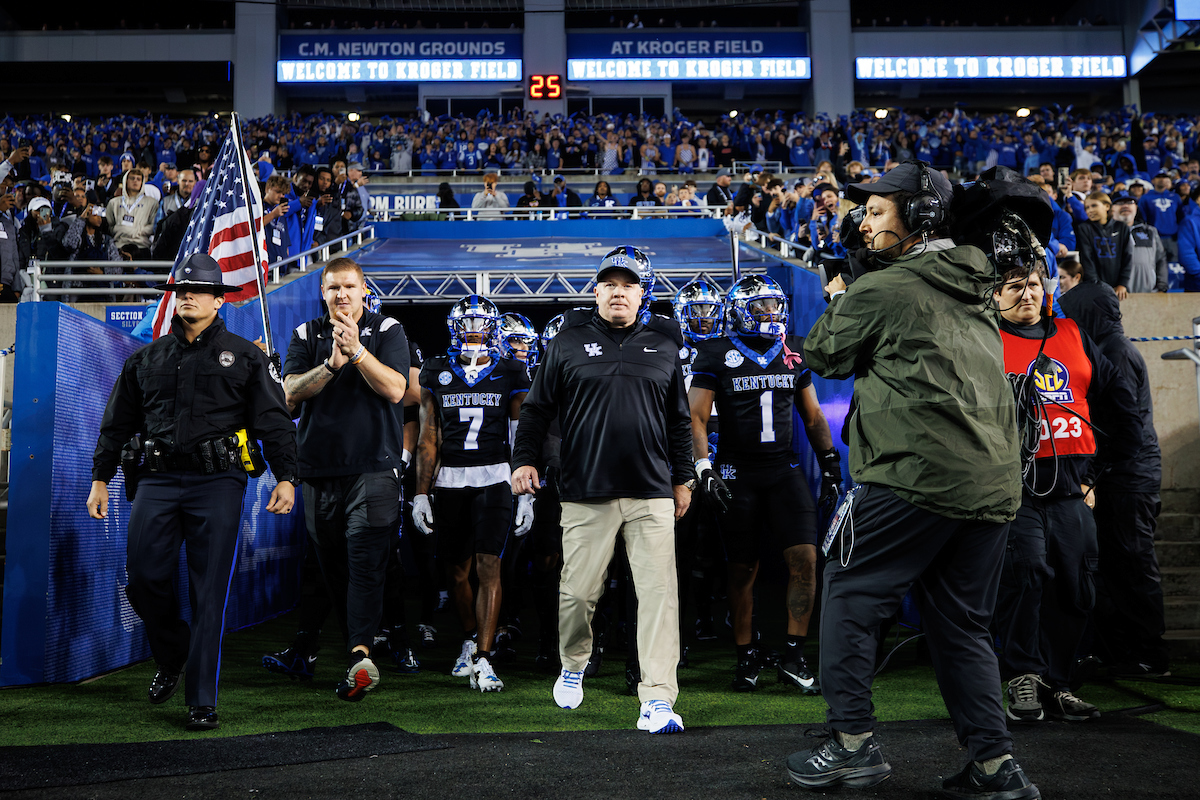 UNIVERSITY OF KENTUCKY FOOTBALL MEDIA CONFERENCE
November 11, 2023
Lexington, Kentucky, USA
Coach Mark Stoops
Press Conference 
Alabama 49, Kentucky 21
MARK STOOPS: Obviously that is a good football team. We didn't match up very well today. We didn't get off to a very good start, and we didn't get much better after that start. So, again, give them credit. I think that's a football team that is getting better and better, getting stronger and stronger as the year goes on, and I think they are going to make a strong push here late, very impressive win by them.
I wish we would have executed better. I think it was disappointing, really third downs, both sides. They converted an extremely high percentage of third downs. We didn't get very good pressure. We tried blitzing, coverage, a little bit of everything. And to their credit, they made plays. I think, you know, they protected when they needed to. I think, you know, when — Milroe, he does a phenomenal job of buying time in the pocket and hurting you.
It is a threat to run it. He bought the time and hit the receivers down the field.
We didn't convert very well on third down and move the ball consistently enough. So, again, I think it is, you know, pretty cut and dry, took care of business, and I think we need to play a little better. And it is a tough match up. It is a tough match up for anybody.
Q In the first couple of series, what did you see from their kids? Because it seemed like they jumped out 21 to nothing.
MARK STOOPS: Well, you saw their quarterback, that is a dynamic threat to run the ball, and he bought time and found some explosive plays down the field.
Q What was your team's mindset going in?
MARK STOOPS: Yeah, I think when things go wrong, you would like to see, you know, dig in and make some plays. And I think, you know, they go down, I think we settle in, the fumble puts it at a —
you know, in a spot that makes it very difficult. You know, in hindsight, if we could have kept it a little closer, probably kicked a field goal, I would like to see it 21-10, 14-10 at some point instead of pressing and going. But we had it fourth and two, that kind of hurts you as well.
Q Getting those open receivers for Alabama, is it a threat of the run or were there coverage problems on your end?
MARK STOOPS: Well, both. We didn't do a very good job. One of them we were in man and you can't drop your man to go get Milroe. You can't do that. We have to have some secondary support, so guys overlapping. Even if he is going to get yards, you have to give those up. But you can't drop a man. And that was one of them.
The other one was a zone coverage. But, again, you have to take it from your half, where we have split coverage and half-field guy, and he extends it so long to one side of the field you have to carry it all the way over. It is unusual. It is hard. And, but, we have got to do better.
Q Mark, the last ten top teams you played, about 28 point margin. A lot of criticism so far. How do you respond to that, your team giving up big games like this?
MARK STOOPS: Our team, the ability to get up, is one thing. The ability to compete with some of the, you know, top ten teams I think, you know, some of these teams are 1 and 2, you know, will be 1 and 2; you know, that's different than, you know, some of the average teams. But there is nothing average about that team.
Q Mark, what do you think about 37 sacks this year and you didn't get any today?
MARK STOOPS: No. I thought it was very poor, you know, at times some movement. We got negative yardage plays, and they came back and converted and converted some third downs and third and longs. It was really disappointing. We did a poor job of getting pressure, whether it was straight rushing or, you know, pressures, any of it.
We did a poor job today.
Q Conversely, Mark, I mean, how rough was the line play?
MARK STOOPS: You know, it is going to be tough sledding it against a team like that. I think you have to be good in all areas. It can't just be the offensive line or the running back. You have got to get open, make good decisions. We have to get rid of the ball. We can't
have as many deflected. It puts you behind the chains. You get predictable or behind the chains against that group and it is not going to look good.
Q What do you say about Devin and the hits he took today?
MARK STOOPS: It doesn't surprise me. He is tough, resilient. And, you know, that's some tough sledding out there, playing against those guys, especially when you get behind like that.
Q Mark, how did you feel about the team's fight?
MARK STOOPS: I mean, the fight is there. I don't ever question that. I mean, execution and playing better is a different story. You know, I don't, you know, question our team's fight or their desire to win. You have got to compete at a different level. You have to execute and be more precise when you are playing teams like that.
Q You talked earlier this week about wanting to put up a better performance and then you did against Georgia. How do you compare your team's performance today?
MARK STOOPS: I don't. I can't even think. I mean, I'm worried, thinking about this game. I have no — I can't go back to that.
I mean, again, I think I was pretty honest and said that we need to be better. They did a great job. That's a very good football team. I expect them to make a deep run.
Q Mark, you want to be a balanced team, you get down like that so early, how much does that throw your offense out of the window?
MARK STOOPS: Yeah, it is really tough sledding. And in some games like that, you know, at times you get behind like that, it is not where you want to live. You want to keep it close and, you know, give yourself a chance. And, you know, you getting behind like that it definitely hurts.
Q Mark, I know this loss is tough, but 8 and 4 can be a lot better than 7 and 5, 6 and 6. How do you regain your team's composure and finish strong?
MARK STOOPS: If they come back and focus and work like we have been doing, then we will have a great opportunity, you know. And we have to show the resolve, the toughness and come back. Because it is not
easy; you know, this schedule is not easy and the SEC is not easy. And, you know, but as I tell the team, there is not a soul feeling sorry for you. You have to buckle it up, get back to work, get some rest, and we have to have a great Monday practice. The players will be off tomorrow, coaches will be back at work, and it will be a new week, a one-week season for us. We have to get back to work.
Q Mark, you talked about you like your team's fight but execution and being prepared has got to be better. Do you feel like a lot of times — like, practice is not enough, you have to watch extra film and study. Do you feel the kids are doing that throughout the course of the week to get ready?
MARK STOOPS: I do. I think then there comes the disciplined execution, you know, and those — they have a little something to do with it. You know, it is not like our guys are not trying, either. I mean, those guys are pretty good.
Q Mark, you mentioned a drive when you went for it on fourth and two, down 28-7, you had the ball in Alabama territory, not being able to get anything there.
MARK STOOPS: Yeah. It kills you. It hurts. It does. And,
you know, in hindsight I wish I would have kicked it right there and got down 28-10. And we got it down there again later and I thought we punched it in after that.
KENTUCKY FOOTBALL POSTGAME QUOTES
KENTUCKY VS. ALABAMA 
KROGER FIELD – LEXINGTON, KY.
NOVEMBER 11, 2023
UK Student-Athletes
#25, Jordan Lovett, DB
On how tough it was to be down 21-0 in the first quarter of the game…
"We don't accept defeat. We are going to keep going regardless of the scoring. We don't really look at the scoreboard like that because we know we've got each other."
On is the execution more mental or physical in a game …
"I would say it is both. The mental part is about having good eyes and knowing where you are supposed to be at the right time. Physically, Alabama is Alabama, and they are going to bring it with whoever they are playing. When playing a team like Alabama, you've got to bring it too."
On what do you think you took away from this game overall …
"Overall, I still see fight in this team. Even though we lost and did not do as well as we thought we were going to, I still see fight and I love my brothers. I love playing with my brothers. We are just going to focus on finishing the season strong and hopefully get off to a good start next week."
#13, DEVIN LEARY, QB
On Alabama's early lead…
"Anytime you play a team like that and you hurt yourselves early on you're playing catch up. I've said, they're a very well coached team and have a ton of athletes out there and we knew that it was going to be a challenge. We put ourselves in a bad position early on, you can't do that against a team like Alabama."
On feelings post-game…
"It sucks to lose. It's definitely tough. Every time I step on the field my main goal is to win for my brothers. Walking away from the field and having that outcome is tough for me but I'm still going to be resilient, I'm still going to come back watch the film and get better and I'm still going to attack every practice like it's my last. We will bounce back from this."
On Georgia and Alabama early game leads …
"I think in both games, early on, you see us have so many self-inflicted wounds, whether we're hurting ourselves with penalties or me making a decision to throw the ball, just anything, it feels like we're constantly playing catch up. Honestly, playing a team like Alabama or Georgia, if you are in catch up mode it does feel like it's getting out of hand because those are good football teams and that's what they pride themselves on. So, I wouldn't say it's too much about us not being able to get up for a big game, but we need to be better."
#31, Maxwell Hairston, DB
On if the team has improved since the Georgia matchup…
"Yeah, I firmly believe that we played hard it's just on some third downs we let them get away and the quarterback had a great game, extending some plays, so we just got to continue to play hard and execute better."
On how difficult was it playing Alabama's quaterback…
"Yeah, I'll say I haven't played anybody like him this year, last year he gives like an Anthony Richardson-type of game. You know like I said he extended plays, was passing the ball good, he had a great game, and like I said we didn't execute like we were supposed too so we just got to work on that. Come harder next week."
On if injuries in the secondary affected the game…
"I mean it just comes with playing football. We've got to continue to heal up, get treatment and do everything we can in our power to go out there and keep playing, we can't let an injury set us down."
#1, Ray Davis, RB
On his first and only home season at Kentucky…
"It was crazy, it was fun and electrifying. There was definitely some up and down moments, but I wouldn't trade it for anything else in the world and I said it back on media day trying to earn my respect and make sure that the Kroger (Field) fans know who I was, Lexington knew who I was. You know, I said it awhile back about how I'm not Benny (Snell), I'm not (Randall) Cobb, I'm Ray Davis and I think the fans were able to get to know me throughout the season and throughout the year and I'm forever indebted and I thank BBN again for accepting me and letting me come here and do the things that I can do and fall in the steps of the great running back before me.
On the feel in the locker room …
"No, not at all. Just reminding guys we've got a lot more football left. I know again, it was more emotional for the seniors because it's the last one they'll ever play in Kroger, but I think for our younger guys and the rest of the group, I think that a lot of them knew that again you have to flush it down the drain and get ready for next week because we have two more opponents. We have three more opponents really, so we have to keep stacking days and just getting better and fixing the things we need to fix and attacking the things we can get better on."
On there being three more games …
"Season ain't over man. We still have South Carolina, (Louisville), obviously we have the bowl game. Yes, it's the last one in Kroger, but it's not the last football game we will be playing together. Just trying to remind them that and preaching that to the team, it's not over. A lot of teams would love to be in the position we are, and a lot of teams would love to be able to play in a bowl game at the end of the season. Unfortunately, they're not and we are so we have to be able to keep our spirits up and know there's a lot more football left."
KENTUCKY FOOTBALL POSTGAME QUOTES
KENTUCKY VS. ALABAMA
KROGER FIELD – LEXINGTON, KY.
NOVEMBER 11, 2023
Alabama Head Coach Nick Saban
Opening Statement …
"I'm really proud of this team. This team has come a long way, these guys have worked hard. There's great togetherness, good leadership on the team. A lot of guys have made significant improvement because they stay positive and stay the course in terms of listening to what the coaches had to say about what they needed to do to improve and actually have really good relationships with each other on this team. So I was really pleased that the team didn't buy into, you know, the rat poison or whatever you want to call it. I thought this was a little bit of a trap game and I actually asked the players yesterday in the team meeting, to stand up and say what they had to do each position, each leader in each position. And I told them before the game I trusted that they would go out and do that and that's exactly what they did. So I trusted these guys that they're going to do the right things make good choices and decisions which is going to help them continue to grow and develop as a team and hopefully finish business throughout. You know, the rest of this season in terms of what we have to do to continue to get better and see if we can create an opportunity for ourselves. Obviously, it's great that we won the West and are going to have an opportunity to play in the SEC championship game, which I'm very happy for this team. But they were able to accomplish that. I think there's probably very few people [that thought that would happen] after the Texas game or the South Florida game. A lot of naysayers out there never really believed in these guys, but I always believed in this team and trusted in this team that they would develop into something that's special. It has been special, it's been a great experience to see them grow and develop and the confidence that you need to, you know, play really, really well. I think they were sort of excited about the fact a couple guys came up to me, and I always talked to him about when we play on the road. You know, if you empty the stadium, that means you know you really beat the other team. I didn't use that in this game, but they certainly got the message and said 'coach, look around' so I'm pretty proud of them the way they played today. And obviously there's some things that we can correct and fix. We made some errors that obviously we busted on the 60-yard run at the end of the game, when we put the tools in there but these are all learning experiences that these guys have had an opportunity to get better at, you know. Jalen played really well. I thought, you know, the offense started the game out and set the tempo of the game extremely well. He played extremely well. The whole idea was, the way they play on defense is take what the defense gives and we nickel dimed them in the first couple of drives and then we hit a couple of big players. So, I thought they did a great job on offense and great team win for us."
On Alabama's resiliency…
"These guys have had great perseverance showing great resiliency, you've heard me say this before 'manage hard whenever things got hard', they always seem to come up with [something]. We can come back in the game, behind seven to six, we can come back in the game when we're behind 20 to six. We can make plays when we need to make them, so I think that comes from confidence. But I also think it comes from believing in each other and believing in what you're doing. And coaches have always also done a really good job of selling the players on, 'Hey, if you do it this way you're going to have success.'
On the importance of shutting down Kentucky's running game…
"I think that was the key to the drill. I mean, controlling the line of scrimmage in this game against this type of team, who prides itself on being a physical team, I think was our number one objective. And I think we wanted to make them one dimensional. I think we did except for the last run where we didn't have any run support on that side. But I think it was really important that we won the line of scrimmage on both sides of the ball."
On importance of explosive plays…
"Yeah, I think that's important. In fact, you know, there was a couple times when, you know, we threw the ball down the field that, if we stayed with that, just take what they give you. We probably would have moved the chains, but I thought we did a really good job overall taking advantage of that. But look, five-yard passes are just as good as a five-yard run. Second and five, you keep things moving. So we did a good job on third down again today. Kept the ball quite a bit, so I think that was a real positive for us."
Alabama Student-Athletes
#92, Justin Eboigbe, DL
On winning the SEC West …
"It feels good, another week to secure a spot in Atlanta. We understand that the job is not done. The job is not finished. We will focus on the next 24 hours. Enjoyed that we clinched, but you know, I want to say, next opponent."
On stopping Kentucky's rushing attack …
"I mean, when you're from Alabama, you know, stopping the line and being a defensive lineman and anybody that plays, being able to stop the run is important. Being able to do that and prevent them was key and pivotal."
On shuffling the defense with guys out …
"We are always prepared. Everybody can practice. You know, just in case somebody does go down, you have situations where the next person started off, so it's always good to be able to have people, and the more people you can bring along, and the more reps that you can get people, we win."
#52, Tyler Booker, OL
On Jalen Milroe's running and style of play…
"Yeah — it's kind of like that Bryce fit, man. You got to keep putting in blocks because you never know what this guy could do. So, [I'm] very glad to have him on our team, and [I'm] just very proud of the way he's been playing, as of late. We've just got to keep protecting him and giving him time, so he can continue to be who he is."
On the resiliency from Jalen Milroe this season…
"Perfect example is the USF game, even though he didn't play, he was resilient. He did everything in his power to help us win, and his role that day was encouraging. Just seeing that from the quarterback — seeing that from one of the leaders on the team was very inspiring, and it's just contagious. Everybody feels it. That's just who we are as a team and we just got to keep that going."
On the O-line dominating the line of scrimmage…
"We definitely dominated the line of scrimmage, and it's an emphasis every week. You know, JC [Latham] and I, whenever we spoke to the media at the beginning of the season, that was our thing. 'We're going to dominate the line of scrimmage. We're going to be dominate — we're going to make people quit. [It] took us a little while, but it's happening now. It came ito fruition, so we're just glad to finally reach what we've been talking about all season. You know, we've just got to keep it going. We haven't done anything, yet."