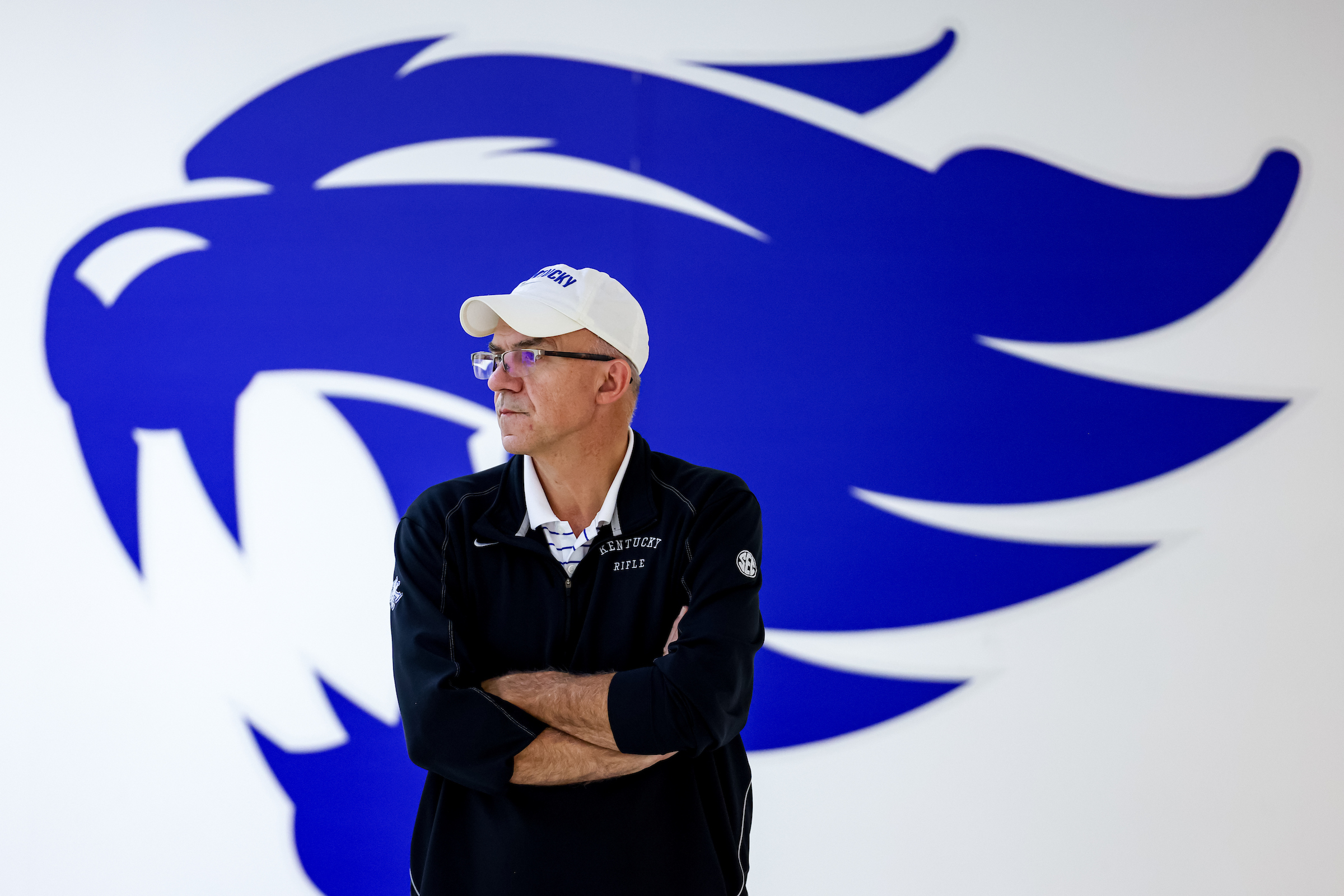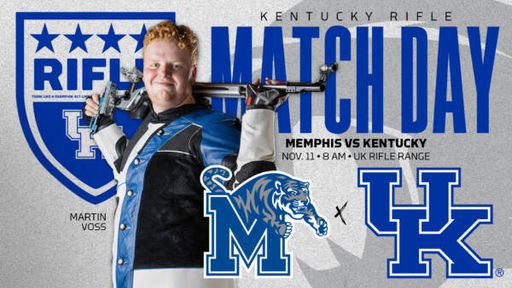 LEXINGTON, Ky. – Looking to wrap the fall portion of its 2023 home schedule in style after two wins last weekend vs. Akron and Ole Miss, the University of Kentucky rifle team will host Memphis on Saturday at 8 a.m. ET at the UK Rifle Range inside Barker Hall in Lexington, Kentucky.
Sights and prep for smallbore will begin at 8 a.m. ET with air rifle getting underway at approx. 10 a.m. ET. There will only be one relay Saturday. Spectators are invited to watch smallbore scores up in Barker Hall and enjoy free breakfast during the first part of the relay. The range will be open to spectators for air rifle. Admission is free.
New for fans this year both in-person and watching at home will be live commentary online to help provide a breakdown of the action and how the teams and competitors are performing. Former UK All-American Billy Azzinaro, who helped lead UK to the 2018 NCAA Championship, will be providing commentary of the first relay on Saturday. The live commentary will be available through the UK Rifle Facebook Page, along with live targets and a NCAA scorecard.
"We talked last weekend about getting better and making small improvements as we progress through the season and I think you saw that and I hope we see more of that tomorrow," UK head coach Harry Mullins said. "It has been a great few weeks of home competition and I really appreciate everyone that has come out and supported us. Memphis is a really good team and we will have to work hard to end this portion of the schedule on a high note. I'm looking forward to getting out there tomorrow and seeing what we can do."
Kentucky is coming off a doubleheader win last weekend against Akron and Ole Miss, defeating both in dual-matches inside the UK Rifle Range. Kentucky started with a 4714 against Akron and then a 4718 against Ole Miss. It was sophomore Sofia Ceccarello that led Kentucky in both matches. Against Akron, she posted a 1185 aggregate and bettered that with a 1188 against Ole Miss. Freshman Braden Peiser put together a solid weekend, scoring a 1181 aggregate against Akron before wrapping the weekend with a strong 593 air rifle to help seal the Kentucky win. Fifth-year senior Jaden Thompson was clutch for Kentucky in air rifle against Ole Miss, scoring a 595 after a shaky start, powering through for a near perfect back half of her round. Fellow fifth-year senior Emmie Sellers finished fifth overall at both matches, shooting a 1172 against Akron and 1175 against Ole Miss.
Ceccarello leads Kentucky this season in both smallbore average and air rifle average. She is averaging a 588.5 in smallbore and 598.5 in air rifle for an aggregate average of 1187.0. She is the only athlete in the nation that has posted three or more 599 air rifle scores this season. Thompson is right behind her averaging 582 in smallbore, 594.5 in air rifle and a 1176.5 aggregate, while Sellers is third on the squad in aggregate average at 1174.5 with a 583.5 in smallbore and 591 in air rifle. Peiser is earning a 583.75 in smallbore and 590.5 in air rifle for a 1174.25 aggregate, while sophomore Martin Voss is posting a 582 in smallbore and 588.25 in air rifle for a 1170.25 aggregate. Junior Allison Buesseler is earning a 578.75 in smallbore and 589 in air rifle for a 1167.75 aggregate average. Junior Kayla Kalenza, sophomore AJ Hotko and freshman Emily Marne are all having good seasons. Kalenza is averaging 570.5 in smallbore and 588 in air rifle, while Hotko is earning a 566.667 in smallbore and 585.667 in air rifle and Marne a 559.333 in smallbore and 569.333 in air rifle.
As a team, Kentucky is averaging a 2340.5 in smallbore and 2376 in air rifle for an aggregate average of 4716.5. UK currently sits 4-0 on the season with wins over Morehead State, at Navy and vs. Akron and Ole Miss.
Memphis enters the weekend averaging a 2319.5 in smallbore and 2368.33 in air rifle for a 4687.83 aggregate average. The Tigers put together their best performance of the season last time out vs. Ohio State and Morehead State on Oct. 29, scoring a 4710 aggregate. Gabriela Zych leads the team with a 586 smallbore average and 596.4 air rifle average. Kenlee Ewton is second on the team with a 579.5 smallbore and 592.667 air rifle.
The fall schedule will wrap with a trip to Fairbanks, Alaska, next week for Kentucky. UK will compete in two matches up there, first against Akron on Nov. 18 and then Alaska and Akron on Nov. 19.
For more information on the Kentucky rifle team, visit UKathletics.com or follow UKRifle on Twitter, Instagram and Facebook.