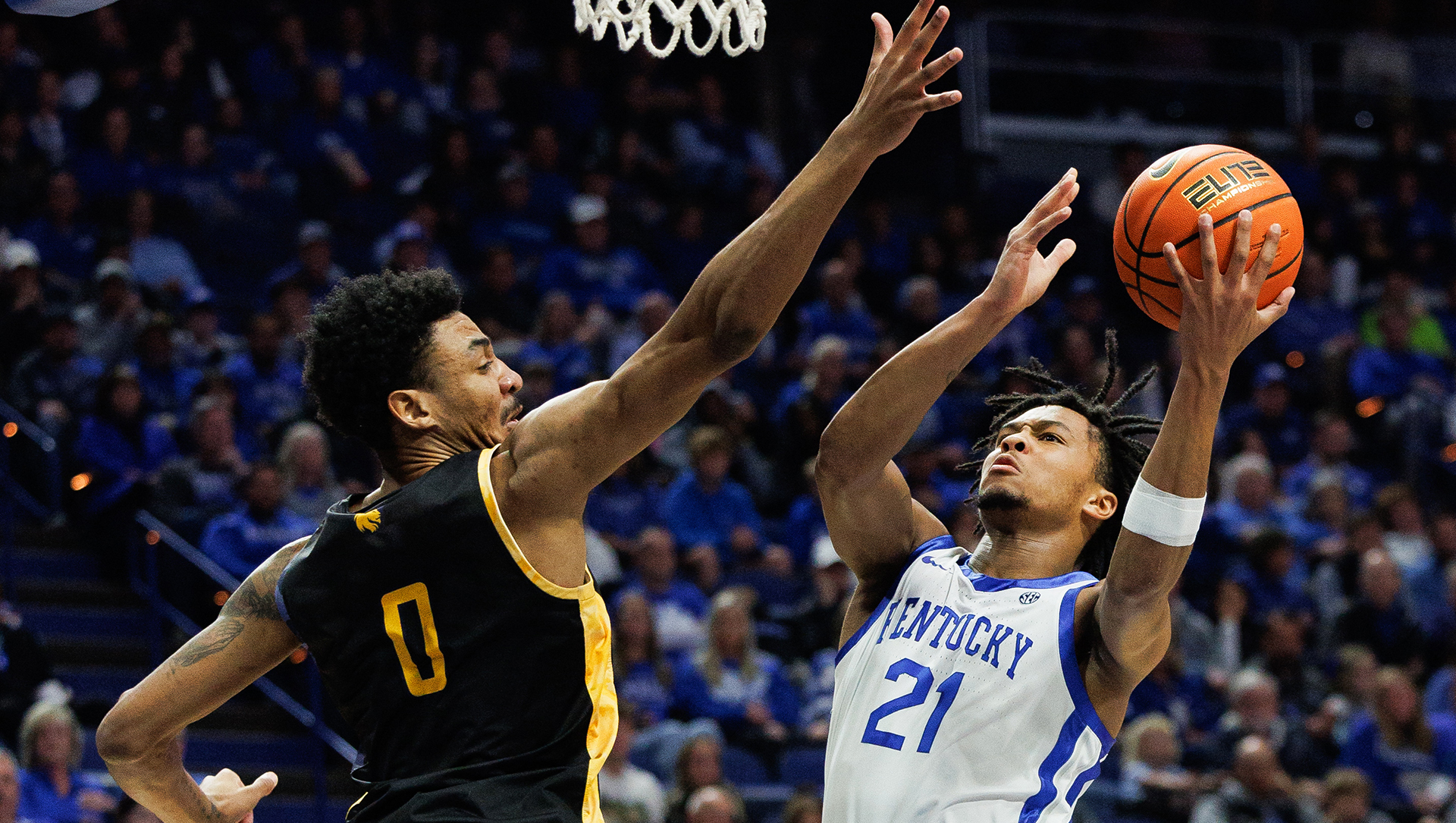 November 10, 2023 - 10:05 PM
Kentucky-Texas A&M-Commerce Postgame Quotes
UNIVERSITY OF KENTUCKY MEN'S BASKETBALL MEDIA CONFERENCE
November 10, 2023
Lexington, Kentucky, USA
Coach John Calipari
Press Conference 
Kentucky 81, Texas A&M Commerce 61
Q Coach, how much of a favor did Texas A&M-Commerce do kind of punching you in the mouth right out of the gate?
JOHN CALIPARI: Loved it. You have to understand that they had played two games and they were shooting from the three, you guys saw it. I don't know. 20 percent, 21 percent, whatever. And I said, it doesn't matter. They are playing us. They will come out of the gate and they will make threes. And that's why I was in huddles. I said, this is what it is. Now, you have to string some plays together. The problem we had was we were getting beat on the dribble. We have guards that we're saying that you are supposed to be able to play the ball and they got by us. And they knew they played that way, you know, some of the stuff that we had gone over.
But, again, we play a basketball game. Would you say we played pretty fast? Folks, we had three turnovers. Now I'm wondering if we're not being aggressive enough. How the heck do you end the game with three turnovers? That's, like, ridiculous. We made some bad decisions, guys running up the middle trying to throw it to them. It didn't end up in a turnover but there were probably four or five plays that easily could have. And they were — you know, they showed us some things that we're going to have to deal with. And some of it is, if you can't stay in front of somebody, I've got to play somebody else or you have got to guard somebody else. You can't let a guy get by you three times in a row. It doesn't work that way.
So we had five guys in double figures. And I love it when in the plus/minus the guy that was the best in the plus/minus couldn't make a basket. Made one with, what, two minutes to go? Finally made a basket. Reed (Sheppard). Plus, like, a 23, 24. He's in the game. He just played better. And that's why he has to be on the floor. But, again, he played 29 minutes. I mean, it isn't like we are going to play him 40. But…
Q Cal, obviously Adou (Thiero) was out tonight. But how concerned are you with rebounding in general? Some guys stepped up. But, still, I imagine that coming up with Tuesday night has to be a concern.
JOHN CALIPARI: Yeah, we have a lot of concerns coming up Tuesday night, not just that. So…
But, again, like I told them, I can only talk so much and then if you are not coming up with balls, you are not getting in there, then you can't be in the game. You have got to be able to guard, if you want to — you guard, you play. If you can't guard and you are giving up too many baskets, it's hard here. But I thought, like again, we made some adjustments. We backed up the defense. And you have to say, well, again, the tapes that I watched, they did not make the shots that they made today. And you have got to give them credit. They came in here inspired. How about third game in six days, traveling and coming from Louisville and everything else, give them credit.
Q D.J. (Wagner) seemed to struggle on defense at times on the perimeter on ball, just whatever. What do you think the biggest room is for him to improve specifically?
JOHN CALIPARI: Got to figure out how you stay in front. And our thing is always to retreat. He's playing side to side to side.
Eventually they get you on the wrong side and they drive by you. And that's why we work on the things we want to work on, which is to retreat and stay in front. He's fine.
I mean, the greatest thing about him, like he missed shots today, missed some baskets, missed some layups. I am not worried about him because whatever you ask him to do, it registers and he does it right then. And I'm trying to tell him, look, you have got to do both, create shots and make shots. That's who you are for this team. You have got to do both. You can't just try to be making shots and you can't just be trying to create shots for others. You have to do both.
Yeah, he's not that — I am not that worried because whatever we work on he will get better at. Pick and roll defense a little bit, we were trying to switch and we got screwed up about five times, and, you know, they just blew by us. But that's all fixable
Q Coach, Antonio (Reeves) comes back, you guys have got a lot of young guys, leading scorer again tonight. How has his role changed from last year, being the new guy on the team, even though he was experienced, to where he is at now?
JOHN CALIPARI: He is at ease with who he is as a player. He has no anxiety about who he is as a player. The players are — really, this group is treating him like a vet and a player that's really needed.
They are finding him for shots and he's making them. I mean, the reason we were up at half is because he came out and made some shots,
bam-bam-bam, and all of a sudden you are up. But that is what this team is. It could be Robert (Dillingham). It could be Reed. It could be D.J. I thought Justin (Edwards) played really well today. And what did he do? He ran the court and he rebounded. How about, that's your major. Oh, that's easy. No, it's not. It's hard. But it's not like you have got to do this and you have got to play. No. Run like crazy, we will throw it to you, if you can't get it get it to the other side.
Every shot that goes up, go rebound. Don't accept being blocked out. Those two things, if he does those two, the other stuff will happen because he can drive it, he can shoot it.
What else does he do well that you saw in this game? So what would you say if you were the coach?
Q Take it to the rim and try to get fouled.
JOHN CALIPARI: Did you ever coach before?
Q I refereed.
JOHN CALIPARI: Yeah, that's not a prerequisite. Come on.
It doesn't mean you know basketball at all. You may know the rules, you may not. (Laughter).
Q Cal, when you were first bringing Tre Mitchell in and giving him the recruiting pitch to come here, how much did you talk at that point in the summer? Did you believe he would ever play a minute at five or many minutes at the five and how much do you feel like his past experience is kind of helping him right now?
JOHN CALIPARI: He can — how about this? I was told this today and I couldn't believe it. His career numbers, career,
assist-to-turnover ratio, he has more turnovers than assists. Now, how the heck is that? Like he has maybe the best assist-to-turnover ratio on our team.
But there wasn't that much of a pitch. You know, we've known his family. His father's like my son's uncle. And when that happened — and the only reason he is here is because of what happened at West Virginia. It had nothing to do here. If it hadn't happened, he would still be at West Virginia. But when it happened it is like I'm out and it was their call to us. "Do you have an interest? Yeah. Kind of." Like, yes. And, so, now you are going to have him. And, understand, the other guys coming back, the big guys, they can all shoot and dribble and pass. So now you've got somebody with more size.
Now, I will tell you what Adou does. Adou goes and gets balls. So whoever these big guys are that we keep talking about, they better
go in and mix it up and rebound. Because if not, you are playing — because I thought Jordan (Burks) fought like crazy again today going after balls. I didn't see….he has five rebounds in 15 minutes. He deserves to be on the court. He really does.
Q Cal, I wanted to ask, you mentioned all of the concerns you have had in the game against Kansas. Where does the slow starts in these first half's rank in that list?
JOHN CALIPARI: Well, we didn't start slow one of the games. The other game —
Q Kentucky State, yeah, 30 at halftime.
JOHN CALIPARI: No. But early in the game. We're talking the first five minutes, we're not talking half. But I thought we were in a great frame of mind and took them out of what they were trying to do. And you could say, well, it was Kentucky State. Okay. We missed shots, layups, I mean, and they make them.
You won't believe this. If you miss all your shots and they make all their shots, you are going to be down early. So it's,
you know, not brain surgery. But, you know, I have not watched any Kansas tape. You guys know I don't do that until we get ready for the game. I had some staff members get ahead of it so I would be able to be told what we are looking at. But they are good. Are they still number one in the country? So we are playing a number one team in the country. We could be shorthanded. Should we play the game anyway? Yeah, let's play it. I mean, if you are shorthanded, you are shorthanded. Like, do you think anybody's feeling sorry for us? Oh, no. They are happy. They hope two more guys get hurt. So we know how good they are. We have played them. We've played them here, we've played them at Kansas, we played them in different — this event. We get them, they get us. It's always that kind of competitiveness. But we will see how good they are and where we are with a bunch of young guys at this point. My guess is, he has got a veteran kind of team, older. We'll see.
Q Cal, no knock on your team at all, but (Texas A&M-Commerce's Kalen Williams) played well in the first half. Going back and looking at the film, would he be a precursor to what you would hope?
JOHN CALIPARI: Well, you've got all of these teams. They are going to watch and say, let's spread the court and beat them on the bounce. And we're going to have to be — if you are trying to run your offense, we're all right. But when the ball moved and it was just beat somebody on the dribble, we weren't so good. Again, it's stuff you can work on. It's stuff you can try to fix. But at the end of
the day, his will to drive and your will to stay in front of him is what it comes down to. He's trying to get by you and you are not going to let him. And then the rest of us will be stunting and helping to, you know.
But there was good today. You know, sometimes the guys will say, "You want to win by 50." Really I would like to. But it doesn't matter who we are playing. I mean, you like them to really be locked in. We had some breakdowns. But five guys in double figures. Okay. Really fast game. We have three turnovers. We foul them out, rebound them. But they did stuff to us.
Again, I watched the A&M first half. That was a seven point game. And then right before the half A&M made a three and a two. Now, against Texas Tech they came out 16, 4. And then the game was — you know, they went from there. I think they lost by 27 or something like that. But, look, in their league they are going to fight like heck. They will be fine.
Thanks, Coach. Thank you.
KENTUCKY MBB POSTGAME QUOTES
KENTUCKY VS. TEXAS A&M COMMERCE    
RUPP ARENA – LEXINGTON, KY.
NOVEMBER 10, 2023
UK Student-Athletes
#1, Justin Edwards, G
On the slow start in the first half…
"They just came out hitting shots. They went on a run. I say it's a game of runs, and they had their run in the first couple minutes of the game and we just stayed together and pulled out the win."
On the key to not turning the ball over…
"Making the easy play. that's something we've been working on. Advancing the ball and not trying to do too much."
On transitioning to the speed of college basketball versus high school…
"The way we practice, like we practice running up-and-down the court, so just getting used to it in practice makes it easy for us in the game, I would say."
On what the team needs to get better at…
"Everything, I feel like — there's always something to get better at."
#21, DJ Wagner, G
On what they want to get better before matchup vs Kansas…
"Just making adjustments, that's what practice is for. We're going to get back in the lab and we're just going to work on, just communicating and small things like that. So, we're going to get right back to practice and work on it."
On how impactful veteran presence of Reeves and Mitchell is …
"It helps a lot, just them experiencing that before, just experiencing college basketball before, so they know in those moments when the team is losing morale, we're good. Just small things like that. It helps a lot for sure."
On Cal speaking on perimeter defense needing to improve/ difference from high school-college …
"Just playing against older and stronger guys. It's not really a big difference, it's just some small adjustments we've got to make, but I feel like once we get in practice, we're going to be good."
#12, Antonio Reeves, G
On the impending showdown with Kansas in his hometown …
"I can't wait. I am definitely looking forward to that game, just to see where we're at. I feel like we're going to do really big things and these freshmen are ready. I'm very excited to play [in Chicago] I can't wait. I've got a lot of people coming. It's going to be a big game so we have to show what we can do."
On how Tre Mitchell opens up the offense …
"He's a big that can really do it all: dribble, pass, shoot, set good screens, and things like that. He's out there to get the offense going and he's really doing a good job. He's definitely [good to have in the post], just because if [they] try to double team him, someone is going to be open. I feel like we're going to need that stuff moving forward."
On his three-point shooting at the end of the first half …
"It was a lot of momentum. I feel like those threes opened up the game a little bit. For the team, it gave us a little run going into the second half."
KENTUCKY MBB POSTGAME QUOTES
KENTUCKY VS. TEXAS A&M COMMERCE    
RUPP ARENA – LEXINGTON, KY.
NOVEMBER 10, 2023
Texas A&M Commerce Head Coach: Jaret von Rosenburg
Opening statement …
"You know one thing we talked about was trying to start the game off well and we were really able to do that. We tried to split the game into four-minute segments. Coach Cal obviously, watching his team in person for the first time, because we've seen it a lot on film, they are so good in transition. Every time you make a mistake, and to us, we take a contested two at the rim against a team like Kentucky and that's almost like a turnover because they're able to get up the floor and put so much pressure on your defense. When we were able to get back and keep them in half court, I thought we did some decent things defensively. But they kept coming at us and made it tough on us all night."
On sustaining momentum from starting strong at the beginning of the game …
"I thought we made them guard multiple sides of the floor and we got into quick actions as we got tired and their athleticism and length starting bothering us more, our pace offensively was slower which allowed them to kind of overwhelm us on some possessions. That was why I thought the start was good, we kept them out of the paint early there and they got some threes that didn't go in for them, so we got some rebounds. I was really happy with our rebounding effort. We've played a lot of really good teams in the first five days of the season, but I think we've found out a lot about our group and I think they individually and collectively found out more about themselves."
On what stood out about Kentucky compared to Texas A&M and Texas Tech …
"Their speed and their skill at the same time. I mean to turn the ball over, I think we're pretty long and pretty athletic, and we just couldn't phase them. We couldn't get them out of the pace they wanted to play, and they only turned it over three times. When you don't turn the ball over and honestly if you look at the shot disparity, 67-56, we like to be the team on the other side of that and obviously we're not going to come in here probably and have that same success. Just up close in person, how fast they play, and it's still in control is probably the biggest difference between the other two opponents."
On how the non-conference schedule has helped to prepare for the rest of the season…
We handle adversity right off the bat. We have played some really poor halves and we have played some really good halves. Obviously, the game is two halves, the results aren't what we want on the scoreboard, but I think we handled adversity. We had nine new guys and, you get on the road this long, the chance to come to come together and spend time and find out who you are about and go through it a little bit. We are frustrated after having two 47-point performances offensively, trying to draw some good out of those games to improve but understand that is not good enough and we need to keep improving.
On playing in Rupp Arena …
Yes, it really is [cool]. People have been asking me all week about that. We're in the business of student-athlete experience and for the guys with the opportunity. At all levels our players are competitive, the shine wears off when you don't play well. I think we played our best game of the early season tonight. Made some shots, and we'll try not to dwell on misses. We got some good shots on the other side, they just didn't go in and you just have to keep trying to get better on how we play on both sides of the ball. But Coach Cal has been very gracious, the whole program, we do appreciate them having us up here and giving us this opportunity.