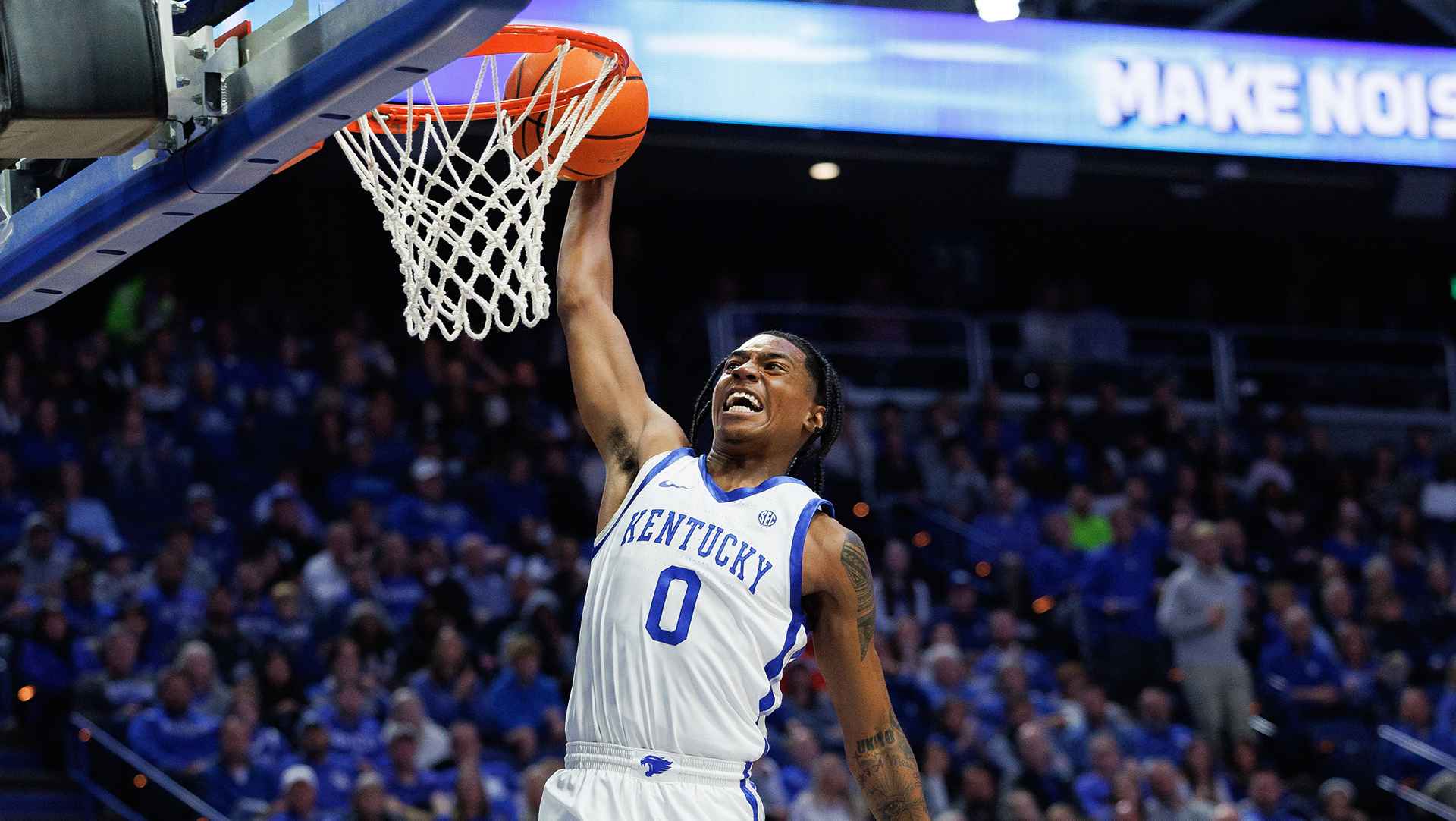 November 10, 2023 - 09:45 PM
Kentucky-Texas A&M-Commerce Postgame Notes
KENTUCKY MEN'S BASKETBALL POSTGAME NOTES
RUPP ARENA AT CENTRAL BANK CENTER | LEXINGTON, KY.
NOV. 10, 2023
ATTENDANCE: 19,646
Final Score: No. 16 Kentucky 81, Texas A&M-Commerce 61
Team Records and Series Notes
This was the first game of the Wildcat Challenge presented by Kentucky Tourism.
Kentucky is 2-0 on the season, Texas A&M-Commerce is 0-3.
This was the first meeting between the teams.
The Wildcats return to action Tuesday, Nov. 14, against Kansas in the Champions Classic. The game will be played in the United Center in Chicago. Game time is 9:30 p.m. ET and will be televised on ESPN.
Team Notes
Kentucky limited TAMC to 61 points.

UK is 216-10 (95.6%) under Calipari when the opponent scores 63 points or less.

Kentucky had only three turnovers while forcing 14.
All five starters scored in double figures, the second-straight game that five Wildcats landed in double digits.
Kentucky won fast-break points, 23-1.
Kentucky led by as many as 22 points. The Wildcats are 331-14 (95.9%) in the Calipari era when leading by as many as 10 points at any time during the contest.
Rupp Arena
Kentucky is 649-81 (88.9%) in the 48-year history of Rupp Arena.
Kentucky is 222-21 (91.4%) in Rupp Arena under Calipari.
Player Notes
Antonio Reeves led the Wildcats with 21 points, including 5-of-8 on 3-pointers.
Tre Mitchell had 18 points, a game-high eight rebounds and tied Reed Sheppard with a game-high three steals.
Justin Edwards tallied 16 points, including 4-of-4 at the foul line, with seven rebounds.
Rob Dillingham totaled 12 points and led the Wildcats in assists with four.
D.J. Wagner finished with 11 points.
Coach John Calipari
This was Calipari's first game against Texas A&M-Commerce.
Calipari has an 834-253 all-time on-court record and a 389-113 mark at Kentucky.
Calipari is 319-64 (83.3%) at UK against unranked competition.
In the First Half
Kentucky started D.J. Wagner, Rob Dillingham, Antonio Reeves, Justin Edwards and Tre Mitchell.
Jordan Burks and Reed Sheppard were UK's first substitutions at the 14:32 mark.
TAMC's Tommie Lewis scored the first eight points of the game, prompting a UK timeout at 17:48.
On the strength of five 3-pointers, TAMC stretched the lead to 13 points, 19-6, at 13:28.
Trailing 21-8, UK went on a 19-3 run for a 27-24 advantage.

UK's first lead was 25-24 on a driving layup by Wagner at the 7:41 mark.

On the strength of three Reeves 3-pointers, UK closed the half on a 9-2 run and took a 38-30 lead into intermission.
In the Second Half
Kentucky began the second half with the starting lineup.
Ahead 43-37, UK added a 9-0 run to make it 52-37.
The margin stayed in that range until late in the game, when the Wildcats led by as many as 22 points en route to the 20-point triumph.