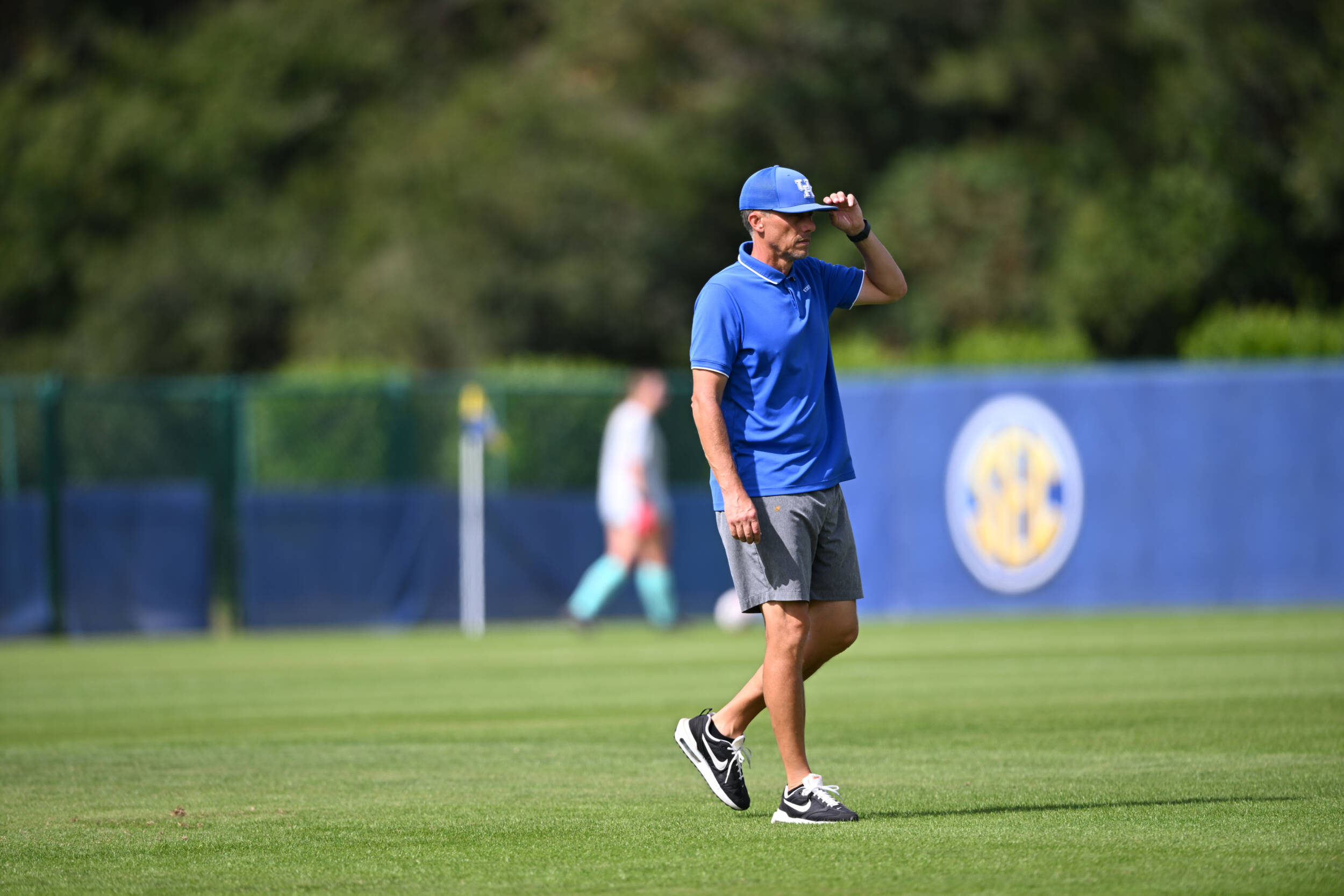 November 8, 2023 - 08:10 PM
Women's Soccer Announces 16-Member Signing Class
LEXINGTON, Ky. – Kentucky women's soccer and head coach Troy Fabiano announced their 2024 recruiting class in conjunction with National Signing Day on Wednesday. The group, comprised of 16 high school seniors from 12 states, is set to join the roster for the 2024 season.
National Signing Day marks the first day in which high school seniors can sign a National Letter of Intent.
"Today is an exciting day for our program," Fabiano said. "We are incredibly excited to welcome this class signing to UK. It is a deep, talented and competitive group that we feel will make both an immediate and long-term impact on our program. This class, combined with our current players, will help continue to build upon the competitive foundation that has been set for this program to compete in the SEC and nationally."
Read more about Kentucky's newest signees, below.
Emerson Andrews – Defender
Hometown: Highland Park, Texas
Club Team: Solar Soccer Club
School: Highland Park High School
Played for Solar ECNL U18/19, No. 2 ranked ECNL team
ECNL U16 National Semifinals, U17 National Finals
San Diego Wave ID Camp Invitee
ODP NTX Regional Team
Competed at Super Copa, Surf Cup, State Cup, Vegas Cup, DIGC, Dallas Cup, ECNL Playoffs
Captain of Highland Park Girls Soccer team
Father, Brian, played football at Arkansas State
Ella Dykstra – Midfield/Forward
Hometown: St. Joseph, Mo.
Club Team: Midwest United ECNL
School: St. Joseph High School
5x ODP Regional Team
2x ODP National Team
Futsal National Finalist
Aunt, Kelli Celmer, played college soccer at University of Benedictine
Sydni Fink – Winger
Hometown: Naperville, Ill.
Club Team: Chicago Inter
School: Naperville North High School
2x starter on IL State ODP Team
2x IL State Cup Champion
2022 USYS Midwest Regional Champion
2023 ECNL Regional League Central Regional Champion
Avery Lampe – Center Back
Hometown: Medina, Minn.
Club Team: Tonka Fusion Elite
School: Providence Academy
All Conference honoree in high school
Third place finisher at 2022 State Tournament
Captain of club and high school teams
14 goals and 16 assists during the 2023 high school season
Ashley Mekitarian – Attacking Center Midfielder
Hometown: Chula Vista, Calif.
Club Team: Rebels Soccer Club
School: East Lake High School
USYS National Champion
ODP Far West Regional Champion
Second Team ECNL All-Conference
Led Rebel Club Soccer in goals and assists in 2021-22
Marilia Nieves Melchor – Forward
Hometown: Clover, S.C.
Club Team: Charlotte Soccer Academy
School: Clover High School
United Soccer Coaches All-State selection
U17 ECNL First Team All-Conference
Played for the U17 and U20 Puerto Rican National Team
2023 Viking Cup All-Tournament Team
Father, Juan, played in the MLB and threw the first ever no hitter for the Milwaukee Brewers. He is currently a pitching coach with the Detroit Tigers
Mother, Marilia, played professional volleyball in Puerto Rico
Sister, Alondra, plays soccer at Georgia State University
Sister, Natalia, dances on Broadway
Michelle Moskau – Center Back
Hometown: Cumming, Ga.
Club Team: Atlanta Fire United
School: West Forsyth High School
Back-to-back State Championships with high school team
First Team All-State
ECNL All-Conference First Team
Grandfather, Paul, played in the MLB for the Cincinnati Reds
Father, Ryan, played baseball at the University of Arizona and was drafted by the Los Angeles Dodgers in the sixth round of the 1998 MLB June Amateur Draft
Kathleen Ngulefac – Forward
Hometown: Lilburn, Ga.
Club Team: Gwinnett Soccer Association
School: Parkview High School
ECNL Southeast First Team All-Conference
All-State honoree
Has scored 54 goals across three years of high school soccer
Sister, Sussy, plays basketball at Rice University
Jasmine Nixon – Defender
Hometown: Fort Mill, S.C.
Club Team: Charlotte Soccer Academy
School: Indian Land High School
Team captain for Charlotte Soccer Academy
U18/19 ECNL All-American (2023)
U18/19 ECNL Mid-Atlantic Player of the Year
3x ECNL Mid-Atlantic First Team All-Conference
U18/19 ECNL Mid-Atlantic Conference Champion
Indian Land High School Female Athlete of the Year
3x SCHSL 4A All-State
SCHSL 4A Region Player of the Year
Father, Jeff Nixon, played football at Penn State and coaches in the NFL
Brother, William, plays college football at the University of Washington
Gaby Rourke – Goalkeeper
Hometown: Jacksonville, Fla.
Club Team: Florida Elite
School: Atlantic Coast High School
First Team All-Gateway Conference
Nominated for 2021-22 Florida HS Player of the Year
Captain on Florida Elite club team
Recorded 25 saves in one ECNL game
Kicker on varsity football team
Also played volleyball, softball and flag football
Brother, Tyler, played baseball at Alabama A&M
Brother, Austin, played baseball at Emmanuel University
Anna Sikorski – Forward
Hometown: Muskego, Wis.
Club Team: SC Wave
School: Muskego High School
3x First Team All-State in high school
3x DI State Champion in high school
2x All American
Wisconsin State Player of the Year
Wisconsin Gatorade Player of the Year
2x USYNT Regional Camp
Girls Academy Nationals Final Four Golden Boot
2x Girls Academy National ID Camp
2022 03/04 USYS National Champions
6x Wisconsin State Champion with club team
2023-24 club team captain
Abigail Stager – Forward
Hometown: Wexford, Pa.
Club Team: Beadling Soccer Club
School: North Allegheny Senior High
State Tournament Runner-up
60 career goals in high school
2x WPIAL Champion
Father, James, played football at William & Mary
Bella Stewart – Forward/Attacking Mid
Hometown: Huntington Beach, Calif.
Club Team: S.C. Blues
School: JSerra Catholic High School
U15 National Team Player Pool
ODP Player Pool
Four-year varsity letter winner in girls' soccer
12 goals and seven assists for the 2022-23 club season
Father, Andy, played tennis at Fresno State and on the professional tour
Mother, Jessica, played tennis at Whittier College
Gianna Tuzzolino – Midfielder
Hometown: East Amherst, N.Y.
Club Team: WNY Flash
School: Williamsville East High School
2023 All Conference honoree
2021 ECNL Ohio Valley Conference Champion
2021 ECNL Champions League Appearance
Multi-year All State Selection
Sectional honoree in Track & Field
Father, Tony, played hockey at Michigan State University and played professionally for 14 years, including several games in the NHL
Lexi Tylenda – Forward
Hometown: Pittsburgh, Pa.
Club Team: Beadling SC
School: Shaler Area School District
Reese Wilson – Defender
Hometown: Knoxville, Tenn.
Club Team: FC Alliance
School: Hardin Valley Academy
ECNL Ohio Valley First Team All-Conference
USYNT IDC
High School All-State
Mother, Becka, played soccer at ETSU
Team captain of high school team
Has artwork in the National Museum of Art
For the latest on UK Women's Soccer, follow the Wildcats on X and Instagram at @UKWomensSoccer, on Facebook and on the web at UKathletics.com.