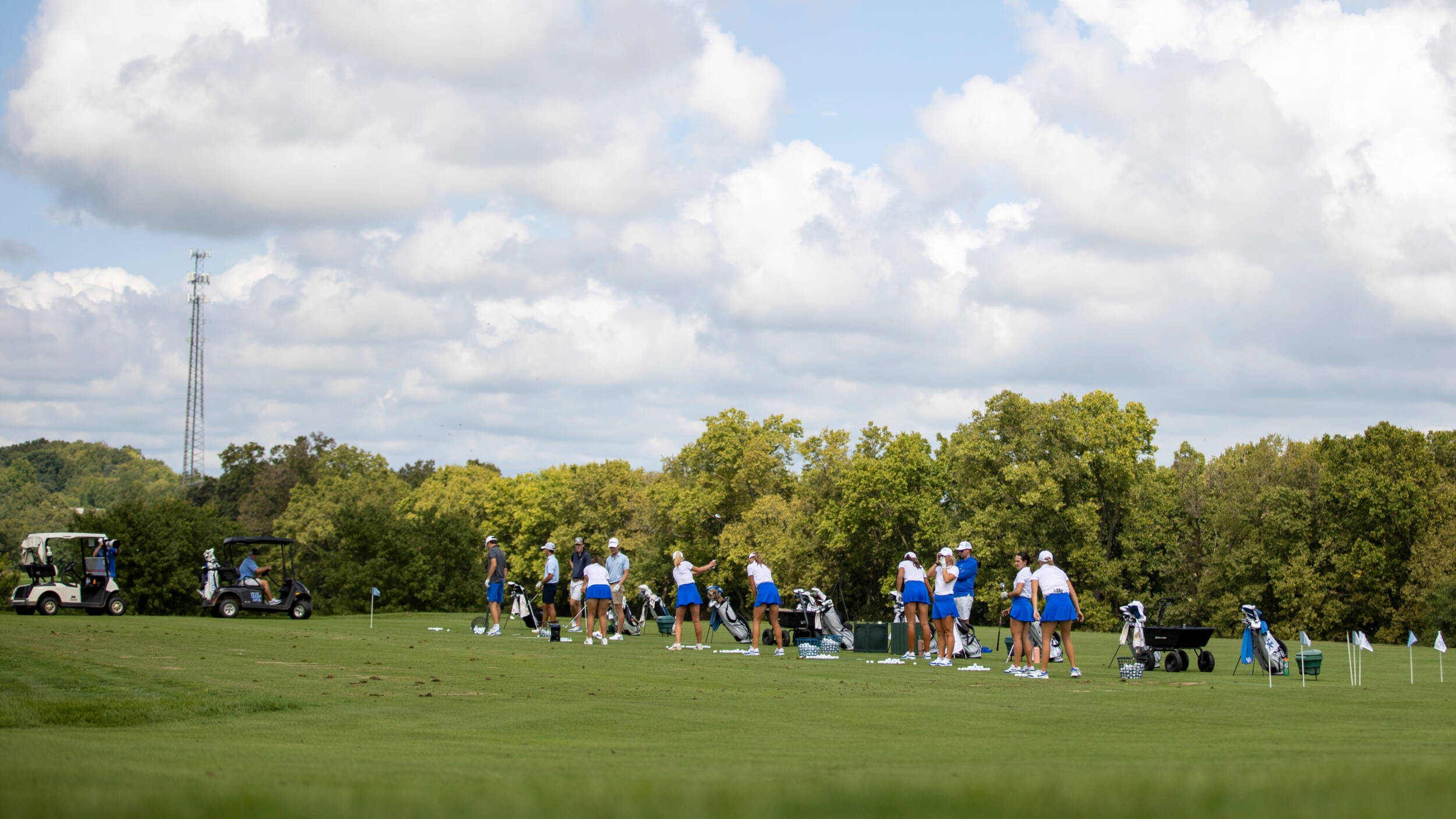 November 8, 2023 - 09:19 PM
Kentucky Women's Golf Signs C.A. Carter, Elin Pudas Remler and Raleygh Simpson Wednesday
LEXINGTON, Ky. – The University of Kentucky women's golf program has inked three well-rounded golfers to its incoming class during the early signing period, it was announced by head coach Golda Borst on Wednesday. C.A. Carter of Lexington, Kentucky, Elin Pudas Remler of Gothenburg, Sweden, and Raleygh Simpson of Kerrville, Texas, will be eligible to compete in the fall of 2024.
The Wildcats are expected to announce further signings in the days to come.
"We have a really strong class coming in next fall, and it's a group that we are very proud of," Borst said. "It's a diverse group of players from near and far, who all bring something different to our team. I think Big Blue Nation will love what they all bring to the table. We have big shoes to fill within the Kentucky women's golf program in the years to come, and I know that these players, along with our returners next season, are ready for that task and more!"
C.A. Carter
C.A. Carter, a Lexington, Kentucky, native, is a four-year letterwinner for the Lexington Chrisitan Academy golf team. In her senior season, she helped LCA to the 2023 Regional Championship title and the 2023 Semi-State Team Championship title, where she also won the individual title, before leading her team to a 10th place finish at the 2023 KHSAA Tournament. For her contributions, Carter was named a 2023 All-State First Team selection in her final season on the golf team.
Outside of high school, Carter also saw time on the American Junior Golf Association, Kentucky Jr. PGA and Peggy Kirk Bell Girls Golf Tour circuits. She collected several medals along the way, including winning the 2022 PKB Emma Talley Tradition and the 2021 and 2023 AJGA Justin Thomas Jr. Qualifiers. She also earned runner-up at the 2023 Kentucky Girls Jr. Amateur.
Borst on Carter:
"C.A has been a Wildcat since she could walk, so we are thrilled to have her join our Kentucky women's golf family. She has such a passion for Kentucky, the game of golf and our team. I know she will be a great addition to our program!"
Elin Pudas Remler
Elin Pudas Remler, a Gothenburg, Sweden, native, attended Filbornaskolan High School and played on its golf team in 2022 and 2023. Both years, she helped her team to silver finishes at the Swedish National School Team Championship.
The Wildcat also competed on the LET Access Series, Junior Masters Invitational and European Ladies' Amateur circuits, raking up numerous podium finishes. In 2023, she won the Swedish Junior Tour No. 2, the Delsjö Junior Open and the Junior Masters Invitational Final. Also this year, she tied for third place at The Women's Amateur and the Helen Holm Scottish Women's Open Championship.
Pudas Remler is ranked as the third junior golfer in Sweden, the 16th U21 golfer in the European Golf Rankings and 258th in the World Amateur Golf Rankings.
Borst on Pudas Remler:
"We are so excited to add Elin to our team next year! She will bring a high level of international experience to the Bluegrass, and I believe she will make an immediate impact in our program. From the moment I got to see Elin play, I knew I wanted her to play at Kentucky, so I am looking forward to Big Blue Nation to get to see her in action, too!"
Raleygh Simpson
Raleygh Simpson, a Kerrville, Texas, native, is a four-year letterwinner at Tivy High School. The Wildcat hauled in nine individual titles during her high school career, en route to being named a three-time All-District First Team selection (2021-2023), a two-time All-Region First Team selection (2021-2022), a two-time state qualifier (2021-2022) and an All-Area San Antonio Team pick (2022).
Simpson also played on the Texas Junior Golf Tour, Southern Texas PGA, Larry Joe Taylor, United States Golf Association and Texas Golf Association circuits. She was a two-time qualifier at the USGA Women's Four Ball (2022, 2023) and a qualifier at the 2021 USGA Girls Junior. Simpson also collected a pair of third-place finishes this year at the Texas Women's Amateur and the Texas Junior Girls.
Borst on Simpson:
"Raleygh is another great addition to our team. She has all the intangibles that we look for in our recruits, and she'll be a great competitor for our team. Raleygh is a hard worker, including in the classroom, she is a great student, so we are fortunate to have her join our team!"