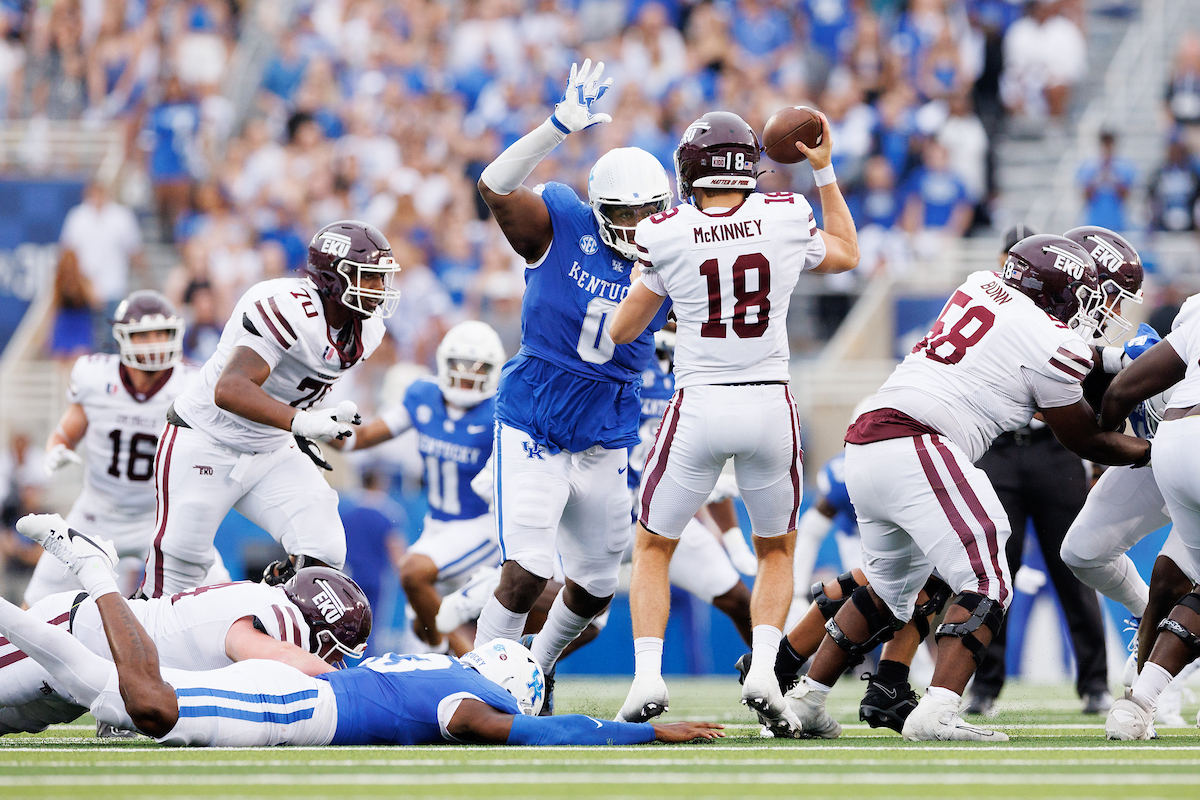 One week after facing a dangerous running quarterback, the Kentucky defense will face another as eighth-ranked Alabama comes to Lexington.
The Tide's quarterback is the ever-improving Jalen Milroe, who has really found his footing later in the season after losing his starting spot in September. Last week against LSU, Milroe rushed for four touchdowns, the most ever by an Alabama quarterback in a single game.
Kentucky defensive coordinator Brad White knows that his unit will need to keep a close eye on Milroe, who has been impressive on film.
"Extremely high level. Extremely talented," White said. "Not just an athlete but doing a nice job operating the offense. Everybody can see when the plays break down, his ability what he can do when he gets outside of the pocket. But when you look at the entire season, what he's been able to do in terms of ball placement and getting it to playmakers. He's playing at a really high level right now."
White can also see that the Alabama staff and offensive players are confident in Milroe.
"You can see every week that he's behind center he continues to gain confidence and I think the offense has supreme confidence in him," White said. "It's a really, really tough challenge when you have someone that big, that fast with that good of an arm with those weapons around him, with the O-line in front of him. There's a reason they can put up points in a hurry."
Kentucky defensive tackle Deone Walker knows that containing Milroe will be key for the UK defense.
"He's an athlete," Walker said. "They've got a great offensive line. He's a great athlete, he can make a play whenever he needs it. We just need to not letting him escape up and out."
Last week, with Mississippi State starting Mike Wright at quarterback, the Cats faced a similar threat. Kentucky was able to contain Wright, and the Bulldogs, allowing only 216 yards of total offense and just three points.
"I thought the guys strained and they battled," White said. "Still need to clean up, especially on that one drive, was a little bit sloppy. Obviously (D'Eryk Jackson's) pick six was a huge momentum shift to one, give you some breathing room and two, give you some confidence and swagger. Any time you can go on the road and you can have a performance like they did, hopefully that builds their confidence."
White hopes that the confidence gained in Starkville last week will carry over to Saturday's contest against Alabama.
"I think the guys understand how big this game is," White said. "Whether it's Alabama or whether it's the fact that you're getting down to the end of the season. There were some games that we let slip away or that we didn't play our best. There's no room for error when you're going down the stretch. And so, I think there's a heightened urgency in that regard. I think they'll be excited for Saturday."
Walker knows that Alabama presents a huge challenge. But the Tide also give the Cats a big chance.
"It's a big opportunity," Walker said. "Especially on the defensive side of the ball, letting everyone know how good our defense is. Showing them how we can come together after not the greatest middle of the season. Learning how to come off after that."
The Cats hope to take advantage of that opportunity, starting with containing the very talented Milroe.