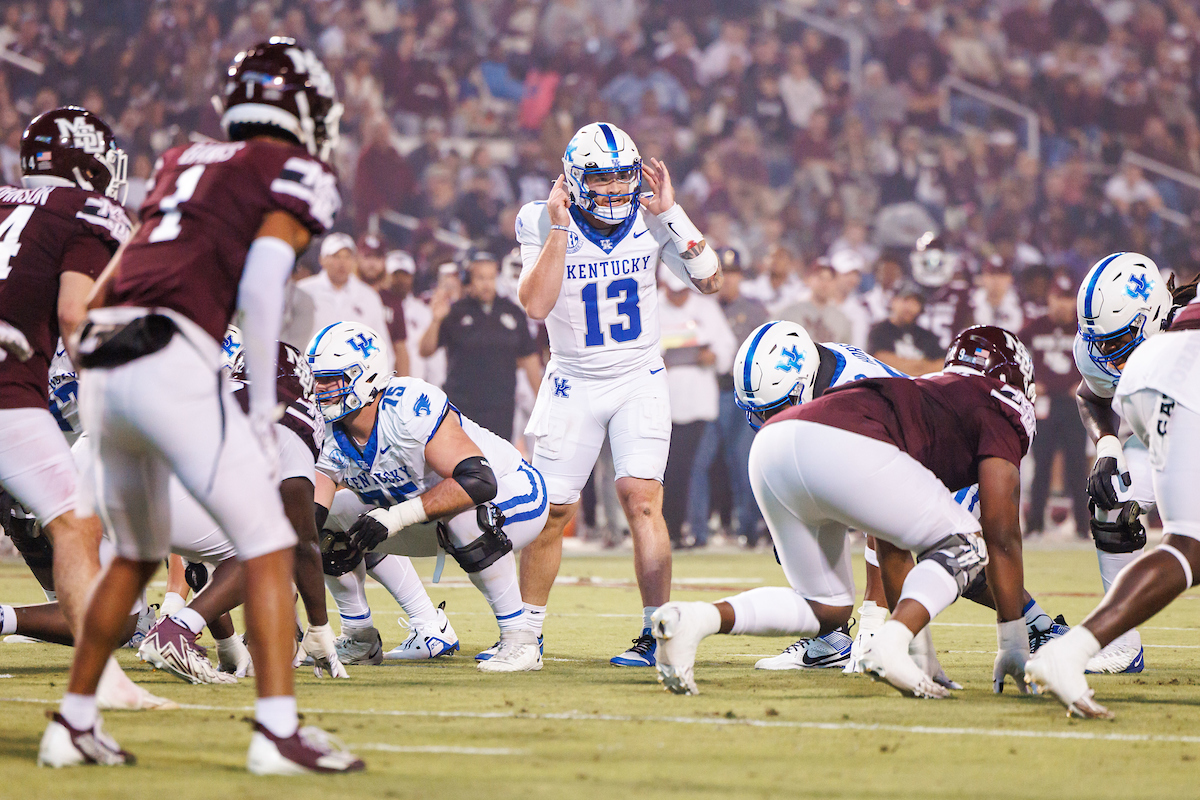 Kentucky snapped its three-game losing streak by beating Mississippi State 24-3 on Saturday in Starkville. While the win was good on many levels, the Cats must now turn their attention to one of the nation's hottest teams.
Eighth-ranked Alabama comes to Kroger Field on Saturday in search of an eighth consecutive victory. The Crimson Tide, under the direction of legendary head coach Nick Saban, lost to Texas in the second game of the 2023 season, but have won every game since.
Kentucky head coach Mark Stoops knows exactly what to expect from this Saban-coached Alabama team.
"Alabama is a team that, you can see, is getting better and better," Stoops said. "A typical Nick Saban team that is very big, very physical, very talented and extremely well coached. They seem to be getting better and stronger as the year goes on. That will be a big challenge for us, just to match their physicality."
The Tide beat LSU 42-28 on Saturday in Tuscaloosa. Alabama's offense, behind quarterback Jalen Milroe, seems to have found its rhythm. Stoops knows that the Bama attack, which has all of the attributes of today's best teams, will be tough for UK to defend.
"That's typical. When you're playing a great team, as a defensive coach, you look at teams, they're physical, very big, physical offensive line, great backs, physical backs, their quarterback is a monster, and great speed, great talent outside," Stoops said. "That's what makes it difficult to defend because you have to play with numbers and you have to be able to win some one on ones against some super talented wide receivers."
Asked if his defense will get excited about the challenge of facing Alabama's offense, the coach had a simple response.
"We're going to have to," Stoops said. "You know what you're going to get when you play Bama. It's going to be tough, it's going to be physical."
As for his own team, Stoops has seen the Kentucky passing attack improve over the last two games. Quarterback Devin Leary seems to be getting into a groove and on the same page with both his receivers and offensive coordinator Liam Coen.
"He really has (turned the corner)," Stoops said of Leary. "In that game (against Mississippi State), there were some frustrating moments. But overall, he did a really good job. He withstood a bunch of pressure, they mixed up their looks. He really did a good job. He stood in there very strong, he escaped, he made plays when he had to. Overall, I thought he really played pretty good."
While Stoops was happy to win in Starkville, he's still expecting more from his team.
"Pleased with the win. We desperately needed to get back to our winning ways. Pleased to get the victory," Stoops said. "I felt like we improved in certain areas. This team, we haven't put it all together yet but definitely improved."
Stoops and the Cats are embracing the challenge of facing Alabama on Saturday. Perhaps this is the week that Kentucky plays that complete game that Stoops wants his team to achieve.