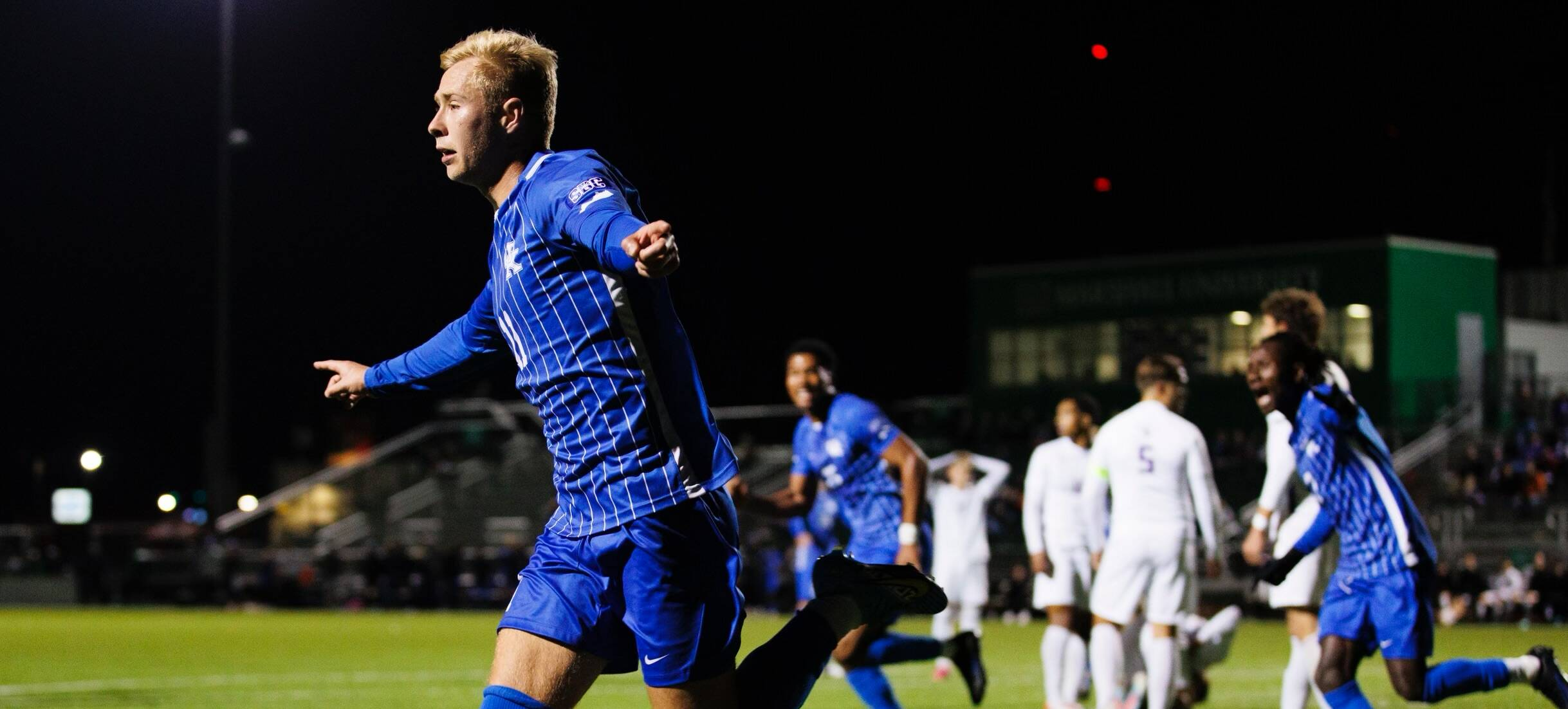 November 5, 2023 - 11:44 PM
Men's Soccer Advances to Semifinal Round of Conference Tournament
HUNTINGTON, W.Va. – Fifth-seeded Kentucky men's soccer (7-6-4, 3-3-3 Sun Belt) defeated fourth-seeded James Madison (8-4-5, 4-2-3 Sun Belt) 2-1 to advance to the semifinal round of the Sun Belt Conference Tournament on Sunday at the Veterans Memorial Soccer Complex in Huntington, W.Va.
In a repeat of last season's Championship match, the Wildcats once again prevailed upsetting the Dukes and notching their fourth straight victory. UK is now unbeaten in its last eight matches.
Kentucky was the first to strike with redshirt fifth-year senior Mason Visconti netting his third goal in two matches off a pass from a freshmen duo of Isaiah Chisolm and Joel Gonzalez in the 26th minute. The Wildcats' lead did not last long as the Dukes responded just 46 seconds later with a goal from Rodrigo Robles. Robles, who darted into the box ahead of a Kentucky defender, gave James Madison the equalizer off a cross from Demitri Turner.
Following the halftime period, a diving save in the 49' on a penalty kick by Kentucky keeper Casper Mols swung the momentum in the Wildcats' favor to start the second half. Shortly after the huge save, sophomore midfielder Max Miller one-timed a cross toward the box and found senior Ben Damge, who scored off a spin move to give Kentucky the lead in the 54th minute. Miller leads the 2023 squad in assists with seven.
As tension began to rise, a Kentucky red card on Martin Soereide forced the Wildcats to play a man down with 26 minutes on the clock. Despite the disadvantage, Kentucky staved off the Dukes' late offensive push, strategically placing five defenders in the box to hold onto its lead.
The semifinals of the Sun Belt Men's Soccer Tournament are slated for Wednesday with two matches beginning at 7 p.m. Top-seeded Marshall and fifth-seeded Kentucky will go head-to-head in Huntington, while third-seeded West Virginia and seventh-seeded South Carolina face off at the UCF Soccer Complex in Orlando, Fla. Both matches will be broadcast on ESPN+.
For more information on the conference tournament, click here.
2023 Sun Belt Men's Soccer Tournament
Quarterfinals – Sunday, November 5
Hosted by No. 1 Marshall
Match 1 – (1) Marshall 2, (8) Old Dominion 0
Match 2 – (5) Kentucky 2, (4) James Madison 1
Hosted by No. 2 UCF
Match 3 – (3) West Virginia 3, (6) Georgia State 1
Match 4 – (7) South Carolina 2, (2) UCF 1
Semifinals – Wednesday, November 8
Hosted by No. 1 Marshall
Match 5 – (1) Marshall vs. (5) Kentucky, 7 p.m.
Hosted by No. 2 UCF
Match 6 – (3) West Virginia vs. (7) South Carolina , 7p.m.
Championship – Sunday, November 12
Hosted by Highest Remaining Seed
Match 7 – Winner Match 5 vs. Winner Match 6, 1 p.m.
For the latest on Kentucky Men's Soccer, follow @UKMensSoccer on X, Facebook and Instagram, as well as on the web at UKAthletics.com.