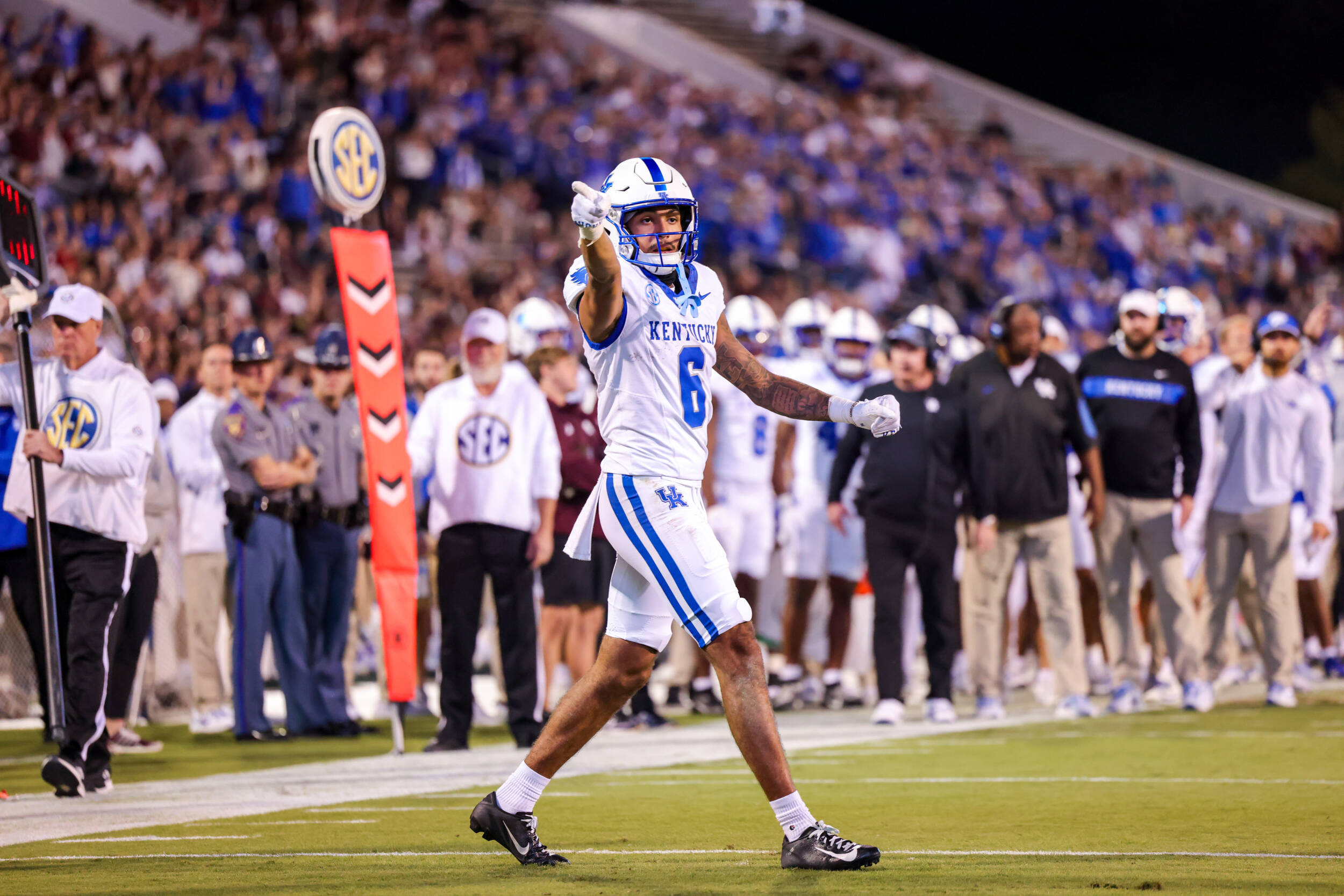 KENTUCKY FOOTBALL POSTGAME NOTES 
KENTUCKY at MISSISSIPPI STATE
DAVIS WADE STADIUM at SCOTT FIELD – STARKVILLE, MISS.
NOV. 4, 2023 
FINAL SCORE: KENTUCKY 24, MISSISSIPPI STATE 3
Team Records and Series Information
Kentucky is 6-3 overall and 3-3 in the Southeastern Conference, while Mississippi State is 4-5 on the season and 1- 5 in the league.
Kentucky leads the all-time series 26-25.
Kentucky won its first game in Starkville since 2008.
UK earned its first consecutive wins against MSU since 2005 and 2006.
Mississippi State remains the leader in the all-time series in Starkville, 15-8.
Next for UK: Kentucky plays host to Alabama next Saturday, Nov. 11 at Kroger Field.
Kickoff is set for noon ET and it will be televised on ESPN.
Team Notes
UK became bowl eligible for a school-record eighth straight season.
This was the first time that UK held an SEC opponent without a touchdown since a 24-2 win over Mississippi State in the 2020 season.
Kentucky has had four defensive touchdowns this season, including D'Eryk Jackson's 28-yard pick-six in the second quarter.
Prior to the game, Kentucky was tied with nine others for the second most in the nation with three.
It was UK's first defensive touchdown vs. Mississippi State in Starkville since Derrick Tatum's 53-yard interception return for a touchdown in 2002.
The Wildcats held the Bulldogs to 73 yards on the ground and 218 total yards.
The Cats shut out an opponent in the second half for the first time since blanking Youngstown State on Sept. 17, 2022.
The Cats have held seven of their last 10 opponents to less than 100 yards rushing, a streak dating back to the final game of 2022.
The UK defense had eight tackles for loss and five sacks.
Kentucky has scored on the first drive in six of nine games this season, while it has scored a touchdown on the first drive in four of nine games in 2023-24.
Kentucky's 21-point margin of victory tied the largest ever against an SEC West road foe since the league went to divisions in 1992. UK defeated MSU, 45-24, in Starkville in 2002.
Kentucky's 18-point halftime lead was the second-largest in an SEC West road game.  (Largest halftime lead against an SEC West road opponent was 20 points against MSU in Starkville in 1993.)
Coach Mark Stoops 
Mark Stoops is in his 11th season as Kentucky's head coach, extending his school record for the most seasons as the UK head coach.
He tallied his first win against Mississippi State in Starkville in his 11 seasons as the head coach at Kentucky.
He extended his school records for most total victories (72) and SEC victories (35).
Player Notes
Quarterback Devin Leary completed 13-of-22 passes for 156 yards and two touchdowns.
He now has 8,712 passing yards and 80 passing touchdowns in his career.
Running back Ray Davis carried the ball 21 times for 80 yards.
He now has 903 rushing yards on the season and needs 97 more to become the 15th player in school history to reach 1,000 rushing yards in a single season.
He now is averaging 6.1 yards per rush this season (148 for 903).
He has 14 total touchdowns this season, seventh on the school single season chart and one behind moving into a tie for fourth.
He has 84 points and needs 15 to tie Lones Seiber for fifth on the single-season list (99 points).
He has caught a pass in 22 consecutive games.
Running back Demie Sumo-Karngbaye caught a 4-yard touchdown pass on Kentucky's first drive of the game.
The touchdown marked his second this season but his first receiving.
The touchdown marked the sixth overall in his career but his second receiving in his career.
Wide receiver Dane Key hauled in four passes for 36 yards and a 4-yard touchdown receiving just before the half.
It marked his fourth touchdown this season and the 10th of his career.
It is his second consecutive game with a scoring grab.
Key has 950 career receiving yards, needs 50 for 1,000.
Wide receiver Barion Brown caught four passes for 24 yards.
He improved his streak of 22 straight games with a reception, which is every game of his college career.
He has 984 career receiving yards, needing just 16 more to become the 33rd player in school history to eclipse 1,000.
He had one rush for 22 yards that helped set up a UK touchdown.
Wide receiver Tayvion Robinson caught five passes for 91 yards.
His acrobatic 37-yard catch set up a touchdown on UK's first possession.
He has 959 receiving yards at Kentucky, needs 41 for 1,000.
Inside linebacker Trevin Wallace led the team with nine total tackles.
He had 1.5 tackles for loss and one sack.
Middle linebacker D'Eryk Jackson had three tackles, 0.5 tackles for loss and a 28-yard pick-six.
He had the fourth interception of his career, his second this season, and the first pick-six of his career.
Defensive backs Ty Bryant and Maxwell Hairston had eight tackles.
Kicker Alex Raynor hit 3-of-3 extra points and connected on his lone field-goal attempt of the night, a 32-yarder in the third quarter.
His 54 career field goals ranks in the top 10 nationally amongst active FBS players.
Game captains: Deone Walker, Devin Leary, Trevin Wallace, Zion Childress