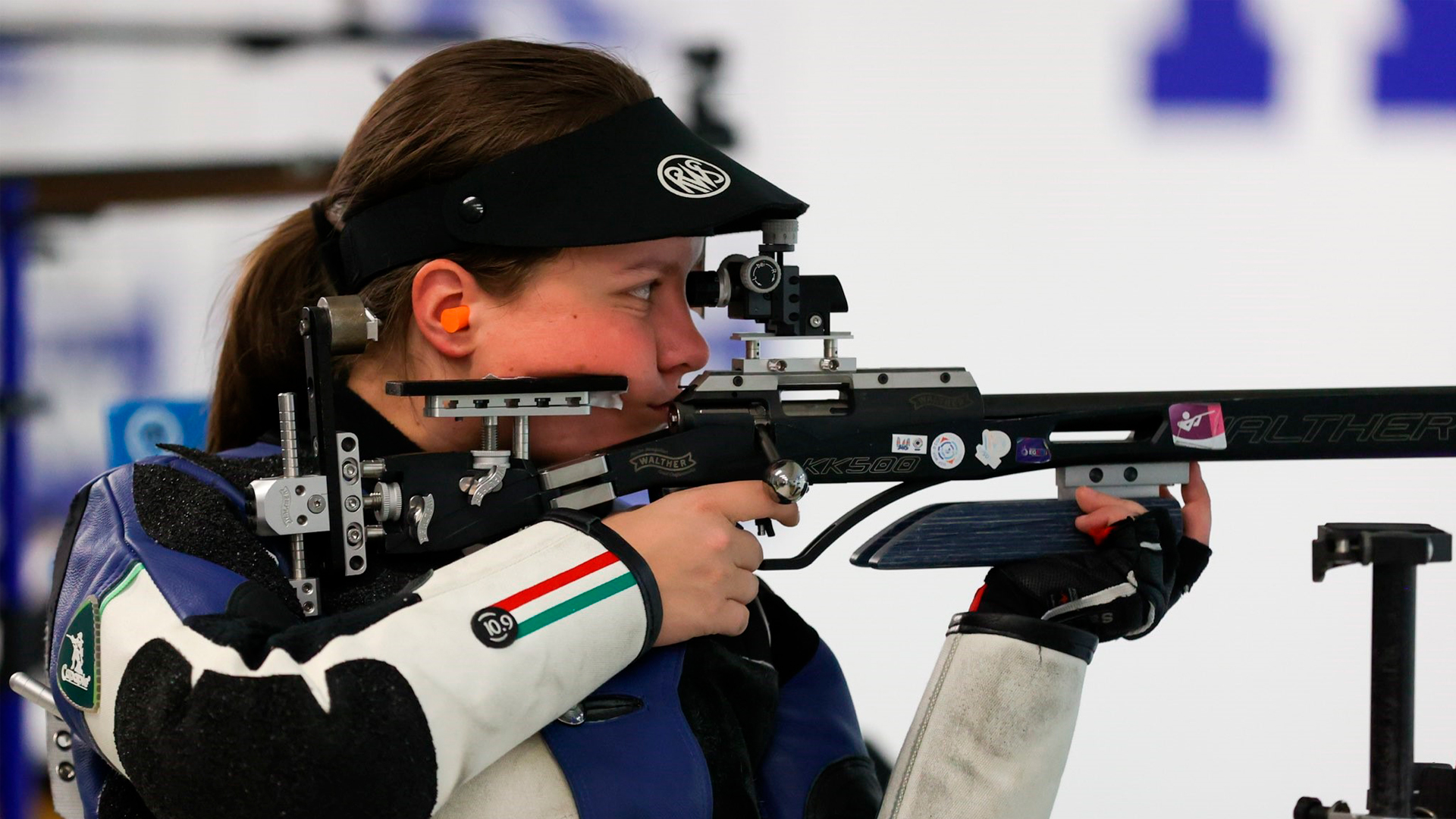 LEXINGTON, Ky. – Sophomore Sofia Ceccarello earned the highest individual smallbore and air rifle scores of the day, posting an individual aggregate of 1188 to propel the University of Kentucky rifle team to a 4718-4707 victory over Ole Miss on Sunday at the UK Rifle Range inside Barker Hall in Lexington, Kentucky.
Kentucky and Ole Miss each posted a 2339 in smallbore to enter air rifle competition tied, but Ceccarello and fifth-year senior Jaden Thompson each posted impressive air rifle scores to give Kentucky a 2379 team score and secure the win. Ole Miss earned a 2368 in air rifle.
"Today was a battle, that is for sure. We left some points out there and so did Ole Miss, but overall I was happy with how we responded and fought through," UK head coach Harry Mullins said. "Sofia was very sharp today. She finished strong in standing in smallbore to post a good score and then a 599 in air rifle again is very, very impressive. I was happy to see Jaden post a 595 in air rifle, especially after she started with three straight nines, to come back and post a 595 is strong and that start is what we look for. Glad to get the win and look forward to being back next weekend against Memphis."
What a day it was for Ceccarello, who finished seven points higher in aggregate score than any other competitor at 1188. The native of Italy, posted a 196 in kneeling and 198 in prone, but cemented her strong smallbore score with a 195 standing for a 589 overall. In air rifle, she was a perfect 200 in her first 20 shots before missing on one shot in the third set. She would finish with 100s in each of her last three sets to post the 599. It is the 11th time in her 17 collegiate matches that Ceccarello has posted a 599 in the discipline. She has three 599s already this season and is the only athlete in the nation with three or more 599s in air rifle this year.
Thompson had a strong match for Kentucky, answering the call with a 595 in air rifle after a 581 in smallbore. Thompson started her air rifle set with three straight nines, but adjusted and scored a 10 or higher in 55 of her next 57 shots to tie her second highest air rifle score of the season and finish with a 1176 aggregate. Fellow fifth-year senior Emmie Sellers tied her career high in smallbore with a 586 and earned a 589 in air rifle for a 1175 aggregate, sophomore Martin Voss scored a 583 in smallbore and 589 in air rifle for a 1172 aggregate. Junior Allison Buesseler scored a 579 in smallbore and season-best 592 in air rifle for a season-best 1171 aggregate. Freshman Braden Peiser wrapped up the countable athletes for Kentucky with a 577 in smallbore and 593 in air rifle. The air rifle score for Peiser was just one off her season-best mark.
Junior Kayla Kalenza, sophomore AJ Hotko and freshman Emily Marne each competed Saturday against Ole Miss in the second relay of their match vs. Akron. Kalenza posted a 569 in smallbore and 589 in air rifle, while Hotko scored a 575 in smallbore and 585 in air rifle. Marne wrapped up the scoring with a 561 in smallbore and 568 in air rifle.
Ole Miss was led in the match by Kristen Derting, who scored a 1181 aggregate with a 588 in smallbore and 593 in air rifle. Lea Horvath scored a 585 in smallbore and 591 in air rifle, while Emma Pereira scored a 581 in smallbore and 593 in air rifle.
Following this weekend's home doubleheader, the Wildcats will conclude the home portion of the 2023 schedule on Nov. 11 vs. Memphis. The fall schedule will wrap with a trip to Fairbanks, Alaska, competing against Akron on Nov. 18 and Alaska and Akron on Nov. 19.
For more information on the Kentucky rifle team, visit UKathletics.com or follow UKRifle on Twitter, Instagram and Facebook.