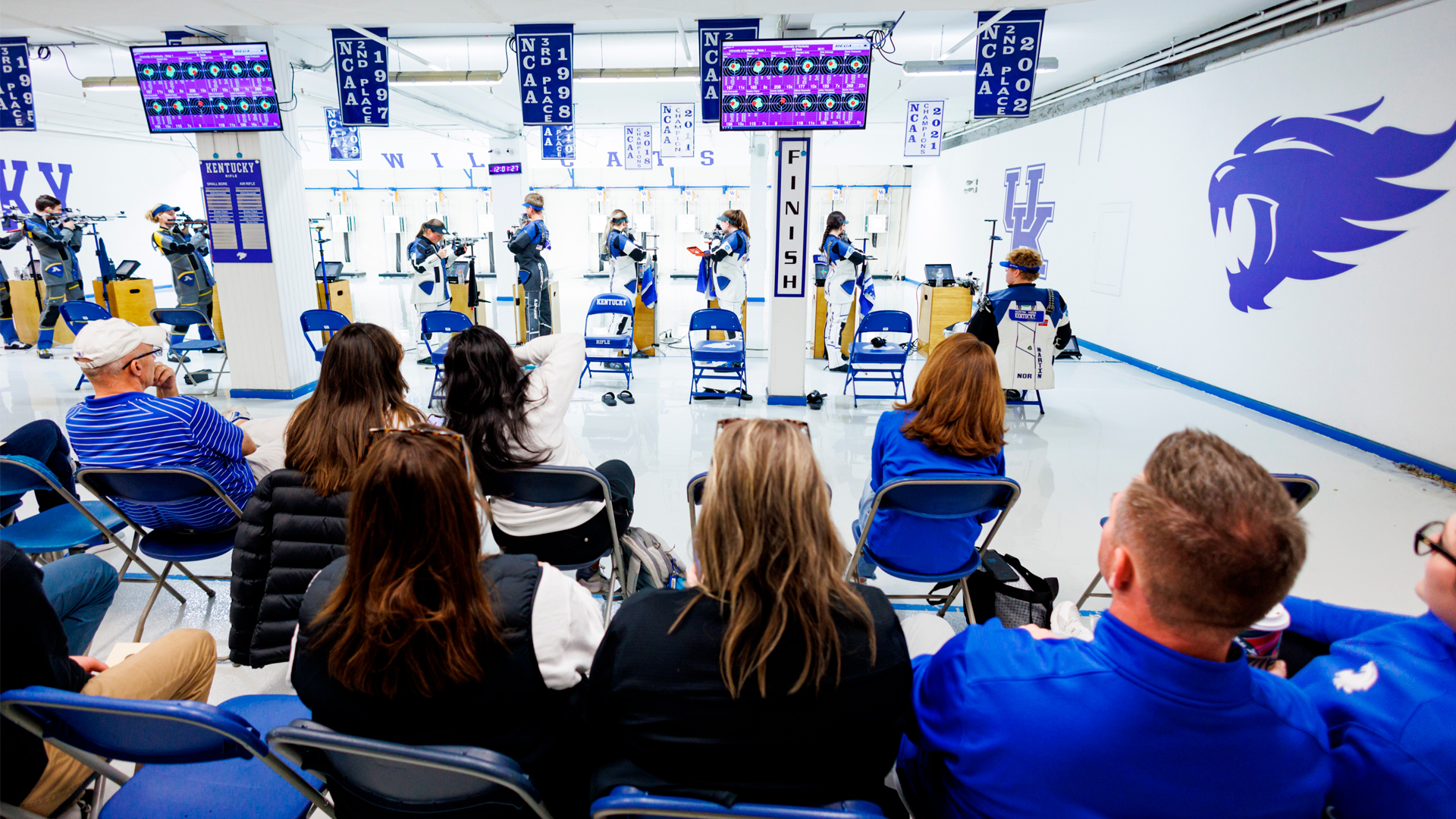 LEXINGTON, Ky. – Sophomore Sofia Ceccarello and freshman Braden Peiser finished as the top two individual performers with each scoring over a 1180 aggregate to lead the University of Kentucky rifle team to a 4714-4696 victory over Akron on Friday inside the UK Rifle Range in Lexington, Kentucky.
The match was the first of three this weekend inside the UK Rifle Range. Kentucky will return to action Sunday vs. Ole Miss with sights and prep for smallbore starting at 8 a.m. ET and air rifle at approx. 10 a.m. ET. The second relay will start around Noon on Sunday. Akron and Ole Miss will compete against each other Saturday inside the UK Rifle Range.
On Sunday, spectators are invited to watch smallbore scores up in Barker Hall and enjoy free breakfast during the first part of each day. The range will be open to spectators for air rifle only each day. Admission is free. New for fans this year both in-person and watching at home will be live commentary online to help provide a breakdown of the action and how the teams and competitors are performing. The live commentary will be available on the UK Rifle Facebook Page. Live targets and a NCAA scorecard will be available online at UKAthletics.com.
"Happy with some of the things we saw today," UK head coach Harry Mullins said. "I was really proud of how Braden and Sofia finished in smallbore. They let a few shots get away early but battled through to post strong scores. Thanks to all the fans and staff that came out on a Friday to support the team, that was great to see. Hopefully, we can get some rest tomorrow and come back motivated and ready to take on a really, really good Ole Miss team on Sunday."
Kentucky outscored Akron in both smallbore and air rifle to claim the overall match. The Wildcats posted a 2342 in smallbore and 2372 in air rifle for the 4714 aggregate. Akron earned a 2335 in smallbore and 2361 in air rifle to end at 4696. The two teams competed across two relays, with UK using Ceccarello, Peiser, fifth-year seniors Emmie Sellers and Jaden Thompson, junior Allison Buesseler and sophomore Martin Voss in the first relay. In smallbore, it was Peiser that led the way with a 590, earning an impressive 199 in prone. Ceccarello finished just behind him at 588 and posted a strong 197 standing to finish off the discipline strong. Sellers and Thompson each scored 580s in smallbore, while Voss was UK's third-best finisher at 584 and Buesseler wrapped up the first relay with a 578.
In air rifle, all four of UK's counted scores were in the 590s, starting with Ceccarello, who scored a 597 with perfect 100s in each of the last 10 shot series. Sellers and Thompson each posted 592s with Peiser wrapping up the counting scores with a 591. Buesseler earned a 588 in the discipline while Voss scored a 584.
Kentucky was represented in the second relay by junior Kayla Kalenza, sophomore AJ Hotko and freshman Emily Marne. Kalenza scored a 572 in smallbore in her first action of the season, while Hotko posted a 568 and Marne a 561. In air rifle, Hotko earned a 588 – just one off his career-best mark in the discipline – while Kalenza scored a 587 and Marne a 574.
Akron was led by Lex Kirk, who scored a 1176 aggregate after a 587 in smallbore and 589 in air rifle. Gavin Perkowski posted a 580 in smallbore and 595 in air rifle for a 1175 aggregate. The 4696 tied the highest aggregate team score of the season for the Zipps.
Ole Miss has been impressive in the early going this season, averaging a 2344.25 in smallbore and 2374.00 in air rifle for an aggregate average of 4718.25. The Rebels started the season with a 4714 against Jackson State and 4715 at Murray State. Their highest team score of the season came Oct. 14 at home against WVU, scoring a 4730, following that up the next weekend with a 4714 against Navy. Lea Horvath leads the team with a 587.75 in smallbore and 595.75 in air rifle, while Emma Pereira is earning a 585.25 in smallbore and 592.75 in air rifle. Former Kentucky All-American and Olympic Gold Medalist Will Shaner is in his first season as the assistant coach for Ole Miss.
Following this weekend's home doubleheader, the Wildcats will conclude the home portion of the 2023 schedule on Nov. 11 vs. Memphis. The fall schedule will wrap with a trip to Fairbanks, Alaska, competing against Akron on Nov. 18 and Alaska and Akron on Nov. 19.
For more information on the Kentucky rifle team, visit UKathletics.com or follow UKRifle on Twitter, Instagram and Facebook.